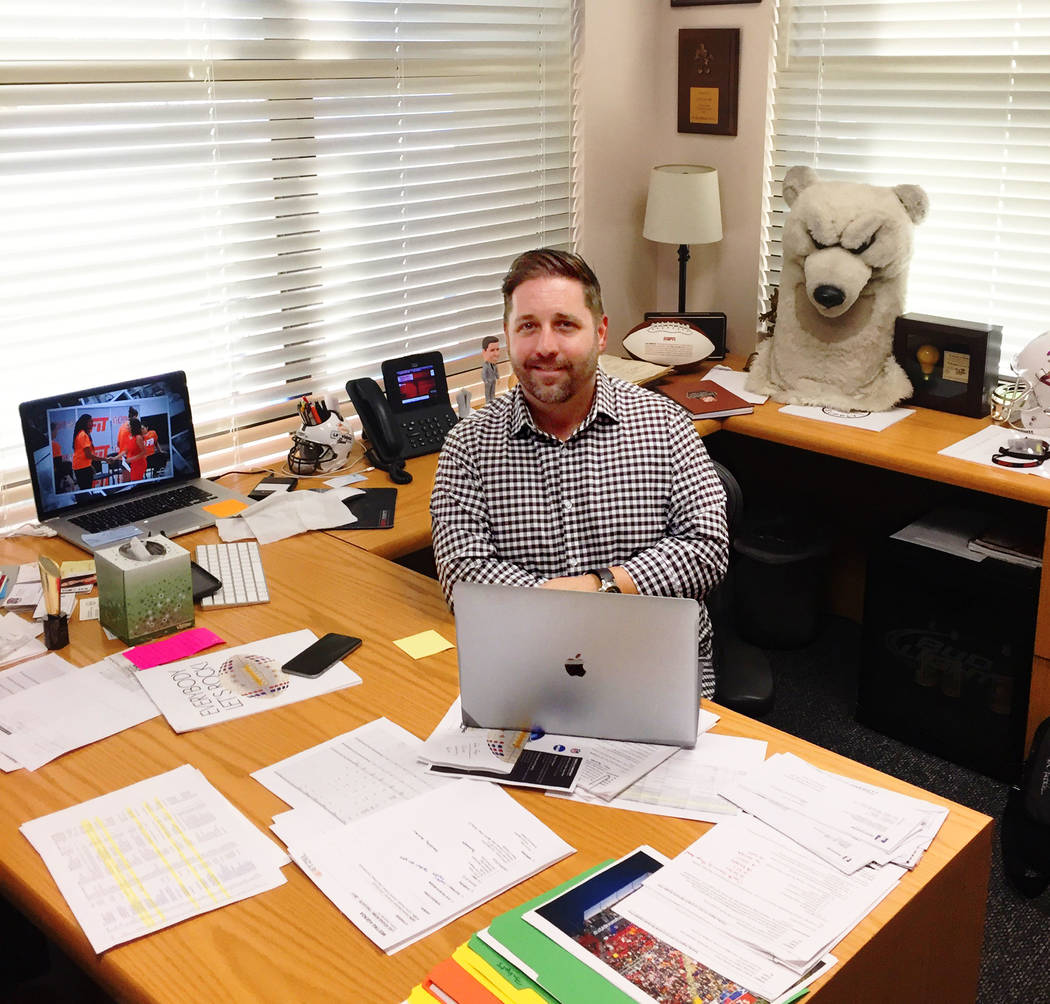 The Kats! Bureau at this writing is high atop T-Mobile Arena, where the Vegas Golden Knights will soon host the Arizona Coyotes — rather, the hated Arizona Coyotes — in our city's first NHL game.
One early suggestion: Distribute commemorative pucks that double as hand-warmers.
I've never seen an NHL game in person, but I have been informed they are uniquely thrilling. However, I can sum up the history of pro hockey in Las Vegas in two mythic figures: Boom Boom and Tony Clifton.
Boom Boom is the polar bear mascot that represented the Las Vegas Thunder, the International Hockey League team that played at the Thomas & Mack Center from 1993-1999. One of the first people I met in Las Vegas wasn't quite a person. It was polar-bear mascot Boom Boom, brought to life by John Saccenti.
I covered a Thunder game the first night I moved to town, in April 1996, and I encountered a costumed Saccenti on the service elevator. He pulled off the furry head, showing his own sweat-matted hair, and offered his right hand. Or, in this case, paw. I've since become friends with Saccenti, who once told me that women really, really liked the Boom Boom character.
Today, Saccenti is an executive with ESPN Events and the Las Vegas Bowl. He still keeps the head of Boom Boom on his desk, a lingering reminder of a misspent youth.
Clifton arrived in our lives for one night only, in December 2012, as the on-ice entertainment at one of the beloved midnight games of the Las Vegas Wranglers, the team that played in the Western Conference of the EHCL, formerly the East Coast Hockey League, between 2003 and 2014. Clifton was a lounge lizard of the highest order, created by the late Andy Kaufman and perpetrated by Kaufman's friend and comedy writer Bob Zmuda.
The Clifton appearance at the Orleans Arena was one of the inspired marketing stunts by Wranglers President Billy Johnson, who hired the pugnacious crooner to sing between periods. The night was minor-league shtick at its finest. Zmuda-as-Clifton was nearly booed off the ice while atrociously lip-syncing "Rhinestone Cowboy," as his flexible dance partner slithered around the velvet-cloaked stage.
"I want a big show in Vegas, with a band, a real production," Zmuda-as-Clifton said that night. "To make it in Vegas, making the big time!"
But Clifton never returned. The Wranglers are long gone, failing to find a home after being jettisoned from their home ice in December 2013.
The Thunder is long defunct as well, but Boom Boom survives in Mr. Saccenti's office, a Vegas mascot for all time.
T-Mobile signage
The Vegas Golden Knights marketing crew keeps the crowd entertained with trivia questions on giant LED screens at center ice. Fans learn that Las Vegas' first mayor was Peter Buol, who served from 1911-1913. A goalie has a 5.3 percent chance of achieving a shutout. And former UFC star Frank Mir attended Bonanza High. Not noted about Mir (but equally interesting): He's a major supporter of Nevada Ballet Theatre. I met him a few years ago at the Black & White Gala's VIP party at Aria.
Good works from Dierks
Country music star Dierks Bentley visited University Medical Center on Monday, where he played an acoustic set and said he's "at a total loss for words" over the Route 91 Harvest festival shooting.
"Those fans are all family to us. It's a community like no other, and I'm sure I know some people that were killed or wounded," he told the Hollywood Reporter. "We see a lot of the same faces on the road. It's a really tight group. The boundaries between the audience and the stage are thin, metaphorically, in country music,"
Celine's contribution
The final tally is still being … well, tallied … but according to an AEG Live spokeswoman, Celine Dion's donation from her show at the Colosseum at Caesars Palace on Oct. 3 has surpassed $500,000.
No new name
The long-anticipated arrival of "Masters of Illusion" at Bally's in December won't prompt a change in name for that legendary venue. It will still be Jubilee Theater, named for the long-running showgirls show that closed in February 2016.
John Katsilometes' column runs daily in the A section. Contact him at jkatsilometes@reviewjournal.com. Follow @johnnykatson Twitter, @JohnnyKats1 on Instagram.