Rob Lowe to tell stories 'that could not have happened' in Strip show
Updated June 6, 2023 - 1:50 pm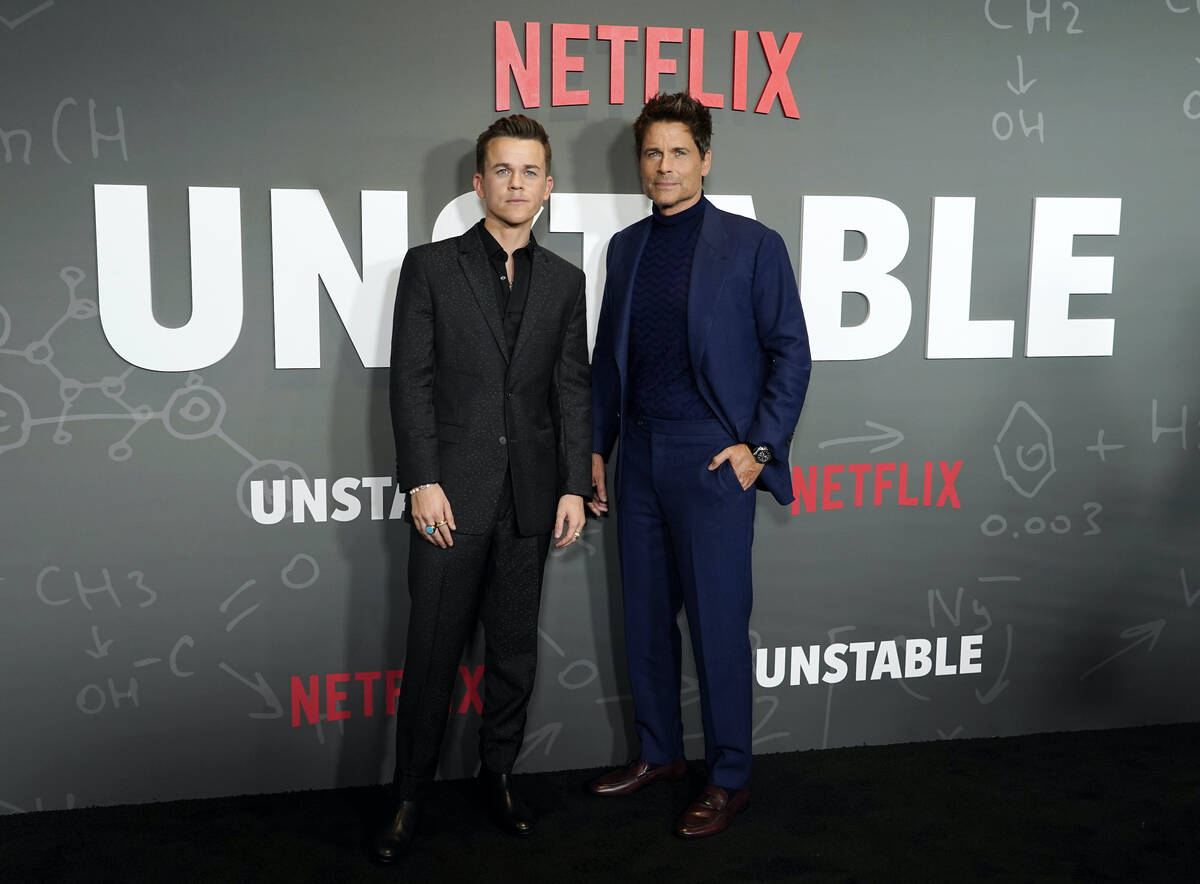 To illustrate Rob Lowe's relationship with the 1980s, we flash back to a rock band of the era.
Hint: The veteran actor has the eye of the tiger.
"I am a survivor of the '80s," Lowe says in a phone conversation from his home in L.A. "We have lived through the most fun decade in history."
Lowe is spinning gnarly yarns in his "Stories I Only Tell My Friends" one-man show at 8:30 p.m. Friday and Saturday at The Venetian's Summit Showroom. The 59-year-old Lowe has been at the center of pop-culture conversation for more than 40 years, starring in such '80s classics as "St. Elmo's Fire," "About Last Night" and "The Outsiders" and later such vaunted TV series as "The West Wing" and "Parks and Recreation."
His career also includes highlight roles in the Liberace biopic "Behind the Candelabra," the "Austin Powers" franchise and "Tommy Boy." His memoirs "Stories I Only Tell My Friends" and "Love Life" are New York Times Best Sellers.
Stopping short of selling Vans and Wayfarers at merch, Lowe is telling stories about last night, and years gone by.
Highlights of our chat:
Johnny Kats: Why did you turn to this type of live performance?
Rob Lowe: I wrote two bestselling books of stories, which were a hybrid of a traditional autobiography and a collection of essays. And I enjoyed it so much, this is the next iteration of what I've realized is my favorite thing to do, which is share stories of my experiences in my life and in Hollywood, and my life as a father and husband.
This is really the purest form of entertainment, isn't it?
It's the oldest thing we do in mankind, from our days around the campfire: tell stories.
What is the most important tool to coming out of the 1980s and still having a successful career?
Here's my take on all of that. I look back and go, "OK, I can live anywhere in the past as a young, stupid, single man. Where else would I go?" Would it be the Roaring '20s? The Industrial Revolution? No. It was the '80s. Nobody had more fun than we did in the '80s.
Some shows I've seen just recently on the Strip are Boy George and Culture Club, Duran Duran, and The B-52s. I saw them all in the '80s. Billy Idol, REO Speedwagon, too. But do I really remember them, you know?
Right. (Laughs.) The fact that we have that memory or don't have that memory, which may be more apt, is really a gift. It means you really have to leave that era behind because it was just an era.
But you'd agree that the nostalgia for that era still resonates, right?
It does. It's super fun for me because, you know, we're currently doing two series on two different platforms, one on Netflix ("Unstable") and one on Fox ("9-1-1: Lone Star"). It's fun to be able to thread that through the show. But I think nostalgia works best when there is at least some modicum of contemporary relevance. That enables me to be comfortable with nostalgia.
Did you find that, in delving into your past for your autobiographies, you came up with stories you'd forgotten? Like experiencing a kind of repressed memory?
It's funny you say that, because what happens is you go, "Wait a minute, that could not have happened." You go and ask somebody else who was there, you know, another witness. And they go, "Absolutely. That happened." I mean, I have many, many, many stories that are so hard to believe. It's insane. But I never tell a story that isn't true, even if sometimes I don't even believe it myself.
Which character that you have portrayed reminds you most of yourself?
Years ago, I would have said Sam Seaborn of "The West Wing." That was true for a lot of years. But I've realized I've grown up so much since I played him. We did our reunion show during COVID, and Sam did not fit like a glove. He was a puppy, sweet naive optimist. I'm a man, and Sam was not a man. He was a young man. But I have parts of Chris Traeger from "Parks and Recreation," parts of (firefighter captain) Owen Strand from "9-1-1: Lone Star," and there's a heightened version of me on "Unstable" (as biotech entrepreneur Ellis Dragon)."
What about your first or favorite trip to Las Vegas?
I mean, there are a lot of memories. I was there the night Mike Tyson bit off Evander Holyfield's ear. I was in the middle of that stampede at the MGM Grand. I felt we were running for our lives. I'll never forget that. I remember shooting "Oxford Blues" in Las Vegas, at the Sands. I visited Burt Reynolds on the set of "Heat" in Las Vegas. I was at the opening of The Mirage, incredible night, the most revolutionary place I'd ever seen.
I was at that Tyson-Holyfield night. It was nuts. As life moves forward, I know Mike Tyson pretty well now. It's crazy how life works.
Right? It's like, how did that happen? I don't know how Mike and I became friends. We hung out, and he was in my life, I was in his life, on the periphery. He was my neighbor up on Mulholland Drive, when he was married to Robin Givens. It's all part of these amazing memories, these incredible stories.
John Katsilometes' column runs daily in the A section. His "PodKats!" podcast can be found at reviewjournal.com/podcasts. Contact him at jkatsilometes@reviewjournal.com. Follow @johnnykats on Twitter, @JohnnyKats1 on Instagram.