Rolling Stones' sidemen shake up Sand Dollar Lounge
October 20, 2016 - 4:26 pm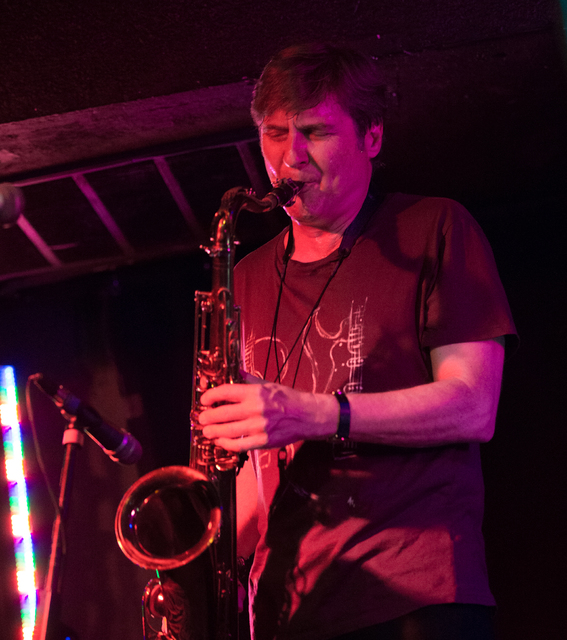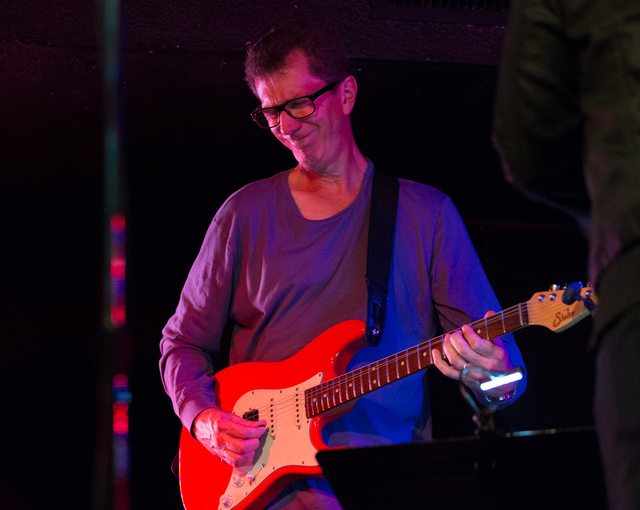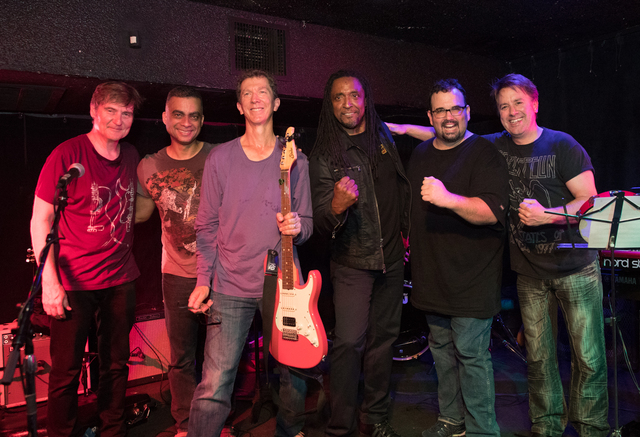 Hot. Packed. Loud. Fun.
Jimmy McIntosh hit the rock club four-pack on Wednesday night with an unannounced (aside from social media) performance at the venerable Sand Dollar Lounge at 3355 Spring Mountain Road in Las Vegas.
Joining McIntosh's band in its scheduled performance were vocalist Bernard Fowler and sax great Tim Ries, both members of the Rolling Stones' current backing lineup who were in town for the band's two shows at T-Mobile Arena. The first of the two performances had been canceled as Mick Jagger is suffering from laryngitis, and both performers said they were awaiting word on the status of Saturday's show.
Meantime, they ducked into the Sand Dollar to join McIntosh, a terrific guitarist who was a member of the "Jersey Boys" lineup at Palazzo and Paris Las Vegas and is a serious student of the Stones.
More pertinent, McIntosh has also recorded with Ronnie Wood, who contributed to McIntosh's 2014 solo album, titled "Jimmy McIntosh And …" Wood did not take part in Wednesday's pop-up show (nor did any of the Stones' primary band members), but nonetheless the 90-minute set was wildly entertaining. The only advance word about the event was issued on Facebook posts by McIntosh and a few of his friends in the local rock community – including rock photographer Erik Kabik – and word swiftly raced across the city.
As Fowler called from the stage as he shaded his eyes from the lights and gazed at the throng in the cozy club, "All this from one post!" Fowler and Ries hit the Sand Dollar on Tuesday night to catch the McIntosh band, and decided Wednesday afternoon to join the fray. Even absent the Stones' connection, the McIntosh band burns with keyboardist Bill Zappia of Terry Fator's band at the Mirage; bassist Keith Hubacher, also of "Jersey Boys" who has backed ZZ Top's Billy Gibbons; and drummer Pepe Jimenez, late of Carlos Santana's band and currently with Santa Fe & The Fat City Horns (still seeking a new home, by the way) and "Baz – Star Crossed Love" at Palazzo.
McIntosh, the band leader, is well-known as a master guitarist and a member of Lon Bronson's All-Star Band whose stage time includes a stint with the "Mamma Mia!" production at Mandalay Bay.
But McIntosh is more comfortable with the Stones than Abba.
"I met Jimmy a couple of years ago, and recorded a song of mine I'd written for Ronnie Wood (titled "I Gotta See") and did a really good version of it," Fowler said as he wiped sweat from his face after the show. "We came back here today and worked it out and decided we would play. I didn't know what kind of response we'd get, but this is incredible."
Said McIntosh: "I thought we'd have 30 people in here, honestly. Wild, right?"
The Sand Dollar's capacity is listed at 199. Safe to say the venue was at least at capacity, with the crowd spilled out to the taco truck idling in the club's parking lot.
As the show played forth, McIntosh 's band was joined by other noteworthy artists who were in town to catch the Stones – such as keyboardist Ivan Neville of the Neville Brothers who has played behind Keith Richards; and Ben Waters, who has toured and recorded with Charlie Watts. With many of those in the heated, musky club arriving at least two hours before the 10:30 p.m. start, Fowler kicked into "Miss You," a club-wide singalong. The band dealt lengthy, jazz-infused takes of "Honky Tonk Women" and "Satisfaction." Rock 'n' roll oldies "Long Tall Sally" and "Little Queenie" were slotted between the Stones' classics.
Having canceled at least one highly anticipated concert in Las Vegas, Fowler said the show was a gesture to the Stones' avid fans.
"So many people from out of town came here to see us. It's really unfortunate that this happened in Las Vegas, because I think everybody who has come to the show is from somewhere else," Fowler said. "So we thought, you know what? For no other reason, let's do this and give those people something to do."
John Katsilometes' column runs Saturday, Sunday, Tuesday and Thursday in the A section, and Fridays in Neon. He also hosts "Kats! On The Radio" Wednesdays at 8 p.m. on KUNV 91.5-FM and appears Wednesdays at 11 a.m. with Dayna Roselli on KTNV Channel 13. Contact him at jkatsilometes@reviewjournal.com. Follow @johnnykats on Twitter, @JohnnyKats1 on Instagram.