Save the date: Saturday yard sale at Penn Jillette's
August 24, 2016 - 6:58 pm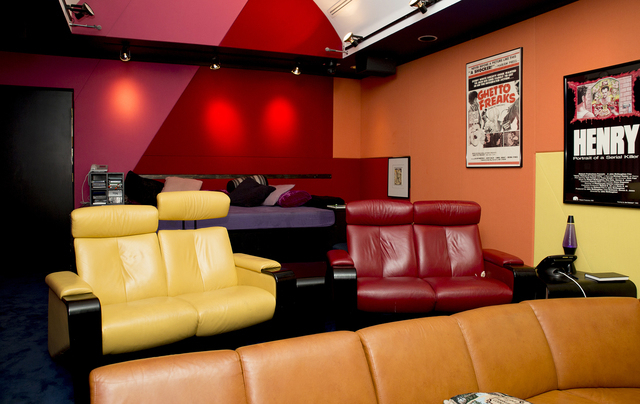 "The Slammer" is on Death Row.
The A-framed home made famous as the residence of Penn Jillette is being gutted this weekend, with plans in motion to level the property to make way for a neighborhood development.
Finished in 1994, "TheSlammer" is actually made up of two interlocking houses – the original and a second guest residence — covering nearly 8,000 square feet on a 10-acre parcel on West Wigwam Avenue in southwest Las Vegas. From 8 a.m.-noon Saturday, Penn's wife, Emily Jillette, is holding a massive yard sale to rid the homes of all items, artifacts and appliances.
Emily says the sale might stray into Sunday; Penn says, "We'll have a sale, and who knows? It might turn into a party. I feel there will be a party."
Last year the Jillettes decided to move their family, including children Zoltan and Moxie CrimeFighter, from "The Slammer" to an estate in The Ridges in northwest Las Vegas. When the family left the property, Penn offered to lease "The Slammer" to the United Church of Bacon, a faux-religious organization that describes itself as consisting of atheists and "critical thinkers."
A ground-breaking party was held in October, but the Church of Bacon has since turned its attention to downtown for a space to open its headquarters.
"The deal was to just give it to them so they could use it as a meeting space and for events," Penn says. "But the location wasn't right for what they needed. It'll be housing development now."
Up for purchase at this weekend's "Slammer" closeout are many of the items Penn has collected over the years (though the home's fire pole already has been purchased). Emily reports the sale includes indoor and outdoor furniture, refrigerators, stoves, electronics, cabinets, the replica booth from the Peppermill, a shuffleboard table, a couple of beds, a dining room table, and "some wacky knickknacks." being put up for sale.
"It's just a lot of stuff," she says. A particularly distinctive item is a pair of "Trump Kids" slippers, from Penn's time on "Celebrity Apprentice."
After the garage sale, Penn is moving forward with his next film project, "The Grounds." This is a small, independent movie backed by friends of the Jillettes and directed by Adam Rifkin, who helmed Penn's most recent film, "Director's Cut," which screened in June at Brendan Theaters at the Palms.
"At the end of 'The Grounds,' I will be destroying the Slammer," Penn said Wednesday afternoon during an interview from L.A., where he and Teller were rehearsing for an appearance on "The Late Late Show With James Corden. "How we do this is still being discussed. You don't just go to the store and say, 'I'd like enough dynamite to blow up a house.' My guess is, it'll be with bulldozers."
Filming is to begin in September and wrap in October.
"If someone was to tear down 'The Slammer,' I would feel bad about it," Penn says, "but I don't feel bad about doing it myself."
GRIMM CLUBBIN'
Michael Grimm, the Vegas artist who vaulted to fame in 2010 as the Season 4 champion of "America's Got Talent," is at Club Madrid at Sunset Station at 8 p.m. (tickets are $10; $5 for those holding a Boarding Pass card). Grimm is backed by a the great seven-piece Delta Bound Band and backing singers Jassen Allen and Nikki Logan. Grimm's wife, Lucie Grimm, sings a couple of duets and is also on backing vocals.
Grimm plays the last Friday of each month through the end of the year, and is so worth the trip.
NENE AT WINDOWS
I caused something of a stir in the social media community with a Twitter post about Nene Leakes of "Real Housewives of Atlanta" performing in residency at Windows Showroom at Bally's. Believe it. I expect an announcement about Leakes' booking within the month, with her starring in a show that is to be at once funny and autobiographical. Like most stand-up performances, actually.
Leakes' role as a performer on a Vegas stage is not so far-fetched: From June 27-July 1 2014, Leakes was the first (and thus far, only) guest-star in "Zumanity" at New York-New York. She presided over the orgy scene, which is not likely to be duplicated at Bally's.
This week, Leakes made news as the IRS filed a tax lein against her for allegedly owing more than $800,000 in back taxes. Sounds like some choice fodder for a stand-up act.
A GOOD BUFFET PLOY, KATO
In the aftermath of the announced closing of "Tony N' Tina's Wedding" at Windows Showroom is this nugget from the past:
Seven years ago when it was staged at the mezzanine at Planet Hollywood, I was in the buffet line when I felt a hand scratching at my back. I turned, and the person scratching me was … Kato Kaelin.
This was during the show's brief "guest star" period, and Kato played the priest in the production. Consider it a piece of VegasVille history that will not be repeated.
John Katsilometes' column runs Saturday, Sunday, Tuesday and Thursday in the A section, and Fridays in Neon. Contact him at jkatsilometes@reviewjournal.com. Follow @johnnykats on Twitter.