Sights from the site keep Route 91 pinned to the Village
September 29, 2016 - 2:54 pm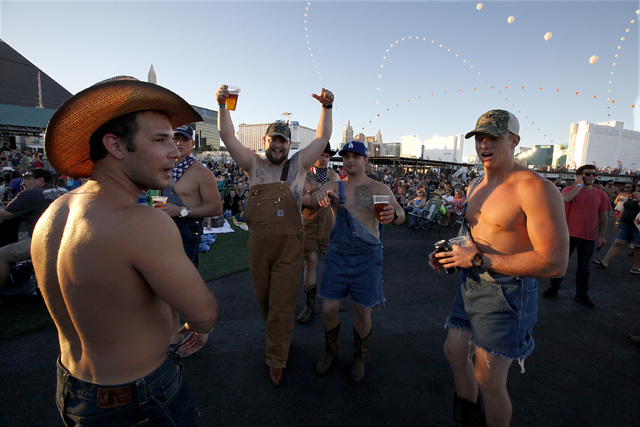 We'd never see the Clash headline Route 91 Harvest, but the event's theme song should be, "Should I Stay or Should I Go."
This is not a reference to any uncertainty surrounding the country festival's annual visit to Las Vegas. Route 91 officials love the Strip. Each year the festival is an unqualified, sold-out success. This weekend's lineup is reliably topnotch, with country superstars Toby Keith headlining Friday night, Brad Paisley on Saturday and Luke Bryan on Sunday.
But which venue to use has been a duel and debate between officials at Live Nation, the festival promoter and producer, and execs at MGM Resorts International. That latter institution owns and books Las Vegas Village, the 15-acre lot on which Route 91 is held, and also the larger Las Vegas Festival Grounds to the north.
Live Nation, in the person of executive Brian O'Connell, takes a "stay and cap" approach to events at the Village: Stay put and cap attendance, at 25,000. The event swiftly sells out at the Village, which is surrounded by such famously photogenic resorts as Luxor, Mandalay Bay, Excalibur, New York-New York, MGM Grand and Tropicana.
MGM Resorts execs have long hoped the festival could grow and move to the company's larger but less picturesque Las Vegas Resorts Grounds on the corner of the Strip and Sahara Avenue.
"It's still my strategy that we want to use that lot to the south. We like it. The 'look' of that site, and that is one of the things that makes Route 91 so great," O'Connell said during a phone interview this week. "The casino's bright lights and that real Vegas look. You go north, you lose a little of that, and we don't want to lose Vegas. That's why we are here."
MGM Resorts officials make their argument every year for the northern site, to no avail. Live Nation needs to authorize any move from one venue to another. O'Connell simply appreciates the ambiance, and also the manageability 25,000 folks on a 15-acre site. Aside from the main stage, on the south end of the lot, the festival is filled with such offshoot venues as the Next from Nashville stage for emerging acts, food and beverage booths and temporary clubs sponsored by House of Blues, Coca Cola, Malibu Rum, Budweiser and the Academy of Country Music.
"Where we are makes perfect sense," O'Connell said. "Even when people drive up the Strip, they see the lights and activity and ask, 'What is that?' " It's Route 91, a party that knows how — and where — to party.
BROS REUNION REPORTS
Published but not verified reports out of London indicate Matt and Luke Goss are planning a reunion of their meteoric 1980s pop act Bros. The Daily Mail is reporting that during his upcoming show at Saturday at Wembley Arena, Matt Goss is to announce plans for a European tour with his twin brother. Goss just ended his 6 ½-year run at the Gossy Room at Caesars Palace (whicih is now using its old name, Cleopatra's Barge) on Saturday, bolting for the U.K. midday Sunday to rehearse for his Wembley Show.
The windfall for the 47-year-old brother tandem on its reunion tour is reportedly close to $13 million (or 10 million British pounds). Bros broke up in 1992, with the brothers butting heads over business and artistic disagreements. Luke embarked on a successful acting career, in "Grease" on London's West End and "Blade II" in film, among many other projects. The band's third member, bassist, Craig Logan, reportedly will not join the upcoming tour, which again has not been formally confirmed.
SURREAL AND SWEET
Surreal art, the pawn industry, the rock band Imagine Dragons and a hit TV show converge harmonically from 6-8 p.m. Saturday at AFA Gallery at Fashion Show Mall. Artist Tim Cantor is hosting reception marking an exhibition of new works titled "Sweet Favour &Fiends" at the mall's second-level gallery near Neiman Marcus. A painter since age 5 (hey, so was I, sort of) Cantor's work features chiarographs, original concept paintings, and limited-edition prints on canvas.
The guys from Imagine Dragons (listed accordingly as Dan Reynolds, Ben McKee, Wayne Sermon and Daniel Platzman) will be on hand, as a portion of the money raised through donations and a silent auction of a Cantor piece will go toward the Imagine Dragons-founded charity, the Tyler Robinson Foundation. Rick Harrison of "Pawn Stars," who is a serious art aficionado, and Las Vegas art collector Chad Sampson are to introduce Cantor. Sampson bird-dogs art pieces for Gold &Silver Pawn, where the retail center includes pieces by Rembrandt, Chagall, Dali, Matisse and Picasso. The pawn emporium is actually a fertile environment for high-end art. As Cantor said in a magazine interview a couple of years ago: "When you need money, the first thing you sell isn't your car or house. It's your paintings."
John Katsilometes' column runs Saturday, Sunday, Tuesday and Thursday in the A section, and Fridays in Neon. He also hosts "Kats! On The Radio" Wednesdays at 8 p.m. on KUNV 91.5-FM and appears Wednesdays at 11 a.m. with Dayna Roselli on KTNV Channel 13. Contact him at jkatsilometes@reviewjournal.com. Follow @johnnykats on Twitter, @JohnnyKats1 on Instagram.