'SNL' alum Kevin Nealon to headline Brad Garrett's club
Updated February 10, 2023 - 8:07 am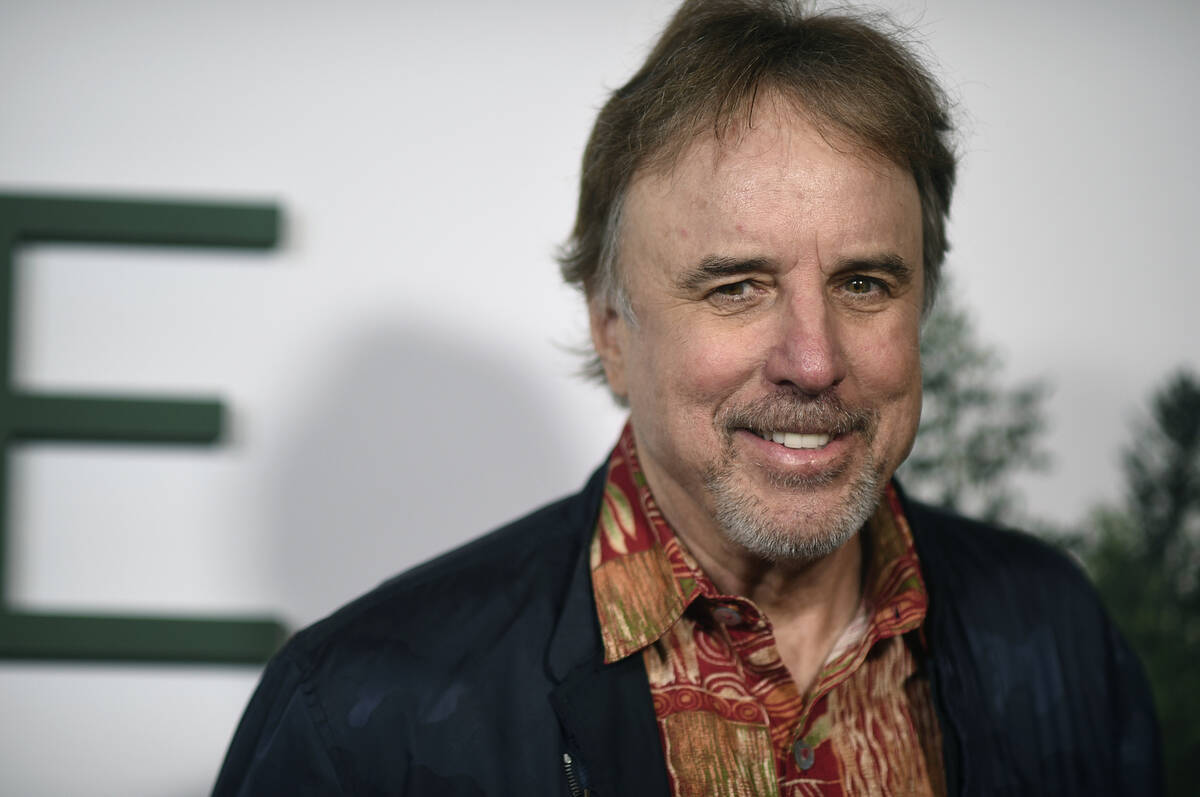 We have the first update to the Kats comedy column. We've switched the name to the Kats Comedy Corner. This is after much thought, market-testing and spit-balling. We ruled that the previous name, Kats Comedy Hut, sounded like something Patrick Mahomes would call out during the Super Bowl.
Onward, with the funny:
Nealon's hike to LV
These days he doesn't want to pump (clap!) you up! But he'll get some cardio going while hiking with his comic friends.
"SNL" alum Kevin Nealon the subject, returning to Las Vegas for the first time in eight years, headlining Brad Garrett's Comedy Club at MGM Grand at 8 p.m. Feb. 17-19 (also 10 p.m. Feb. 18).
Nealon is long removed from, but still well-remembered for, his part in "SNL's popular "Pumping Up With Hans & Franz" sketch with Dana Carvey. Not familiar? Go to the YouTube. Then, go to LVAC. You can still find the characters' inspirations.
Nealon joined "SNL" for the 1986 season and spent nine seasons total on the cast before departing in 1995. His famous characters included "Mr. Subliminal," Frank Gannon, P.I.P.I. (Politically Incorrect Private Investigator) and, briefly, broadcast legend Brent Musberger. Nealon was also anchor for "Weekend Update" from 1991-'94.
He's since taken on a fertile film and TV career, with "All I Want for Christmas" his first major film role. His portrayal of an interloper on "The Larry Sanders Show," who hung around the show so long that Jeffrey Tambor's sidekick character, Hank, suspected he was attempting to steal his job.
Nealon's offshoot projects have since included "Hiking With Kevin," venturing through the canyons of Los Angeles with an eclectic list of famous friends, including Conan O'Brien, Adam Sandler, Lisa Kudrow, Donny and Marie Osmond (on separate hikes), David Spade and Garrett himself.
Nealon keeps himself physically and mentally fit. The routine is a counter-balance to his work at the home office.
"Sometimes I'm just sitting at a desk, writing, or someone will say something and I'll add to it to make it funny," Nealon says. "When I'm hiking, I'm always thinking about material. It's kind of a meditative process for me."
Nealon has retired his Franz sweatsuit, and that routine, from the "SNL" days. Even as a viewer he's become detached from the show.
"I'm always rooting for that show to succeed, but I haven't watched it really too much in the last decade or two," Nealon says. "But you know, if I hear something good is on there. I'll tune in and, you know, I'm still friends with Lorne (Michaels, the series creator). I loved when Kate McKinnon was on, who just left. But it's such a big cast now (16 cast members). It was just eight when I was there."
Similar to his hikes, Nealon is taking his career in stride. He'll be back at Garrett's club whenever the mood hits him.
"I am good friends with Brad, going back to the '80s, from our early stand-up careers," Nealon says. "So I pretty much have carte blanche to play there, depending on my schedule. I'll be back, time and time again."
A funny double-booking
Nealon's appearances at Garrett's club coincide with Bill Maher's headlining shows at David Copperfield Theater, also at MGM Grand, at 8 p.m. Sept. 17-18. Maher has starred in the Aces of Comedy series at Mirage Theater for about a decade. He's the latest to move from that that series to a new showroom, and is back June 16-17, Sept. 15-16 and Nov. 3-4.
This is an abundance of top-line comedy for fans of stand-up, and a tough break for comedians working both rooms. Comics typically don't want to compete with other clubs in the same hotel. I remember years ago, George Wallace telling me in his Flamingo Showroom days of his frustration when Vinny Favorito was signed to play Bugsy's Cabaret. The Cabaret shows cut into Wallace's four-wall deal at the Flamingo, and was the beginning of the end for him at the hotel.
MGM Grand is a massive resort, of course, the third-largest in the world with some 6,800 guest rooms. But this this isn't ideal strategy to maximize comedy business in those rooms.
"Dark" at Oyo
"Laugh After Dark Live in Vegas," the Prime Video and Tubi series, opens at Oyo's Stand Up & Rock Showroom at 9 p.m. Feb. 19. The show runs Sundays in an open-ended engagement.
"Laugh After Dark's" recently filmed several rising comics on a national tour, including Las Vegas's Trixx, Jozalyn Sharp, Stoner Rob, and Patrick Melton. We love the club's live-music component, with the The Fremont Funk house band, led by keyboard great Chris Cadenhead (The Jacksons, KC and The Sunshine Band and Leslie Odom Jr.).
The former Hooters hotel-casino also stages the "Stand Up & Rock" series, hosted by Byron Kennedy at 7 p.m. Thursdays through Saturdays. Live music through the Outlaw Entertainment company follows at 9 p.m. on those nights.
"Laugh After Dark" premiered in Las Vegas at Notoriety Live before relocating to Oyo. Producer Kelsey Borland nods to the comics who drive the brand's success. "We've had a lot of support from the comedy community here in Vegas, and we are really excited to be collaborating with Vegas Stand Up & Rock, where we can showcase more of the best comics than ever before."
Skank is booked
Skankfest Vegas 2023 is on, or will be, from Sept. 29-Oct. 1 at Notoriety Live. All-access badges and single-day passes to the event are onsale April 10 at skankfest.com.
The event made its Vegas debut at Notoriety in October. This year's lineup is being kept from the public until April 10. But past headliners have included Dave Attell, Doug Stanhope, Nate Bargatze, Whitney Cummings and Louie C.K.
Trammel revved up
Venerable Vegas comic Joe Trammel ends a three-year hiatus on Feb. 18 at Westin at Lake Las Vegas. Trammel promises a Knievel-style (that's Evel, and Robbie) stunt at the lake.
On Feb. 25, he's at Bonkerz Comedy Club at The Pass in Henderson.
Joe and his wife, Jessica, have created the Trammel Pro Entertainment company. Joe is planning the "Get Lost Tour" and a Las Vegas residency in January 2024 "TBA."
The Trammels are familiar to longtime Vegas entertainment fans. Joe performed in the hit production "Splash" at Riviera and "V — The Ultimate Variety Show" at Miracle Mile Shops at Planet Hollywood. Just before COVID hit, he'd signed on to perform the comedy break in "Crazy Girls" at Planet Hollywood. Jessica has performed in "V," the "Show in the Sky" at Rio, "Jubilee!" at Bally's, "Sin City Comedy" and "Nathan Burton's Comedy Magic" at V Theater.
In August 2020, the couple made news in an unfortunate way away from the stage. Their fully packed RV went missing from the Las Vegas house they had been renting, the night before they planned to take a pandemic road trip. The rig was never recovered. Friends and the community at large pitched in $18,000 and a replacement RV.
That helped the Trammel family (their two kids, June and Jett, and Joe's son, Jacob) regain their footing. "There's been a lot of pain, but it's been positive in the way my kids have seen that people care," Joe Trammel said at the time. That's huge for them."
Cool Hang Alert
A band to bring a smile to your face, Fandango, plays Naughty Ladies Saloon at Arizona Charlie's at 8 p.m. Saturday. No cover. Why the smile? Fandango is a ZZ Top tribute act. As they say, we'll have a party on the patio.
John Katsilometes' column runs daily in the A section. His "PodKats!" podcast can be found at reviewjournal.com/podcasts. Contact him at jkatsilometes@reviewjournal.com. Follow @johnnykats on Twitter, @JohnnyKats1 on Instagram.