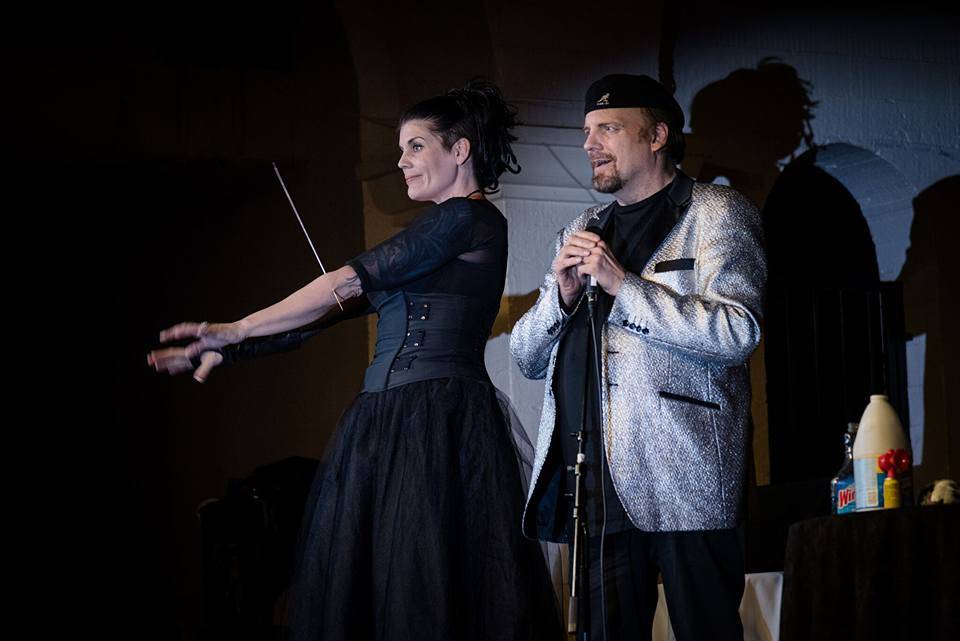 The Kats! Bureau at this writing is the South Point sports book, and it's loud. Even amid the MLB playoffs, NHL games and pony races, the charitable spirit of Las Vegas is inescapable.
An example: South Point General Manager Ryan Growney stopped by after chatting with casino owner Michael Gaughan. The longtime Vegas hotelier, who is not so hip to social media (he barely uses his flip phone), asked Growney about the #VegasStrong hashtag being used to show support for the city.
"I want that logo," Gaughan told Growney, asking that it be painted on the No. 62 Chevy Camaro driven by Gaughan's racing son, Brendan Gaughan, in the NASCAR XFinity Series. So look for the suddenly universal #VegasStrong message spinning around Charlotte Motor Speedway on Saturday in the Drive for the Cure 300.
The elder Gaughan has also made special accommodations for families of victims of Sunday's Route 91 shootings, and, all ticket sales for Frankie Moreno's shows at South Point Showroom tonight and next Thursday are being donated to relief efforts.
The philanthropy is spreading across the entire property. Seemingly out of nowhere, locals who have heard the hotel is assisting victims' families have been showing up to donate food, water, paper goods and other provisions.
"We were caught totally off-guard when that started happening. It has been just incredible, seeing how fast this city moves," said Growney, native Las Vegan whose father, Mike Growney, was general manager of the Gold Coast. "I have never seen anything like it. I've never been prouder of this city than I've been in the past five days."
More from the scene:
The return of A.J.
Sunday's tragedy and its aftermath have overshadowed The Amazing Johnathan's stunning return to the Las Vegas stage. A local headliner for 14 years, most notably at Golden Nugget in the 2000s, A.J. was diagnosed with a degenerative heart condition in 2013. Doctors told the veteran comic magician he would never recover.
In October 2014, Johnathan told an audience at Andy Walmsley's "ENTSpeaks" celebrity speakers series at Inspire Theatre that he had a year and a half to live, and would be leaving the stage for good. His final performance in Las Vegas was at the Wonderground magic showcase at The Olive restaurant last October.
This same entertainer headlines tonight at Rocks Lounge at Red Rock Resort at 8 p.m. Friday and Saturday.
"I don't even know what to say about it anymore," Johnathan said in an interview a couple weeks ago (he has since declined to discuss Sunday's tragedy). "It's kind of embarrassing, actually. I don't know what to tell people. I try not to touch on the subject. Maybe it'll fade away."
A.J. has been buoyed by performing and his heart rate improved to normal for a time, though it has recently declined once more. Johnathan wants to be put on "the list" for a heart transplant, but must first mitigate his diabetes to qualify. "There's nothing else they can do for me but the transplant," he says. "I'm already taking 18 pills a day. I'm dizzy all the time. It sucks, but I'm still here."
Johnathan has spent much of this year on a national tour playing primarily improv comedy clubs on select weekends, about once a month, as stamina merits.
The difference in A.J.'s act today and when he was at his peak more than a decade ago is that he performs while seated, and takes breaks as his wife and current performing partner, Anastasia Synn, performs in 7- or 8-minute segments. He also displays and riffs on some of his comedy paintings. He took up the craft five years ago as he fell ill.
"I have a painting called 'The Man With Long-Stretchy Arms,' and when I show that I make my own arm stretch six feet long," Johnathan says. "It's magic!"
The 59-year-old showman says the laughs during his performances are as strong as ever, but he's been received differently off-stage than he was early in his career.
"People come up crying, and they say I'm inspirational," he says. "I'm like, 'Really.' I never, ever thought anyone would say that to me. But they are so happy to see me still alive."
A time of knead
Since Monday, Evel Pie managing partner Branden Powers has been a veritable pizza-delivery factory. His business on Fremont East has been sending pizzas to first responders and victims' families all over the valley.
"We're a down-and-dirty, punk-rock place that never turns away someone who needs help," said Powers, who also runs Golden Tiki (where dreams come true). "We've probably delivered 500 pizzas, total, and truckload upon truckload of care products to families."
Powers' pizzas are so large they've fed about 3,000 folks, roughly enough to fill The Joint at Hard Rock Hotel, where Powers once worked as creative director.
On Monday, Powers welcomed Kendra Wilkinson of "Sex Tips for Straight Women from a Gay Man" at Paris Las Vegas to Evel Pie's pizza-making effort. "She just wanted to help out and showed up and dug in." And representatives of Paris Hilton have also offered her assistance. She's hitting town Sunday.
"No Gucci glasses, just a T-shirt and jeans," Powers says of Hilton's expected attire. "All rock 'n' roll."
John Katsilometes' column runs daily in the A section. Contact him at jkatsilometes@reviewjournal.com. Follow @johnnykats on Twitter, @JohnnyKats1 on Instagram.