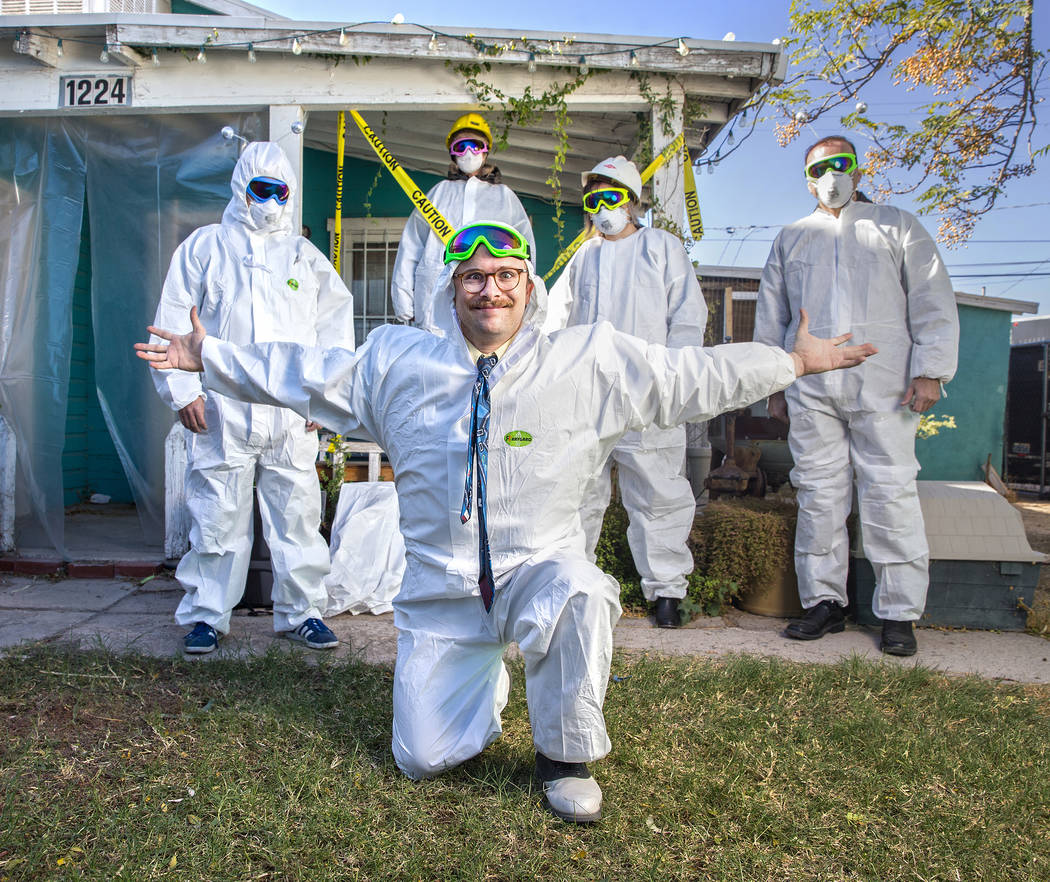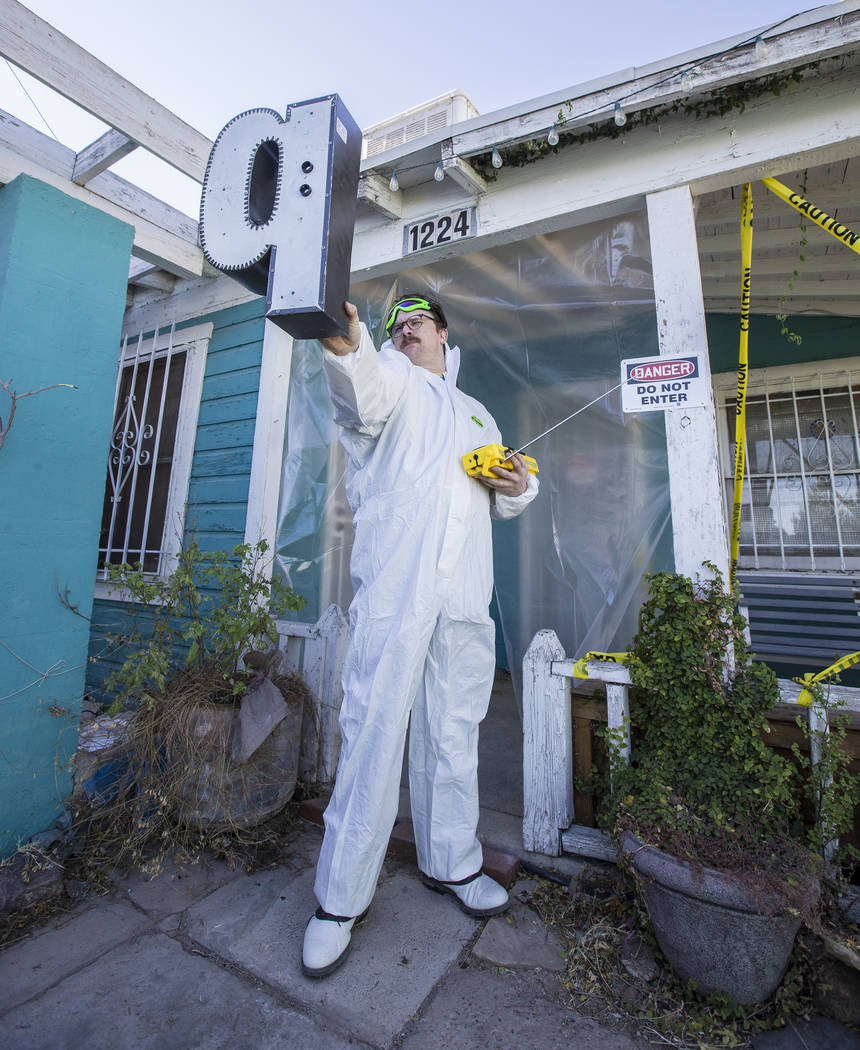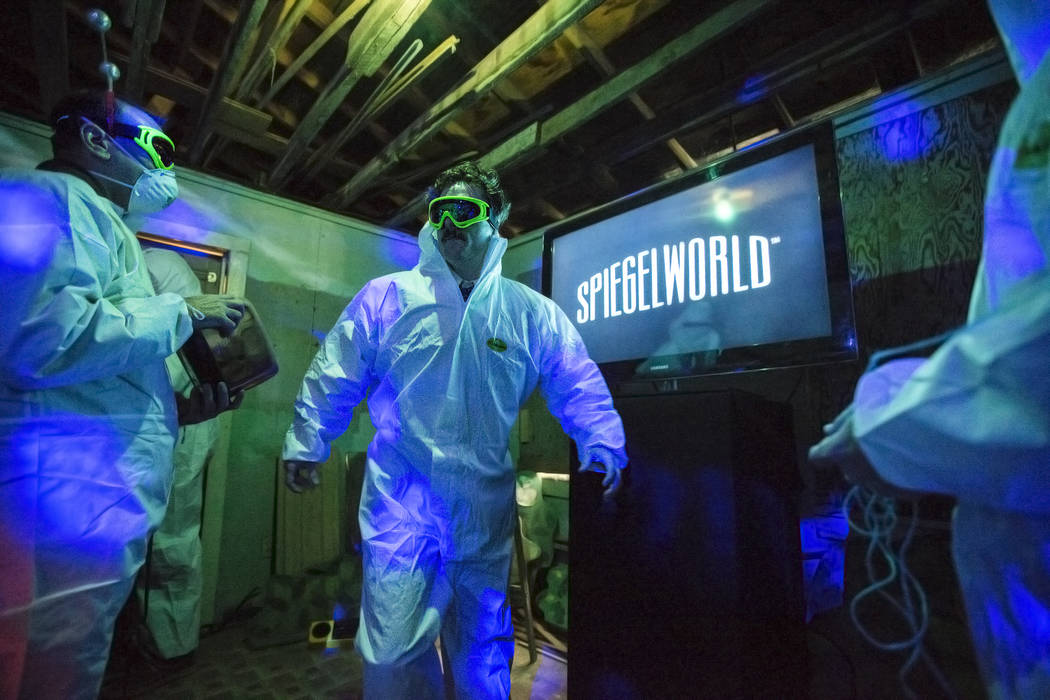 Harry M. Howie sits us down at his office in a decommissioned RV in downtown Las Vegas. The place is a brilliant mess of decades-old gadgets, dusty folding chairs, and maps of our city where twine literally connects the dots.
The Cosmopolitan of Las Vegas is noted on that map. So is Caesars Palace, and the nearest McDonald's.
"Have an apple pie," says Harry, a fictional character from Australia soon to be well-known on the Strip. "I bought it earlier, at McDonald's. I've been literally living off these for months. It's cold but it's good."
The introduction was part of a theatrical announcement introducing "Opium," a new show opening March 13 at the Rose. Rabbit. Lie. showroom at The Cosmopolitan of Las Vegas. The initial schedule is at 8 p.m. Tuesdays through Sundays, dark Mondays and Wednesdays, with 10 p.m. shows added Fridays and Saturdays as the show takes hold. (Use the promotional code LOCAL at www.opiumvegas.com to purchase advance tickets for $30 through Dec. 15).
The real-life performance officially unveiling the upcoming stage performance began in front of Caesars Palace, where "Absinthe" overlord Gazillionaire had arranged for a limousine to take a documentary crew to meet Mr. Howie at his headquarters in the old Airstream park downtown.
During the ride, the Gazillionaire received repeated calls from the high-strung Mr. Howie, insisting that he "please tell everyone that I am cutting edge, this is a cutting-edge piece of work!"
"I don't know the guy," Gaz said. "He's just burning up my phone. He could be a big money pit for all I know. His show could well be crap."
Not likely. Think "Absinthe" with a cosmic approach. The show will share the same underground appeal as "Absinthe" and share a similar format, with several side acts revolving around a host (i.e. Harry M. Howie) or other characters.
"I don't know how much we'll use him, it depends on how bad the show is," Spiegelworld founder Ross Mollison says later. "This show has been explained to me 10 times. It's themed on outer space, but I don't think even we know yet what it'll be yet. It's not just that I want to be cute, the fact is that we have a whole range of different parts to follow here.'"
Pressed further, Mollison adds, "It will have comedy with a musical engine."
That latter assessment, of course, describes many Vegas productions ("Absinthe," "Zombie Burlesque" and "The Rat Pack is Back" among them). Mollison had hoped to take "Opium" to the former space at The Shoppes at the Palazzo where The Act was staged. That's not happening, at least for "Opium." And Mollison still says he remains interested in star comic George Wallace as host, as previously reported, though Wallace is not part of the opening cast.
"He's a wonderful artist," Mollison says. "I've been thinking about that idea, and it's not outside the realm of possibility that it'll happen."
Back inside the RV, Harry explains in a tortured sort of way, that the title "Opium" was not inspired by any narcotic or drug reference. Rather, it was derived from the letters "OPM" (coincidentally the name of a now-defunct nightclub at the Forum Shops at Caesars some years back). Coincidentally, Harry kept encountering the numbers 13, 15 and 16. "Even in my Alpha-Bits cereal, I was seeing these numbers," he says earnestly Harry, who says he used these figures to track their geographical coordinates.
Harry offers no scientific verification of this method, but says he known they are accurate because he has a friend who knows about this stuff. "He's really good about these things — he predicted he World Series." The numerals also correspond alphabetically with the letters M.O.P., which can be jumbled into O.P.M., or "Opium."
And because the information was sent through the cosmos, he says, the "Cosmopolitan, which has M.O.P. in it, must be the place!" He hopes to stage the show on Mars, too, if this Strip run works out.
Here on Earth, Cosmopolitan of Las Vegas Chief Executive Officer Bill McBeath — a resort exec with more than two decades of experience who helped Steve Wynn open Bellagio — says he's excited to be working with Spiegelworld's creative team on a new production. "It's an exciting time for us to be working with Ross Mollison and the creative team at Spiegelworld again, bringing the best of Las Vegas entertainment to Rose. Rabbit. Lie. at The Cosmopolitan.
"At the core of their story, Spiegelworld creates immersive and unique show moments, a direct synergy with the property's forward-thinking approach to guest experience and offerings," he says.
McBeath was on board when Spiegelworld and the Cosmopolitan announced "Absinthe" would move to Rose. Rabbit. Lie. in October 2016. But Spiegelworld later worked out its legal entanglements over its lease agreement with co-producer Base Entertainment (which split with Spiegelworld in August) and has remained at Caesars Palace.
The mercurial history between Spiegelworld and the Cosmopolitan dates to the days of "Vegas Nocturne,' a brilliant show with a complex, often confusing, format that ran for seven months before financial losses undercut the production in July 2014.
The two sides duked it out in court before settling a lawsuit sparked by the show's closing in May 2015. That result gave the companies ample time to make nice, reconvene and plan for a cutting-edge show in a stylish resort showroom.
Despite the legal tussling over moving "Absinthe," Mollison says he's always been a fan of the Cosmo. "I feel like the Mayor of London (Ken Livingstone), who was sacked and then came back and said, 'As I was saying before I was so rudely interrupted five years ago.' "
With "Opium," Mollison has bought some time. Now he's hoping Harry M. Howie doesn't lose the check.
John Katsilometes' column runs daily in the A section. Contact him at jkatsilometes@reviewjournal.com. Follow @johnnykats on Twitter, @JohnnyKats1 on Instagram.