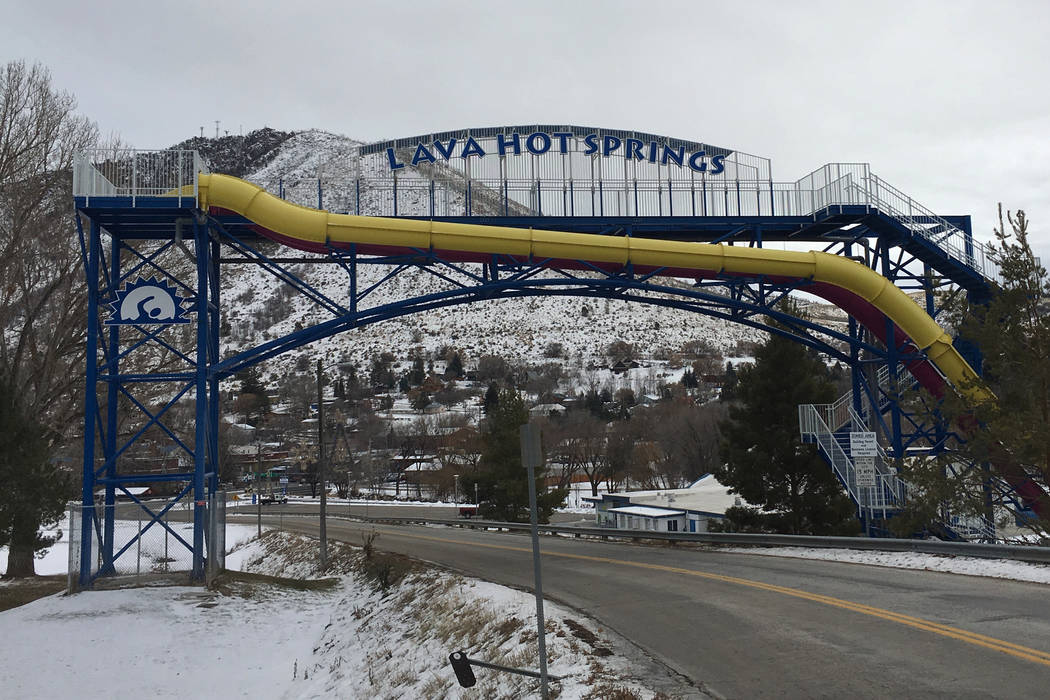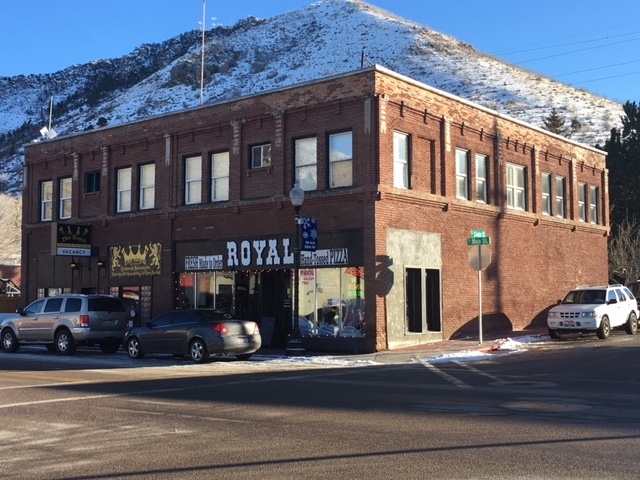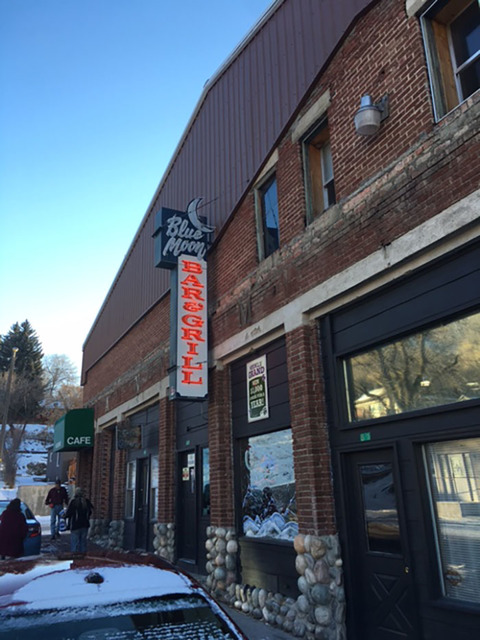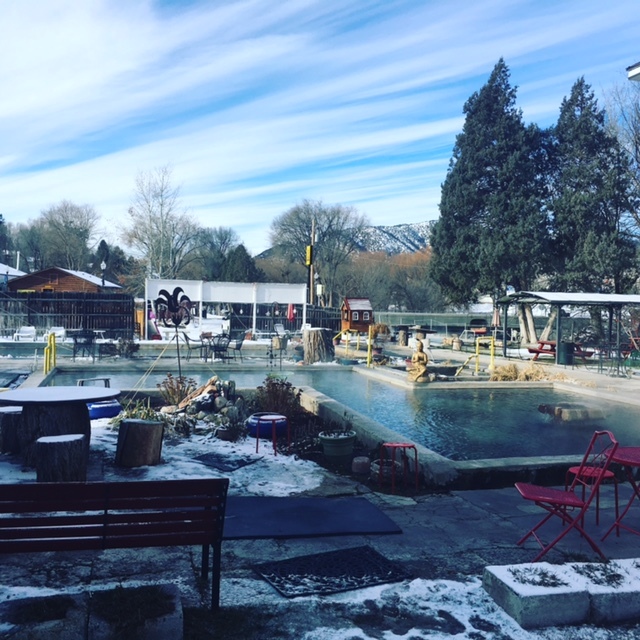 LAVA HOT SPRINGS, Idaho — The KATS! Bureau at this writing is a warm retreat from icy conditions. We speak of the family business, the Lava Hot Springs Inn, in the tiny town of the same name.
Lava Hot Springs, my annual holiday respite, has a posted population of 407. But it fluctuates. I'd been told a year ago about 415 folks live here. A local business owner (OK, my father, George or "Daddy Kats") has told me it's actually 406.
The numbers are really all over the place.
A better gauge of Lava's small-town characteristics are its traffic lights. There aren't any. Earlier, my cousin Denise Sanna McClure and I walked out of the little (of course) Italian restaurant at Royal Inn Motel, having enjoyed the famous Royal Stromboli, which is a combination stromboli with pineapple added.
Vegas restaurants could learn something from the service at Royal Inn, by the way. Very friendly and attentive, and the place even delivers, though I can't imagine they do much delivery. Seems half the town is in the restaurant on any given night.
The Royal Inn's entrance is just off the corner of Main Street and Center Streets, Lava's two primary (and, only) major thoroughfares. I exited and headed toward the corner, the common location of a crosswalk. There's no crosswalk at the town's only stop sign, but we are at least pretending one exists.
Knowing the terrain, Denise just walked directly onto Main Street, instinctively and correctly deducing the absence of any vehicular traffic at 8 p.m. Main Street at night in Lava is like a long pedestrian walkway, somewhat similar to a small Fremont Street Experience without the light canopy. And also, without buskers dressed as members of Kiss.
But there is experience in this area, and all over Idaho, really. Lava is a town covering less than a square mile. When I am home in VegasVille, I use resorts as a reference point for Lava's size, "The MGM Grand casino floor is bigger than Lava Hot Springs."
As readers over the years have known, Dad's place is a wonderful counterbalance to my world in Las Vegas. The brick building sits on the edge of the Portneuf River — tubing down that waterway is a favorite activity among summertime thrill seekers. The original inn was built in 1924 as the Lava Hot Springs Sanatorium, mostly as a treatment center for World War I vets. In 1957 it became a rest home and assisted living facility, finally closing in 1985.
Daddy Kats bought the shuttered property in 1988, drilled for hot water and — boom — business and the bed and breakfast has been booming. The water is the draw, with hot baths all around the property filled by three wells that pump more than 600,000 gallons a day. Water is also sent to the Portneuf, and eventually the Snake River.
Lava's location about two hours north of Salt Lake City off Interstate 15 draws all sorts of visitors, families heading to and from Jackson Hole, Wyoming, and Yellowstone National Park. Over the years I've soaked with folks visiting from Canada, Eastern Europe, all across the Intermountain West, even folks on their way to Vegas who wanted a soothing overnight stop. On this trip I met a couple from Truth Or Consequences, N.M., on their way to Northern California.
Lava attracted a celebrity TV personality a couple of years ago when Zak Bagans and his team descended on the Inn for an episode of "Ghost Adventures." The show was to air sometime in 2016. Plans soon changed, and the episode was fast-tracked when Bagans turned up and the meters on his ghost-detecting equipment immediately started bouncing.
Apparently, spirits are all over the Inn, with Bagans famously describing the property as "a nuclear reactor for spirits."
I finally met Zak, who also lives in Las Vegas, this past October at his just-opened Zak Bagans' The Haunted Museum. We chatted before he held a candlelight vigil honoring victims of the Oct. 1 shooting.
I told Zak that I enjoyed his show about Lava, and that he visited a place that had great memories from my days as a kid in Idaho. I said to him, "If anywhere is haunted, it's the Inn." He laughed and said, "Your dad said the same thing, and we found that to be the case."
For the record, I personally have never encountered a spirit in Lava. Spirited people, yes. Always.
It's about time for more soaking, then a visit with my brother, Bill; and his wife, Lindsey and 4-year-old nephew, Austin. They drove here from Boise, and later in the trip we'll all be there with the rest of the family. If you've not spent time with 4-year-old, do so. It's a grounding experience. Today we had lunch at Freddy's, and he introduced me to a favorite delicacy: French fries dipped in chocolate custard.
I feel some top chefs in VegasVille could make that dish a signature dessert, or appetizer, or something.
But the call has come down for me to stop the writing, with Dad threatening to confiscate my laptop and my iPhone. He still maintains his parenting authority. So, I stop.
I close out by wishing you only warmth and happiness this Christmas Day. Those of us in the Gem State wouldn't have it any other way.
Contact John Katsilometes at jkatsilometes@reviewjournal.com. Follow @johnnykats on Twitter, @JohnnyKats1 on Instagram.