The Killers pick their spots to wield political clout
February 22, 2017 - 5:56 pm
Updated February 23, 2017 - 9:48 am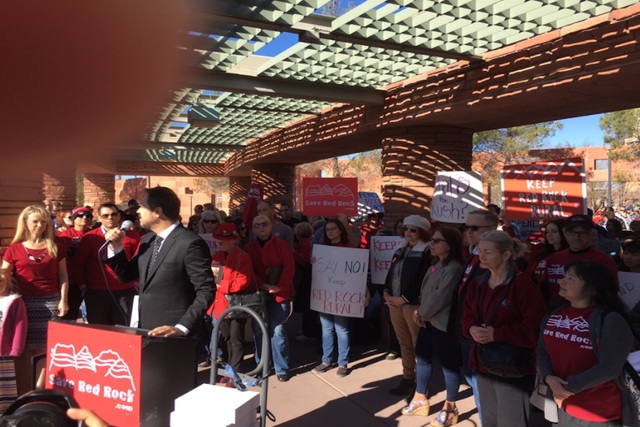 The Killers don't usually get involved with local politics. That was the first line in the letter read on behalf of the band by its manager, Robert Reynolds, on Wednesday at the Clark County Government Center.
Nonetheless, the Killers have been supporting the Save Red Rock organization attempting to blunt residential development of more than 5,000 homes on 2,010 acres of Blue Diamond Hill, adjacent to Red Rock Conservation Area. Band members Brandon Flowers, Ronnie Vannucci, Mark Stoermer and Dave Keuning all signed a letter read to the commissioners at the crowded zoning meeting.
The Killers' support of Save Red Rock dates at least to 2012, when they performed a show at Hard Rock Live in support of the organization. The band's clout and posts on social media certainly helped draw hundreds of supporters to the Clark County chambers, red-shirted folks who lined the hallway and overtook the county's cafeteria, which was turned into a viewing room.
The band's power to galvanize residents and sway public opinion was evident, but The Killers are not turning into full-time activists.
"I don't think this is any intentional stepping stone," Reynolds said before Wednesday's meeting. "This is an opportunity that arose that The Killers feel strongly about, that they can lend their voice to … this was an obvious issue for them."
Flowers, especially, has the fame and passion to enter public service.
"I don't think he has any designs to run for office," Reynolds said. "But he truly does go to out and hike, he is really out in nature, all the time around here. The passion is real."
Later, after today's ruling that allows the project to proceed, Reynolds was asked if the band would keep up the fight. His one-word answer: "Absolutely."
CANDY FOR THE CHUM-STER
If Rick Harrison's Instagram feed is to be believed — and we think it is — his "Pawn Stars" co-star Austin "Chumlee" Russell is planning to open a candy store in VegasVille. More will be revealed in this sugary venture, to be sure. Maybe a store front at Harrison's Pawn Plaza?
THE BACK-STRIP BOYS
The Backstreet Boys open at Axis theater at Planet Hollywood on March 1, which is also their first post-show appearance at Chateau nightclub at Paris Las Vegas.
Backstreeters Nick Carter, Howie Dorough, Brian Littrell, AJ McLean and Kevin Richardson are to hang and party after performances on March 4, 10, 11, 17 and 18. The boys will also hit Chateau for dates in April through July (visit ChateauNights.com for info).
J-LO MEANS BUSINESS
On the topic of Axis, Jennifer Lopez reportedly surpassed $36 million in sales at the theater in 2016, selling 167,000 tickets in 39 shows. I'll save some calculator work: It's 4,282 (and change) per show, right at the theater capacity. Lopez is back in action at 9 p.m. Friday and Saturday, returning May 24 for her next run at Planet Hollywood.
COOL HANG ALERT
Freedom Beat at Downtown Grand has launched a "Biscuits and Jam" live-music experience. We have real biscuits from the restaurant's menu, accompanied by the "jam" session of local musicians. The open-mic night is sponsored by the Gibson guitar company. The schedule of performers is loose, the time is 10 p.m.-1 a.m., admission is free, and the biscuits prepared by Chef Scott Commings (Season 12 winner of "Hell's Kitchen") are … filling.
'MYSTERE' OPENS UP
The Cirque du Soleil show that launched the company's residency on the Strip, "Mystere" is opening rehearsals to fans — free of charge. These training sessions run from 3 p.m.-3:30 p.m. Saturdays, open to all ages. For more information, call (702) 894-7722.
"Mystere" opened on Christmas Day 1993 and celebrated its 11,000th performance Feb. 18. Guitarist Bruce Rickerd continues his unbroken streak of consecutive shows, making all 11,000-plus. He holds the company's all-time record for performances.
J&R ON THE HUNT
Expected to serve as the onstage musician in Jarrett & Raja's magic-and-music dinner show at Hooters, Will Champlin is no longer with the production. Champlin is a former finalist on "The Voice" who performed with Jarrett & Raja in the short-lived "One Epic Night" production at the Plaza. Instead of joining the new show in a refurbished showroom at Hooters, Champlin is working on solo projects (including performing at Freedom Beat last Monday).
No word on who will replace him, though Raja says, "We're in discussions with some great people here." Jarrett & Raja, recent guests on my KUNV 91.5-FM radio show, are set to open at Hooters on March 23.
John Katsilometes' column runs daily in the A section, and Fridays in Neon. He also hosts "Kats! On The Radio" Wednesdays at 8 p.m. on KUNV 91.5-FM and appears Wednesdays at 11 a.m. with Dayna Roselli on KTNV Channel 13. Contact him at jkatsilometes@reviewjournal.com. Follow @johnnykats on Twitter, @JohnnyKats1 on Instagram.