The story behind that wire-frame Lambo at the Palms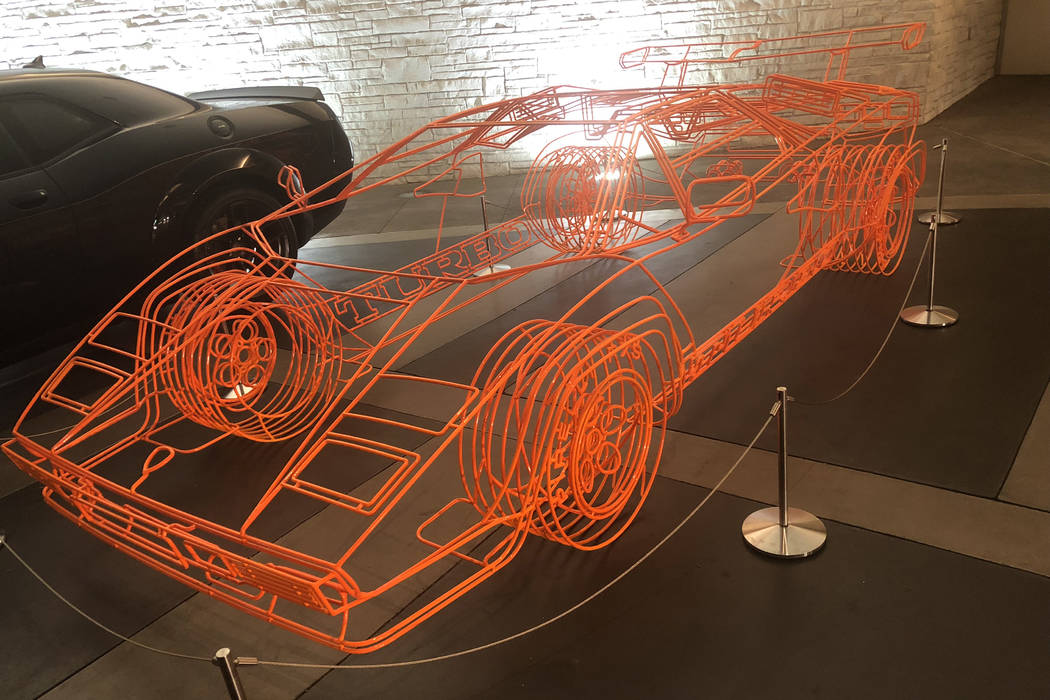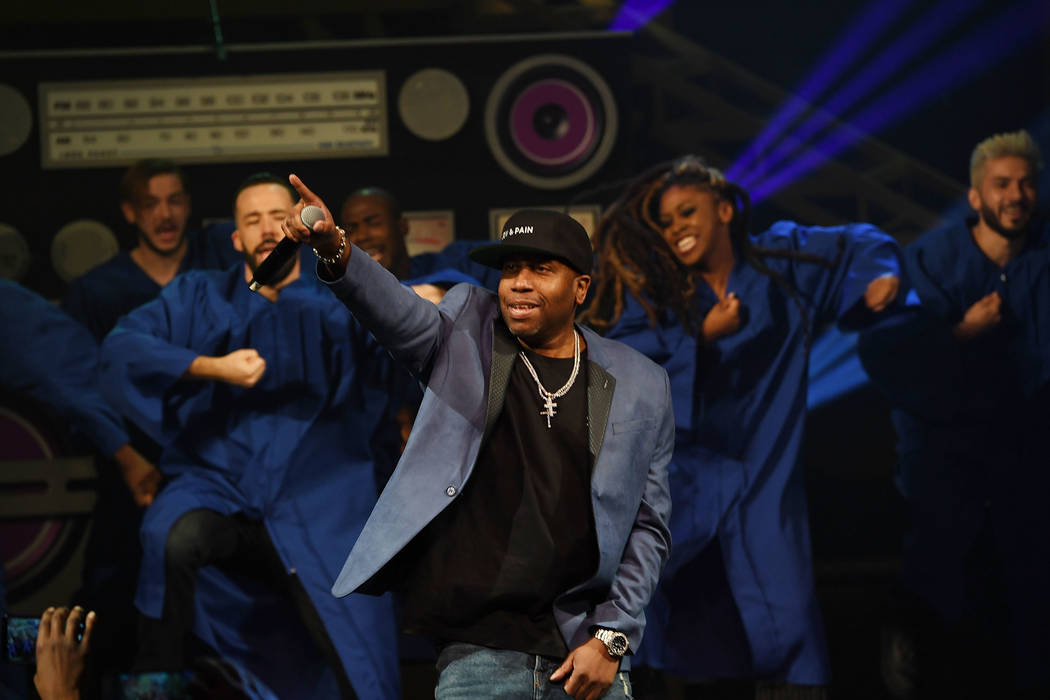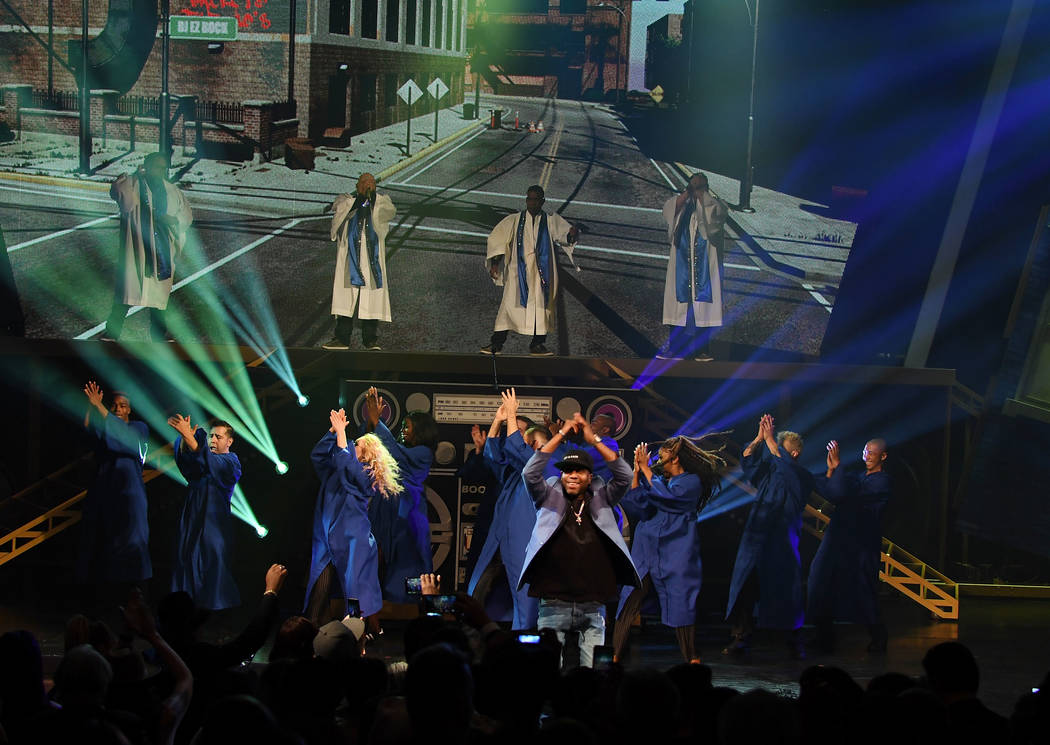 It's the Palms' Tangerine Machine — except without the machine.
We speak of the fluorescent-orange, wire-frame Lamborghini Twin Turbo Countach parked at the hotel's porte cochere. It seems as if it's been parked in a choice spot by the hotel's valet attendants. It hasn't. The replica vehicle is actually an display, a molded-metal masterpiece by artist Benedict Radcliffe, coated in one of his favorite colors.
"We've been a fan of Benedict Radcliffe for quite some time, and when we started curating the artwork for Palms we knew his iconic cars would be perfect for the valet of the hotel," Palms Creative Director Tal Cooperman says. "It really sets the tone for the experience guests can expect as soon as they arrive to the property. The reaction people are having upon seeing it is amazing."
The artist spent between five and six months making sure the car is 100-percent to scale. It's taken up the same spot near the hotel entrance where Jon Marchessault parked the famed Vegas Golden Knights-designed Lambo during the NHL Stanley Cup Playoff.
Radcliffe made his first wire-frame vehicle in 2005, and has since parked such sculptures as Range Rovers, a Jaguar E-Type, Ferrari F40 and Lancia Delta. Maybe our friend Tommy Rocker can commission Radcliffe to design a replica of Rocker's famed 1970 VW Bus, but make it cherry-red.
Goin' electric
The new Cirque du Soleil show being developed at Luxor, reportedly but not officially named "Jump," will use electric motorcycles. That move is in line with MGM Resorts International's attention to environmentally responsible action (the company was early to phase out the use of plastic straws at its Vegas hotels), and offers less noise and gaseous odor than traditional bikes. Again, this is just the buzz … or if you will, hum, around the show.
Goin' electric (part 2)
UD Factory Chief Executive Officer Seth Yudof is like a player/coach, deciding if he should call his own number.
Yudof's company produces "I Love the 90s — The Vegas Show" at Paris Theater. Yudof is also an accomplished guitarist, through he hardly ever plays (at least publicly) as he's focused on producing before performing.
But this weekend, with En Vogue joining Rob Base and Kid 'n Play, Yudof is musing about a return to action. He said in a text message, "The biggest issue right now is to decide if I should play guitar with En Vogue or hire someone," he said, then added, "Well, not the biggest issue, but the most fun to discuss … I'd love to do it, but my retired fingers might hurt too much!" The show returns Thursday through Monday at the Paris. Keep an eye on the musicians.
Latest mob scene
Former Las Vegas Mayor Oscar Goodman is hosting his next Oscar Dinner Series series event on a fitting date — Dec. 5, the 85th anniversary of Repeal Day, which marked the end of Prohibition. The holiday-season event is moving from the Oscar's Steakhouse speakeasy to the restaurant's main dining room (I call it the Oscar Dome).
Goodman is to mark one of his favorite holidays with a retelling of his trek from "mob lawyer" to his time as the city's mayor, peppered with the distinctive folks he encountered (and also represented) along the way. The shindig kicks off at 6 p.m., the cost is $150 per guest. For more information, call 702-386-7227 or email RSVP@playlv.com.
We expect, by the date of the dinner, Goodman will have recovered from the $20 bet he made on the horse Oscar Performance in Saturday's Breeder's Cup Mile. The horse ran dead last, and now should change his name.
F.A.M.E. Awards return
Producer Al Bowman is back with the Las Vegas & Hollywood F.A.M.E. (Film, Art, Music and Entertainment) awards at Hard Rock Live on the Strip at 8 p.m. Wednesday. Bowman started the awards as the L.A. Music Awards nearly 30 years ago, but is moving the events to the Strip.
Honorees include Rocker Lita Ford; Bellagio pianist David Osborne, who has performed at the White House for five presidents; actress Rebecca Holden, music producer Jeff Blue, who has worked with Linkin Park, Korn, Limp Bizkit and Macy Gray; producer Joel Diamond, who has worked with David Hasselhoff, Helen Reddy and Engelbert Humperdinck; multiple Emmy Award-winning broadcast journalist Darcy Spears of KXNT Channel 13; "Fantasy" singer Lorena Peril; acting coach and film actor Tim Colceri; Gretchen Bonaduce, author and ex-wife of TV star Danny Bonaduce; and veteran Vegas vocalist Gary Anthony.
Contact John Katsilometes at jkatsilometes@reviewjournal.com. Follow @johnnykats on Twitter, @JohnnyKats1 on Instagram.