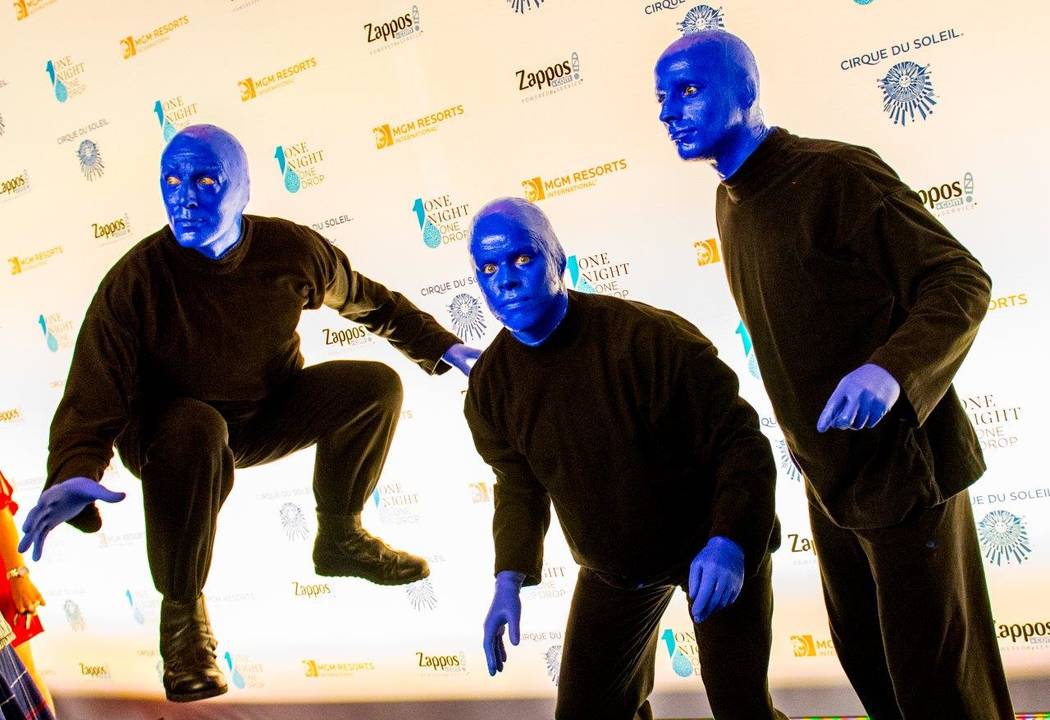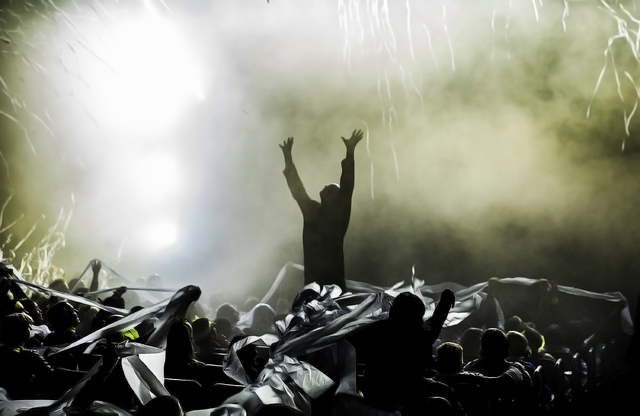 China will soon be invaded by an army of Spandex-clad acrobats and their bald, blue-painted friends.
New creative partners Cirque du Soleil and Blue Man Group are zeroing in on the world's most populous country. That was evident Thursday after both companies announced Cirque's acquisition of the Blue Men.
"We are going to tour China for the first time, and we are going to have a huge residence show of the magnitude of any of our Vegas shows," Cirque du Soleil President and Chief Executive Officer Daniel Lamarre said Thursday morning, shortly after the announcement. "We are looking to make entries into seven cities in China with our touring shows, and move Blue Man Group into China with us."
The show is "Kooza," expected to debut in October 2018 in Hangzhou, which sits at the tip of Hangzhou Bay in eastern China, separating Shanghai and Ningbo. The city's population exceeds 9 million, outpacing any city in the U.S. The theater is to be 1,500 square feet; the shows are to run eight performances a week.
Cirque is also reportedly developing a 13-show TV series, a kind of "Cirque's Got Talent," as a run-up to the "Kooza" premiere.
The catalyst for Cirque's vault into mainland China is that country's investment conglomerate Fosun Capital Group. Fosun has a 20 percent minority stake in Cirque (the majority owner is San Francisco investment company TPG Capital), but plays a significant role advising on business matters in China.
"As we have tried to make a China connection for Cirque, nobody told me no, but nobody told me yes, either," Lamarre said. "We were having a lot of meetings, good meetings, but nothing concrete was happening. Now people are saying yes and committing."
Blue Man Group co-founder Chris Wink said his company was interested in the Cirque deal specifically because of the incredible audience potential in China.
"When we met, the question was, 'What's next for us? How do we get to the next level?' " Wink said Thursday. "We can keep cruising along at our own level, but we want to get to China, South America and other places. We are proud of how we have refreshed our show, how it has progressed over the years, but we haven't been able to bust out of our own shell and structure.
"This partnership with Cirque will allow us to do things we couldn't do before in terms of marketing and moving to other parts of the world in a true trans-media company."
Both Lamarre and Wink stress that the creative components of Cirque and Blue Man Group will remain separate.
"Phil (Stanton), Wink's co-founding partner in BMG) and Chris are in charge of the creative content of Blue Man Group," Lamarre said. "This was important to us from the very start, respecting and accepting the creative chemistry of Blue Man Group while promoting them around the world."
There is an artistic divide: Don't expect the characters in "Ka" to don blue skull caps and start drumming on PVC pipes, or the Blue Men to try out the Korean plank.
"We are not re-branding Blue Man Group as Cirque," Lamarre said. "We will just have many more shows, Blue Man Group shows, performing around the world."
Wink recalls meeting the Cirque officials for the first time more than a year ago in Montreal, the Cirque headquarters known as "The Mother Ship."
"It was just meeting them that sold me, because we had talked to some interested parties with deep pockets who didn't seem to get what we were doing," Wink said. "But with Daniel and the people at Cirque, it was just, 'God, this is great,' like meeting lost cousins. They are just a bigger version of us, wild-eyed kids trapped in grown-up bodies."
John Katsilometes' column runs daily in the A section. Contact him at jkatsilometes@reviewjournal.com. Follow @johnnykats on Twitter, @JohnnyKats1 on Instagram.