Vegas headliner Frankie Moreno shakes up Carnegie Hall
Updated October 22, 2018 - 5:27 pm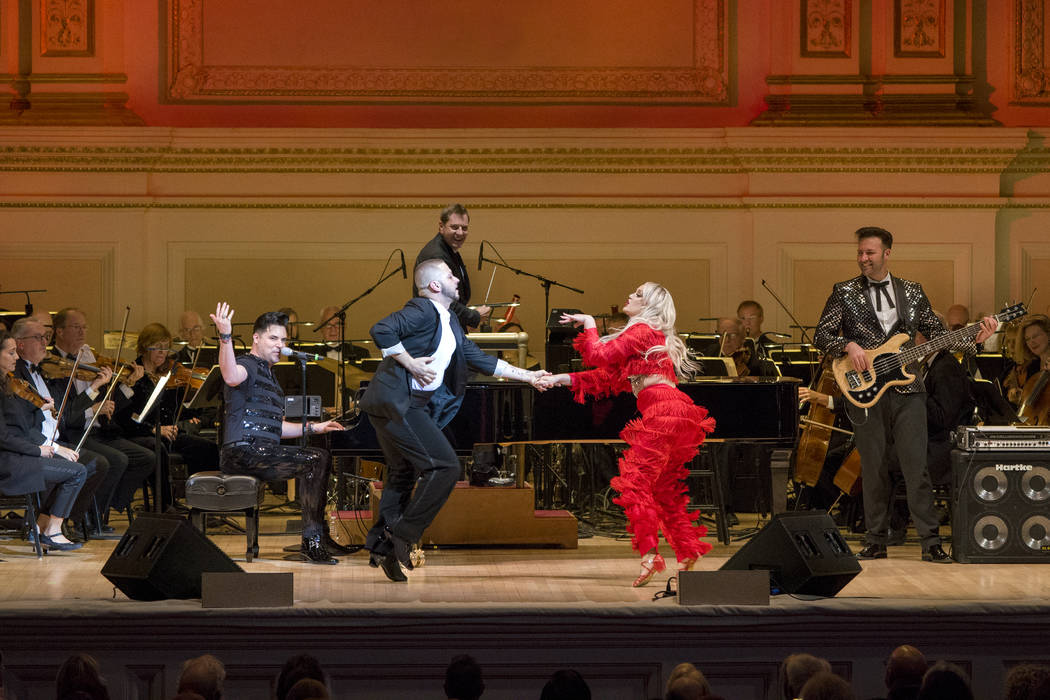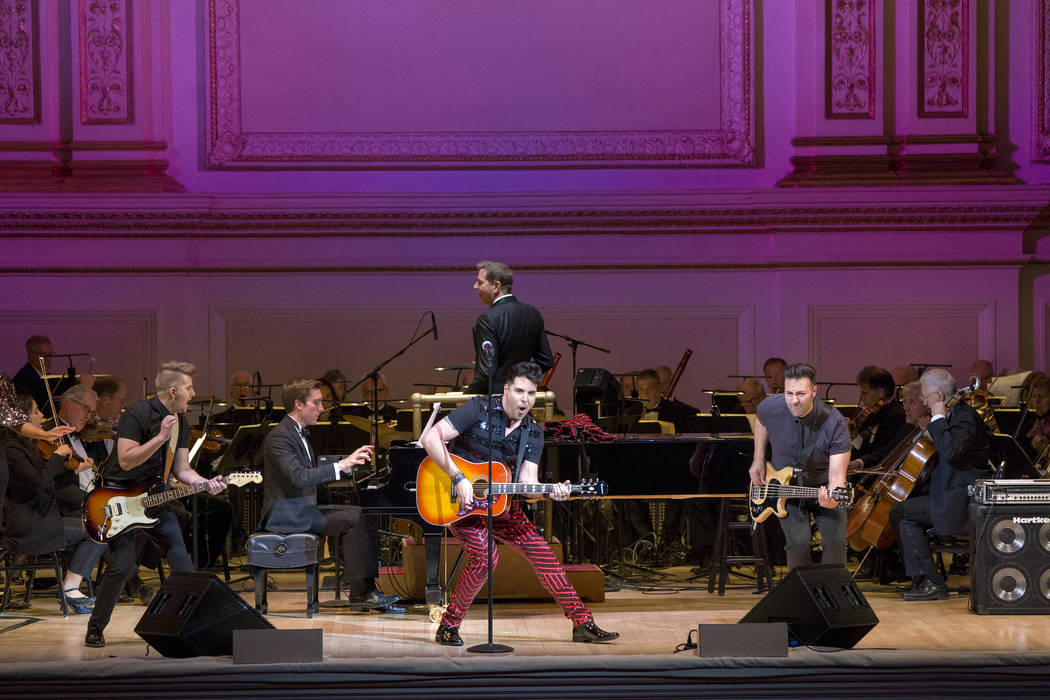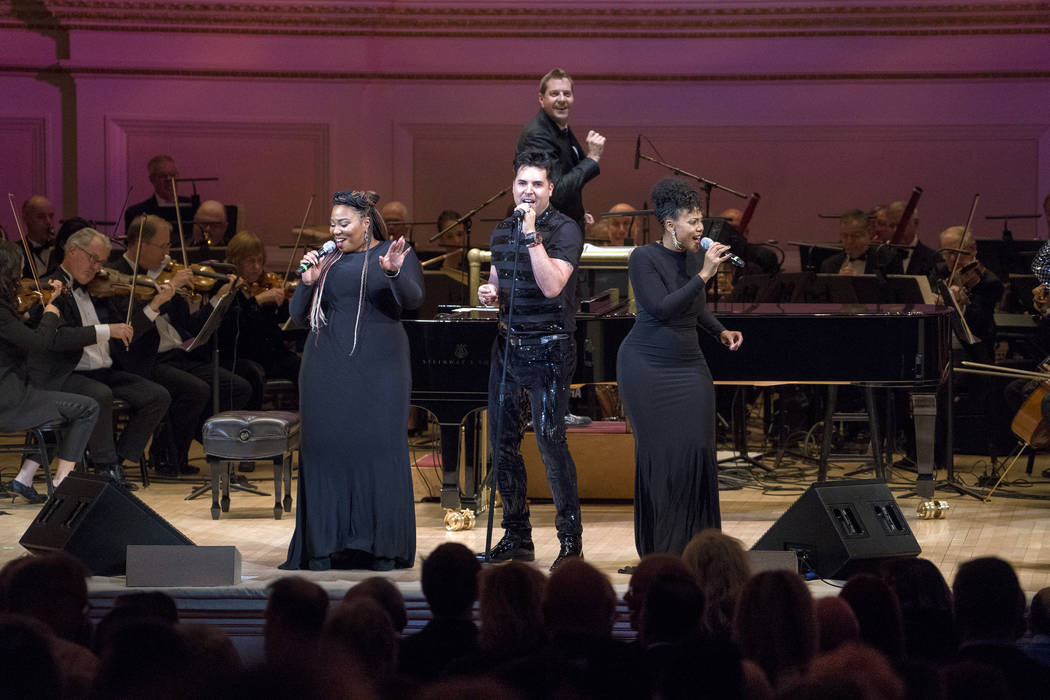 NEW YORK — The song is so familiar, but what it inspires is a moment new to Carnegie Hall.
"Stand By Me," the classic from Ben E. King, is the tune and Frankie Moreno the singer.
"If you're here with someone you love," Moreno directs, "it's time to get up and dance."
And everywhere, all around, groovers arise. There are same-sex couples and young couples, those from differing cultures and those who certainly have been married for decades, all swaying and smiling.
A man seated at my right who sees all of the shows at Carnegie Hall stands, too. He watches this scene unfold and steals a few shots from his cell phone.
"This never happens here," he says. "I've never seen it before."
This is the night Las Vegas dances with New York. Moreno's coupling with the New York Pops was aptly titled, "Roll Over, Beethoven: A Different Kind Of Orchestra." The blend of familiar rock 'n' roll songs and Moreno originals is headed up by revered conductor Steve Reineke, celebrating his 10th year as music director. The performance is also the Pops' season opener, a significant social event in Midtown Manhattan.
"I wanted to show that we are really a different kind of orchestra," Reineke would say at the post-performance reception. "Frankie was perfect to send that message."
But you don't just show up at Carnegie Hall with a shiny suit, a Gibson and a resume and expect to headline. Reineke, originally hired by the N.Y. Pops after an exhaustive two-year search, learned of Moreno through violin great Joshua Bell (who was seated a half-dozen seats to my right at Friday's show).
Bell and Moreno met about a decade ago at Rush Lounge at the Golden Nugget on night after Bell appeared with the Las Vegas Philharmonic at Ham Hall. Bell later invited Moreno to play Hollywood Bowl in the summer of 2014. And, Bell's manager, the musician/conductor/music executive David Lai, brings in guest stars at such great halls as Carnegie and Kennedy Center in Washington, D.C.
Moreno's show cuts a similar path as his previous performing-arts center appearances across the country. He arrives in a black-sequined shirt and jacket, flaunting the sort of Vegas flair the audience expects, and says, "I can't believe I'm actually onstage at Carnegie Hall … in sequins."
The crowd is peppered with members of Moreno's Las Vegas fan club, about 100 in all. The total count from Vegas is about 200 around the theater, shouting as if they are at a sporting event and even — to the anguish of Carnegie Hall ushers — holding up LED-lettered signs reading "FM Army" and "King of Vegas."
The scene w/ @frankiemoreno frankiemoreno @carnegiehall … post-rehearsal, show is 8 p.m. Eastern. Love this scene … pic.twitter.com/9WAiLPI9FP

— John Katsilometes (@johnnykats) October 19, 2018
Fittingly, Frankie Moreno Fan Club co-founders Kathy Cornelius and Georgia Yeager first saw Moreno at Carnegie Hall during his performance at "Let's Be Frank," a Sinatra tribute show in 2015 (Cornelius's son is the lighting director at Stern Auditorium). This is the place where the self-proclaimed "FM Army," which has built a database of tens of thousands of fans, was launched.
The orchestra envelops Moreno's Las Vegas backing band of his brother Tony Moreno on bass, Alec Zeilon on guitar, Mike Zerbe on drums and the horn section of Fabricio Bezerra, Pete Bresciana and Jim D'Arrigo. Moreno's backing singers, Crystal Robinson, Ashley Kellough and Markevius Faulkner complete Moreno's tight-knit stage lineup.
How we land it. A blast of a night w/ @frankiemoreno @carnegiehall pic.twitter.com/6ravgC3D1G

— John Katsilometes (@johnnykats) October 20, 2018
Those who have seen Moreno perform at venues around Vegas, and even at such famed locales as Hollywood Bowl, are struck by the lush, layered sound emanating from the stage. There is scant augmentation at the hallowed hall, just a single microphone set high above the middle of the hall, and one bank of speakers over the performers. Carnegie Hall, no surprise, is not where you find technical gimmickry (and forget such accepted live-entertainment devices as LED screens or pyrotechnic effects). The Hall will always serve as a celebration of pure artistry, live from the stage.
That artistry is open to a pair of pro dancers — Moreno's partner and choreographer, Lacey Schwimmer, and Serge Onik. The duo races down the aisles for "Great Balls of Fire" and "Jump, Jive An' Wail." Schwimmer later says, "It's rare for a dancer to be able to take the stage at Carnegie Hall, so it was pretty surreal. It was one of those moments, standing there, and wondering if it's real, if it's happening."
Moreno calls out to Bell during the characteristically soaring cover of "Eleanor Rigby," which the two recorded in 2009 for the "Joshua Bell & Friends" album. Moreno hits the mark with the spirited "Moonlight Matinee," and rollicking "45," and the show-closing medley of Simon & Garfunkel's "Bridge Over Troubled Water," Elvis' "Jailhouse Rock" and Jerry Lee Lewis' blistering"Wild One."
Accepted Carnegie Hall protocol has been shed, as Moreno spins around and plays the hall's Steinway & Sons grand piano (retail price: $250,000) backward, then sits across the keys. Schwimmer shakes it up with a laughing Reineke as he attempts to guide the orchestra to the finish line, and the horn section doubles over while blaring the final notes.
"I tried to perform something that hadn't been performed before at Carnegie Hall," Moreno says. "We wanted a lot of 'firsts' at this show."
Whether Moreno is invited back seems only a matter of when, and what type of production — N.Y. Pops does not play the same show twice. But the crowd wanted more of that vibe. The folks at Carnegie Hall are not done dancing.
John Katsilometes' column runs daily in the A section. Contact him at jkatsilometes@reviewjournal.com. Follow @johnnykats on Twitter, @JohnnyKats1 on Instagram.