Vegas Trump impressionist joke winds up in Omarosa's book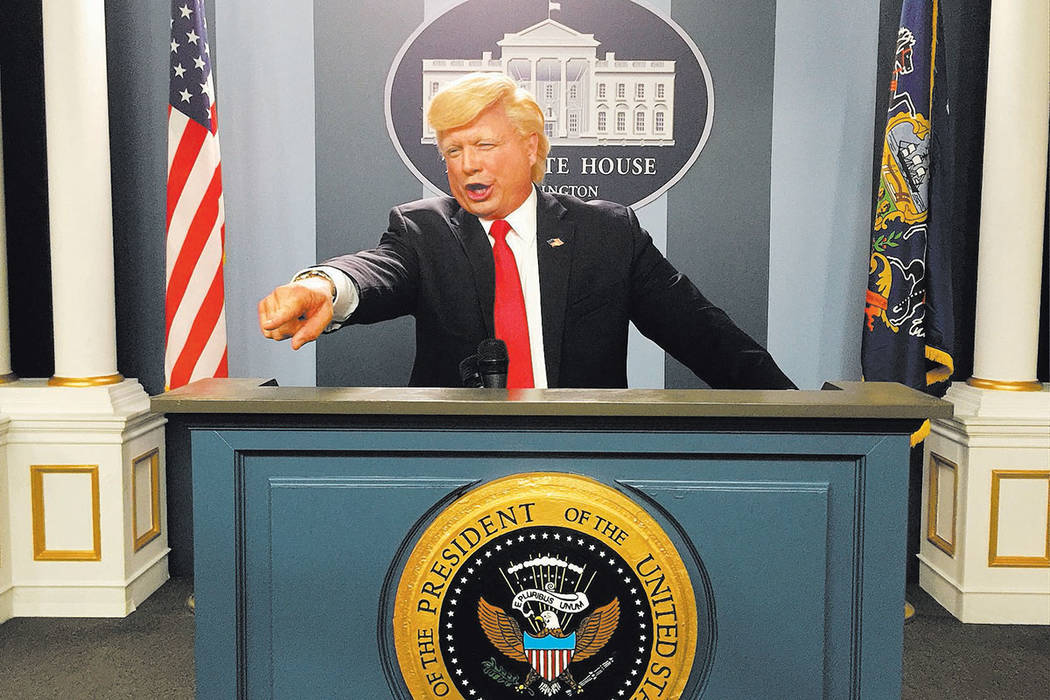 In his spot-on impression of President Trump, John Di Domenico has told the joke, "Instead of the Bible, I want to be sworn in on 'Art of the Deal.' It's a tremendous book." The sales are going to go through the roof.' "
Di Domenico used that joke repeatedly when Trump was president-elect. On Sunday, the Vegas comic posted a YouTube clip of his appearance on "Let's Talk Live," from the ABC affiliate in Washington, D.C., three days before the inauguration on Jan. 17, 2017.
Di Domenico told the "Art of the Deal" joke frequently in interviews and on national TV appearances on Fox, ABC, and also with Conan O'Brien. So Di Domenico was stunned to see a version of that line in advance copies of Omarosa Manigault Newman's new book, "Unhinged: An Insider Account of the Trump White House."
A passage from the book, set for wide release Tuesday:
"(Trump) asked me, 'Omarosa, what do you think about me getting sworn in on 'The Art of the Deal'?' " Manigault Newman writes, according to accounts by members of the media who got hold of an advance copy. "I said, 'Instead of the Bible?' " she allegedly said. "Yeah. 'The Art of the Deal' is a bestseller!" Trump replied, according to the book's account. "It's the greatest business book of all time. It's how I'm going to make great deals for the country. Just think how many copies I'd sell — maybe a commemorative inauguration copy?!"
Manigault Newman said Trump played it off as a joke but that she felt he was serious.
Regardless of the book's characterization of that conversation, I can confirm that Di Domenico was making a joke.
"The thing is, that's something Trump would say — and now it's in Omarosa's book!" Di Domenico says. "I also said, a month after he won the election, 'I'm president! Can you believe it?' And six months later, he said the exact same thing. I tell ya, I know how the guy thinks."
Di Domenico lives in Las Vegas and has made appearances across the country in his Trump persona. He continues to develop a stand-up act outside his Trump impression, which he says has become so polarizing it's been difficult to land any gigs outside of private events.
Marino resurfaces
His long-running stage show still in limbo, Frank Marino was back on the scene Friday at the grand opening of Rolled Ice Cream at Blue Diamond. Marino, star of now-closed "Divas Las Vegas," joined fellow celeb "rollers" hypnotist Marc Savard, members of Fantasy at Luxor and Thunder From Down Under, and pin-up model/burlesque performer Sabina Kelley.
It was Marino's first formal public appearance since his show at The Linq Hotel shut down following its June 26 performance. He is said to be considering a touring version of the stage show after performing as a headliner on the Strip for 33 years. He did not return a call for comment Sunday.
"Divas" closed abruptly after a Caesars Entertainment investigation found that money raised on behalf of Make-A-Wish of Southern Nevada was not delivered to the charity. The Nevada Gaming Control Board is still investigating the case to see if Caesars Entertainment, which owns The Linq Hotel, violated any gaming regulations.
Angel's guest sidekick
Criss Angel was among those interviewed by Marcus Lemonis, host of CNBC's "The Profit," when Lemonis toured Las Vegas earlier this month.
Angel and Lemonis chatted on Aug.2 inside the new Criss Angel Theater at Planet Hollywood, where Angel will launch his new "Mindfreak" production on Dec. 19. Lemonis is hosting an unspecified special about Las Vegas set to air this fall. Angel is working on his own making-of documentary centered on the development of his new show.
Lemonis also interviewed the D Las Vegas co-owner Derek Stevens, Zappos Chief Executive Officer and Downtown Project visionary Tony Hsieh, ex-Mayor Oscar Goodman and current Mayor Carolyn Goodman. The show also shot footage of Caesars Palace.
Classic Rohl
Michelle Rohl turned in an explosive performance Saturday night in her "Kozmic Blues, The Music of Janis Joplin" show at Myron's Cabaret Jazz at Smith Center. That was expected. Unexpected was Drew Carey showing up and hanging in the back of the theater.
The veteran improv comic, TV star and host of "The Price is Right" has been friends with Lon Bronson for a couple of decades. Bronson produced Saturday's show and assembled Rohl's crack backing band. Afterward, we all hung in the Cab Jazz mezzanine level, joined by Vegas vocalist and frequent scenester Jerry Jones; Carey's fiance, Dr. Amie Harwick, who is a sex therapist and also a serious "Twin Peaks" fanatic; and Carnell "Golden Pipes" Johnson, the beloved anthem singer for the Vegas Golden Knights who works as an usher at the Smith Center.
Quite a scene.
Rohl is pitching her show to backers and plans to return it to Cabaret Jazz. Rock fans, and especially Joplin fans, should check it out. But first, check out my social media posts from the show for a sonic taste of Rohl's vocal acrobatics.
Leach update
For those asking for an update on our friend Robin Leach, there is simply not much news to report.
The celebrity journalist continues his lengthy, measured rehabilitation in a Las Vegas rehab facility after suffering a stroke last November. Leach is still working on restoring his speech. He responds to those around him, and he is able to keep up on current events while watching network news.
His family is working toward moving him back to his home in Las Vegas by his 77th birthday on Aug. 29, but there is no timeline for that process to begin.
John Katsilometes' column runs daily in the A section. Contact him at jkatsilometes@reviewjournal.com. Follow @johnnykats on Twitter, @JohnnyKats1 on Instagram.