Wayne Newton kicks in $100K to Las Vegas Victims Fund
October 4, 2017 - 7:35 am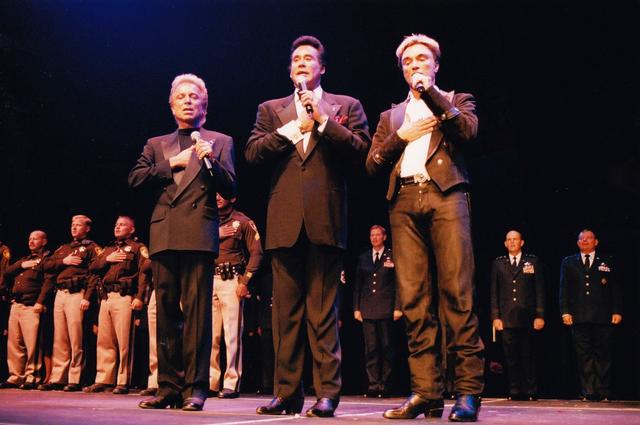 Mr. Las Vegas has never bought into the title of Sin City for his city.
"Every time I hear that, it so irritates me, I can't even tell you," Wayne Newton, who prefers the title of Mr. Las Vegas, said in a phone interview Monday night. "The people who live in this town are the best in the world. They are amazing. I always say, they are the types who will cross the desert in a covered wagon to help someone."
Newton is sharing in the city's grief after Sunday's mass shooting at the Route 91 Harvest festival on the Las Vegas Strip. He heard of the news during an overnight stopover in Los Angeles on his way back to Las Vegas after appearing at a charity event in Longview, Texas, with his friend and country artist Neal McCoy (Newton appeared onstage with McCoy during the first Route 91 Harvest festival in 2014).
In the face of the deadliest shooting in the nation's history, Newton has offered swift assistance: A $100,000 donation to the Las Vegas Victims Fund GoFundMe page, launched by Clark County Commission Chairman Steve Sisolak and Clark County Sheriff Joe Lombardo.
"I want to do this on behalf of my family and on behalf of the employees at Casa de Shenandoah," Newton said. "I will be here for my city."
Newton has supported several charities since moving to Las Vegas as a teenage lounge act with his brother, Jerry, in 1958. He's been especially active as chairman of USO's Celebrity Circle since 2001 and was an organizer of a USO all-star show at Mandalay Bay in November of that year to assist in 9/11 relief efforts.
Newton has felt this type of civic shock before.
"It's so reminiscent of the fire at the MGM in 1980," Newton said, referring to the blaze at what is today Bally's, which claimed 85 lives. "People were on the roof of the hotel, and they were being lifted off with helicopters. We actually put them up at the Aladdin, which I had just bought, and even then we saw so many examples of the amazing local community, doing whatever they had to do to help others."
Newton took a breath and added, "I am just really feeling this. It's been tough, and it's going to be that way for a while."
Aldean cancels
Jason Aldean, onstage during Sunday's shooting, canceled his weekend shows in Friday show in L.A., his Saturday show in San Diego and Sunday's performance in Anaheim, California.
In a statement released Tuesday, Aldean said, "I feel like out of respect for the victims, their families and our fans, it is the right thing to do. It has been an emotional time for everyone involved this week, so we plan to take some time to mourn the ones we have lost and be close with our family and friends."
Aldean resumes his tour Oct. 12 in Tulsa, Oklahoma.
The Space shines
About 20 pallets loaded with water, food, dry goods and paper products were collected at a hastily assembled donation drop at The Space on Monday night. The event seemed to grow on its own energy, with dozens of members of the city's entertainment community delivering and loading the provisions on a flatbed truck at the front of the venue.
The collection was hauled to Las Vegas Convention Center and unloaded for Clark County Family Services representatives.
"If we can open the doors to affect chance, we're going to do it," The Space founder Mark Shunock said. "Honestly, it might have been more important for us who were donating than the people we were helping. It was an incredible show of support."
Cast members from "Magic Mike Live" at the Hard Rock Hotel, "WOW" at the Rio, "Baz" at Miracle Mile Shops and several Cirque du Soleil shows turned up to offer support.
Originally, the night was set for Monday's Dark, a benefit for a rotating collection of Las Vegas charities. Monday's show was to be a fundraiser for St. Jude's Ranch for Children in Boulder City. That show will be rescheduled.
Tuesday night, The Back Space, the smaller showroom at The Space, debuted its weekly Tuesday night jazz series, starring Old Skool Kool. Door proceeds will go to the Las Vegas Victims Fund.
The Space also will continue to accept donations of water, dry goods and other provisions throughout the week.
"We're here doing shows anyway," Shunock said. "We've got the momentum going. Let's keep it going."
MGM, Cirque back online
Productions at MGM Resorts hotels, including all Cirque du Soleil shows, were back online Tuesday. MGM and Cirque pulled their shows offstage on Monday to pay tribute to those who were killed and injured in Sunday's shooting.
John Katsilometes' column runs daily in the A section. Contact him at jkatsilometes@reviewjournal.com. Follow @johnnykats on Twitter, @JohnnyKats1 on Instagram.