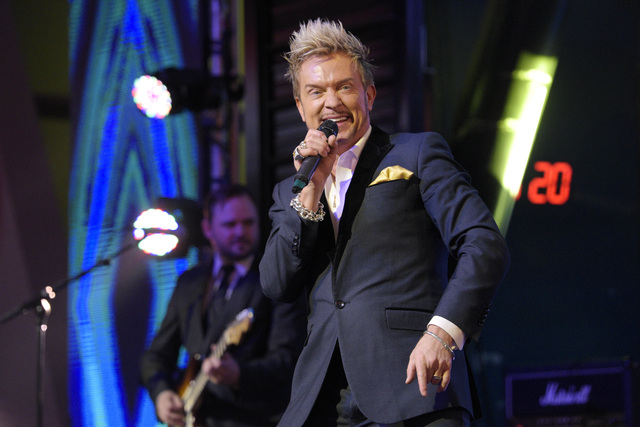 The Kats! Bureau has moved around the cityscape, from Vesta Coffee in the Arts District (great brew but charging full price for refills?) to Grand Lux Café at the Venetian after "Renegades in the Fast Lane" performance by Styx and Don Felder.
I also have a transmission from Saturday night's Canon USA Canon U.S.A. National Center for Missing and Exploited Children gala at the Bellagio. I spoke at length with Bryan Cranston before the event, as he was the night's star attraction and long a supporter of NCMEC c0-founder John Walsh.
More from that conversation, as Cranston reflected on his career and compared two of his more famous characters:
He prefers theater as his acting medium:
"There is nothing quite the same as being onstage and being able to have a relationship with an audience that feeds you," Cranston said. "There is literally an ebb-and-flow energy to it, to have the audience go, "Aaah!" or they sigh, whatever comes back to you … It's like a drug, and you get used to it. It's like, 'Ooh, boy. That feels great.' It's intoxicating, in a way.
"You get addicted to that feeling. It's a good addiction to have, because the side effects are not bad (laughs)."
His new comedy series debuts on Friday the 13th:
"It's a crime-drama called 'Sneaky Pete,' on Amazon and we are really excited about it," said Cranston, who has referred to his character as the reverse of Walter White, in that Sneaky Pete is not a good guy who goes bad "Pete is just a bad person."
His role as Zordon in the upcoming 'Power Rangers' movie returns him to his first work as an actor:
"Thirty-five years ago, I voiced the 'Power Rangers' TV series," Cranston said. "This movie is going to be a lot different from the TV series, just like the 'Batman' movies are different from the TV series." Cranston compares the film, due for release March 25, to "The Dark Knight."
His motivation is 'to shake things up':
"As you've seen now in my career, I like to keep moving around, and I don't like to repeat myself," Cranston said. "I don't like being derivative of my own work. I would get bored of that, or feel lazy. I would rather explore and be scared."
He would work with James Franco, his co-star in the new comedy, 'Why Him?' again:
"I would love it," Cranston said. "He's very funny, and the movie's very funny, too. We're very proud of it."
He never sought out to be a celebrity:
"There is a huge gap between celebrity for celebrity's sake, and someone who actually achieves celebrity through talent, you know what I mean?" Cranston said. "You focus on creating something, whether it's art or music or theater or whatever, and you become famous or a celebrity by way of that. It's very different from your goal being, "I want to become a celebrity. How can I be known and in the news?" I don't relate to those types of people at all. It was not a goal of mine to be famous, never."
The dad character, Hal, from 'Malcolm in the Middle' and Walter White do have something in common:
"Yes, they were both played by Bryan Cranston, and they wore tightey-whiteys, Cranston said with a laugh. "That's where it is."
GOV. MILLER AND MR. WALSH
Former Nevada Gov. Bob Miller, with his son Ross, was on hand Saturday night. There is tight bond between these families. Miller has been a supporter of Walsh since even before "America's Most Wanted" was launched in 1989, when Miller was sworn in as governor. When Miller was District Attorney in the early 1980s, he was an outspoken advocate of children's rights and threw his support behind Walsh's national campaign.
In return, Walsh recorded a commercial for Miller during Miller's 1986 campaign for lieutenant governor against Republican Joe Brown. President Reagan had also recorded a commercial, backing Brown.
"But we had John Walsh," Miller said just a few feet from the red carpet, "and we won that election, even with Reagan's support of Brown."
GOODMAN'S NEXT GIG
Former Las Vegas Mayor Oscar Goodman is hosting his next dinner series at Oscar's Beef Booze & Broads at 6:30 p.m. Jan. 26. Titled, "Scoundrel and Charmer – An Evening With the World's Greatest Cheat and Thief," the talk will feature an individual who once made a living cheating slot machines.
This event marks the first time Goodman has been joined by a guest star. We'll see if he or she gets an edge in word-wise, as they say …
SWITCHES IN THE ZB LINEUP
The lineup of Zowie Bowie has shifted as regular singer Nieve Malandra left the act in December as she is having her second child. Now alternating in Zowie Bowie's Top-40 dance shows at Red Rock Resort, Cleopatra's Barge at Caesars Palace and at the 3rd Street Stage on Fremont Street are former "Fantasy" vocalist Jaime Lynch and longtime Vegas performer Christina Amato.
Malandra continues to sing around town in intimate showcases at the Barrymore at Royal Resort, the Cromwell on the Strip and Marche Bacchus in Summerlin. She is also the proprietor of the Stardust Styles apparel shop at 450 S. Buffalo (Suite 119) in Las Vegas. The ladies seem to like her line, and so do I.
ON THE BARGE
One of the surprising stories to come out of 2016 is the resurgence of Cleopatra's Barge as a destination for lounge crawlers. I felt, as did a lot of Vegas scenesters, the moated enclave would shut down by the end of December for a new, branded, music club. That still might happen, eventually, but the dynamite performances by David Perrico's Pop Strings (Thursdays, Fridays and Saturdays) Zowie Bowie (Tuesdays and Wednesdays) and the Moonshiners (Sundays) has lit a fire in that club.
Officials are now in no big hurry to take the place apart, which was once an accepted reality when Matt Goss closed his show at the Gossy Room in September. But all this free-admission entertainment at a Strip resort is a refreshing, against-the-grain occurrence in a city where great shows seem to be closing every week.
Long story short: The Barge lives. Believe it.
John Katsilometes' column runs daily in the A section, and Fridays in Neon. He also hosts "Kats! On The Radio" Wednesdays at 8 p.m. on KUNV 91.5-FM and appears Wednesdays at 11 a.m. with Dayna Roselli on KTNV Channel 13. Contact him at jkatsilometes@reviewjournal.com. Follow @johnnykats on Twitter, @JohnnyKats1 on Instagram.