ZZ Top's Billy Gibbons gets Golden Knights playoff thrill
Updated April 27, 2018 - 9:26 am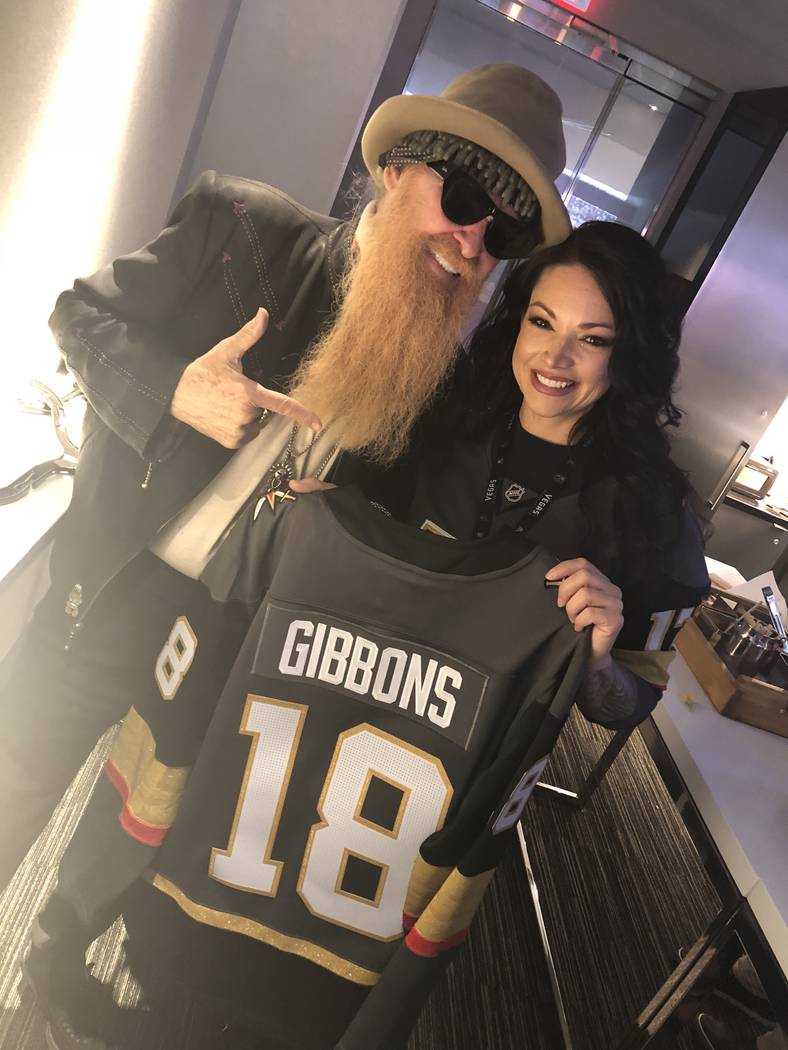 The Kats! Bureau is a VIP suite overlooking the the ice at T-Mobile Arena. To drop a hint about who has the keys to this enclave, they are acutely invested in the result of the Vegas Golden Knights-San Jose Sharks Stanley Cup Western Conference semifinals.
Seated at my right is none other than Billy Gibbons of ZZ Top. He's become a column frequenter this week, after a hang Tuesday at Carlito's Burritos and again tonight at this playoff game. Gibbons is to run the siren before the third period, and also has an official Vegas Golden Knights jersey awaiting him.
"I used to be a fan of the Houston Aeros, in the old World Hockey Association," Gibbons said. "Now I'm looking at the NHL in the desert. Wow. Who would have thought?"
Fan action from #BillyGibbons @ZZTop @GoldenKnights #StanleyCup #VegasBorn pic.twitter.com/lql8bUNQRZ

— John Katsilometes (@johnnykats) April 27, 2018
Gibbons has taken video of the pregame action (including the famed Battle of the Golden Sword). Maybe he'll post to his Facebook page. Our mini-entourage is further spiced by Marklen Kennedy, Gibbons' longtime friend and confidant and producer of the reality series "Gigolos" on Showtime.
And in the open suite to our left is team owner Bill Foley. I just yelled toward him that Gibbons was next door! "I see him!" he shouted and smiled. Gibbons, as the Golden Knights' took an early 3-0 lead, called out, "Man! They are really good!" But you really can't hear anything in this place, which is what playoff hockey in VegasVille is all about.
More from this scene, and elsewhere:
The Cellar is dark
Unexpected news from the club scene as Comedy Cellar at Rio is dark through May 4. Club co-owner Noam Dworman said Thursday that club ownership is in "renegotiations" with the hotel, which is part of the Caesars Entertainment family.
Comedy Cellar is the first outpost of the famous club of the same name in Manhattan. The most recent headlining performance was Judah Friedlander on April 18. This weekend's shows featuring Dov Davidoff, Lynne Koplitz, Matteo Lane and Owen Smith have been postponed.
The next show on the books is May 4, headlined by Kyle Dunnigan, a regular on Howard Stern SiriusXM show and writer/performer on "Inside Amy Schumer" who was featured in the opening-night lineup April 5.
The hope here is the club, modeled after the New York original sorts out its operating partnership with the Rio. The opening performance (which also featured emcee Mark Cohen and veteran comics Mo Amer, Nathan Macintosh and Jessica Kirson) was nails.
Also, Comedy Central plans a stand-up series from the New York club, titled "The Week at the Comedy Cellar," a set of 30-minute episodes based on the best topical jokes told onstage at the club. Comics will also debate those topics and discuss issues in a comics' table format. The Rio club is not to be depicted in the series, but would benefit from peripheral name recognition. Provided it's still in operation, of course.
Auction action
The Keep Memory Alive Power of Love live auction is always something to behold. Ten years ago, I bid $10,000 on a paragliding adventure with Carrot Top, and yes, I am kidding.
Seriously, the event for Keep Memory Alive, the philanthropic arm of the Cleveland Clinic Lou Ruvo Center for Brain Health, is scheduled for Saturday night at MGM Grand Garden Arena. Michael Buble, who has still never performed a Strip residency, is the star headliner.
The live auction, known to raise millions for the Ruvo Center, is always a highlight of the event: This year's gala again offers some serious items. Among them:
— A seven-day trip for 20 guests to Guy Laliberte's island estate in Kona, Hawaii. Laliberte, co-founder of Cirque du Soleil, has offered his 21,000-square-foot retreat. Place has 10 guest rooms in the in the main house and three additional villas. Laliberte knows how to stage a cast of 20, of course …
—A private tennis lesson from Andre Agassi and Steffi Graf in Las Vegas. Between them, they've won 30 grand slams.
— A ride on the Patron Tequila Express. Four days through California on a private railcar, outfitted with an outdoor terrace, observation room and three cabins. Clark Gable and President Franklin D. Roosevelt are among the many famed passengers.
— A San Francisco 49ers' VIP experience. Six guests fly to Levi's Stadium in Santa Clara, California. The experience includes a dinner prepared by star chef Michael Mina at his restaurant inside the stadium.
— Hamptons action with Jon Bon Jovi. Dinner for eight at The Blue Parrot in East Hampton, N.Y. Bon Jovi, his wife, Dorothea; and son, Jessee, host. Drop Hugh MacDonald's name and receive a free Perrier …
The Las Rageous breakdown
The official numbers from last weekend's Las Rageous hard-rock festival at Downtown Las Vegas Events Center are in. A total of 20,000 folks turned out last Friday and Saturday night. The breakdown is 85 percent were from out of town. A boon to The D Las Vegas (co-owned by DLVEC owner Derek Stevens) and all Fremont Street hotels.
John Katsilometes' column runs daily in the A section. Contact him at jkatsilometes@reviewjournal.com. Follow @johnnykats on Twitter, @JohnnyKats1 on Instagram.