'Absinthe' is one of a kind, and maybe that's a good thing
October 11, 2014 - 1:50 pm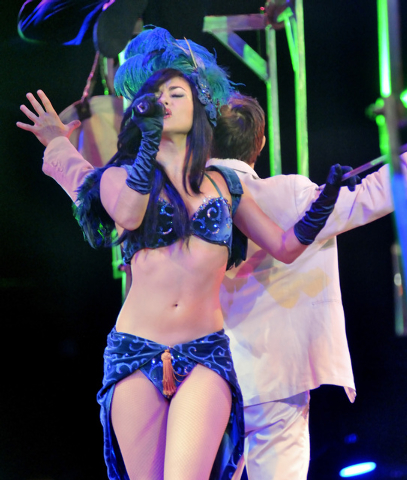 Maybe we only need one shot of "Absinthe" after all.
Oh, we still deserve this strong jolt of Las Vegas crazy, don't get me wrong. But sometimes you gotta know when to quit.
If your show boasts the indisputably filthiest reference to Disney's "Lady and the Tramp" or the Cookie Monster in the whole, wide world, maybe you have your niche and it isn't as easy to copy as you think.
The odd cocktail of acrobatics, burlesque and Don Rickles that is "Absinthe" has gone from upstart to an unlikely fixture on the Strip since its early 2011 arrival.
When the exotic circus tent first went up in front of Caesars Palace, the shabby-chic concoction was a perfect metaphor for a city trying to keep its dignity amid hard times.
And you can only be first once, as far as sensing our Cirque du Soleil saturation and pouncing on it, while trading in the same acrobatic thrills. That's a balancing act to rival the guy (Maxim Popazov) who stacks up chairs and then does a handstand on top.
But this year, the same producers opened and closed "Vegas Nocturne," which copied the same formula in a more upscale setting at The Cosmopolitan of Las Vegas. The courts are now tasked with determining whether "Nocturne" was too well hidden within the restaurant-club Rose.Rabbit.Lie., or whether it was a redundant, inferior clone, and the public simply waved the bartender away.
Either way, it makes us appreciate just how right they got it with "Absinthe." Just how delicate is the mix of ingredients which seem so casually tossed together.
It starts with the decadent atmosphere once you enter the bland pavilion, which building codes required as a permanent replacement for the European Spiegeltent. But you still walk in to discover a regal bar, lots of swanky bric-a-brac and the blessing/curse of jamming into tight circles of folding chairs with quickly made friends for a close-up view of the action.
The action is mostly on a 9-foot circle of a stage, so you feel like you're almost there in the middle of the couple (Alexa and Ming) who turn an aerial straps act into a kind of foreplay.
And voyeurism turns to adrenaline when the high-velocity skating duo of Sven and Roma (duplicating the act introduced by the Skating Aratas, now seen down the street in "V — The Ultimate Variety Show") spin so fast that one slip would hurtle her into the audience with you.
Director Wayne Harrison sustains the elegant slumming with odd or comic touches: a tightrope walker's (Paul Lopez) liquid courage bottle of Jack Daniels, a beautiful aerialist (Lea Hinz) doing her hoop act in blue jeans, and two "bodyguards" who strip down to transform into a hand-balancing act, Duo Vector.
The Cirque-iness is offset by burlesque, whether it's retro singer Melody Sweets (having her original songs covered by Kim Wood on this vacation night) or Charlie Starling working her way from ballet pointe shoes to the inside of a giant bubble.
The acts will vary night to night. Boy, do they. Despite the transfer of "Vegas Nocturne" (and "America's Got Talent" contestant) tap dancers Sean and John Scott, "Absinthe" doesn't seem to have a deep bullpen for injuries and illnesses. Both last week and two consecutive weeks in April, invitations to re-review the show were withdrawn because the lineup was deemed too thin for a reviewer, if not for the paying customers.
The only two people you really wouldn't want to see "Absinthe" without are the seedy host known as The Gazillionaire (Voki Kalfayan) and his sidekick Penny Pibbets (Anais Thomassian), whose cute little-girl demeanor masks some impressive sexual issues.
They are as fearless in their physical and verbal comedy as the acrobats are in theirs. They bring the raunch and the Rickles: some serious filth and racial slurring here. But they also make this hodgepodge of familiar ingredients somehow feel unique.
Contact reporter Mike Weatherford at mweatherford@reviewjournal.com or 702-383-0288.
Review
"Absinthe"
8 and 10 p.m. Wednesday-Sunday
Caesars Palace, 3570 Las Vegas Blvd. South
$108.90-$147.40 (800-745-3000)
Grade: A-