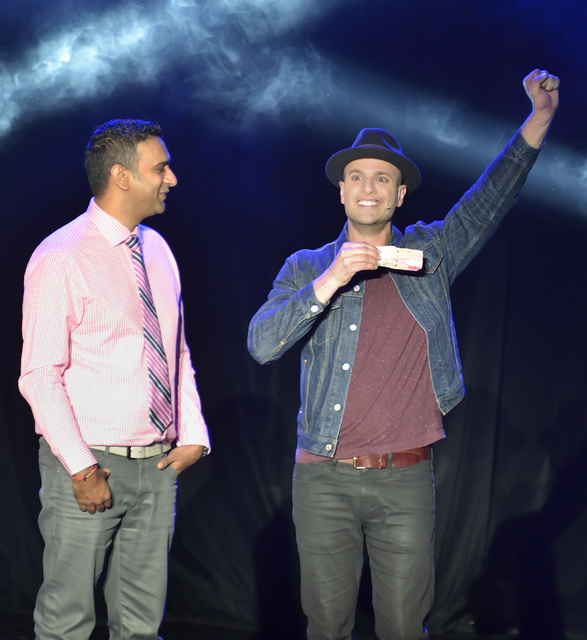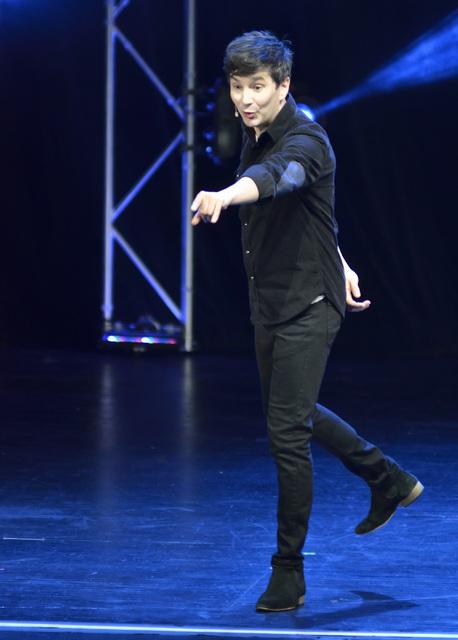 At least some magicians can get along.
No "fraternity" is more rife with jealousy and backstabbing than magic, with all its accusations of who stole what from whom.
But now comes "Band of Magicians." Unless it's the biggest illusion of all, the most novel aspect is four magicians appearing to have a good time together on stage.
The chemistry among four stars from three countries is fresher that most of the actual magic they do. But as with most magic shows, the feats of James Galea, Stuart MacLeod, Brett Loudermilk and Joel Ward are all about personality and how they sell it.
The Tropicana venture is a delayed replacement for Jan Rouven, the German illusionist whose career ended abruptly with his arrest for alleged possession of child pornography in March.
Before that grim development, Rouven's show seemed like the last of the old guard with its dancers and big illusion cabinets. Though it's only seven months later, "Band" plays like a fast-forward into the future, following the pop-culture drift to the likes of Mat Franco and cable prankster Michael Carbonaro.
All four are young, good-looking and casual in their stage attire: It's a sequin-free zone. And like Franco and Carbonaro (or David Blaine's "street magic"), it's more about sleight of hand with simple props. Galea even plays the classic streets-of-New York shell game.
That one, and too much of the action, is viewed mostly on an overhead screen as the magicians are shadowed by two cameramen. Maybe the target demographic is fine with watching so much of a live show play out on video. But if this has to be the case, even young techies will agree they ought to invest in some HD gear; the Trop setup is a little too "Blair Witch Project."
For anyone who's seen a magic show or three, this family-friendly one starts out like we might be in for a long night. The Trop sits in the shadow of David Copperfield's MGM Grand building wrap, so the Australian-born touring package needs a stronger start than the tired "prediction box" we've seen in too many shows.
Likewise, a new Vegas magic show on the same street as Piff the Magic Dragon or Mac King should make sure it has an arsenal of unique jokes to go with the stock routine of borrowing a watch or $20 bill from an audience member, losing it, and having it turn up in a can of tomatoes or tennis balls.
But the four really do build their personalities into something stronger. Galea is the fast-talking street con man, MacLeod the cute/gross nerd who charms an audience "date" by pushing a jellybean through his nose and out his eyelid. Brett Loudermilk is the American sword swallower who brings the sideshow "yuck" factor — man, you really hope these are illusions — and the self-deprecating jokes about what happens when you drop out of high school. Ward is the California nice guy who gets to play the sincerity card at the end.
Before it's over, we do get a larger illusion involving musical instruments, which makes you wish the guys had thought big sooner. But the real challenge is for them to find more to do together, like the one-upmanship of a "card game" where they flaunt their shuffling skills — again at the back of the stage and entirely on the video screen.
But hey, at least it's a friendly game.
Read more from Mike Weatherford at reviewjournal.com. Contact him at mweatherford@reviewjournal.com and follow @Mikeweatherford on Twitter.
Review
Who: "Band of Magicians"
When: 7 p.m. Wednesday-Monday
Where: Tropicana, 3801 Las Vegas Blvd. South
Tickets: $42.51-$107.91 (702-739-2411)
Grade: B-