Frankie Moreno celebrates Stratospheric achievement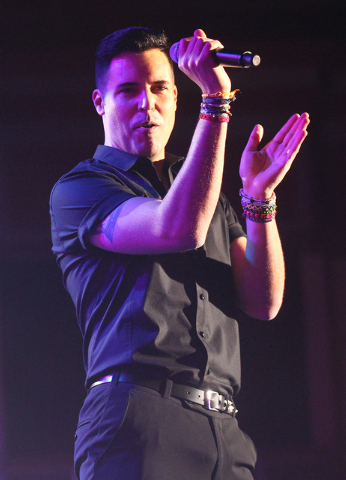 He's so deep.
He's so superficial.
He's an original.
He's a clever forgery.
Frankie Moreno proves that life is not always one thing or another, and sometimes you can be both.
At some point during Moreno's 500th show at the Stratosphere, I thought of a recurring riff on "The Adam Carolla Show," where the comedian-podcaster can't make up his mind on whether John Mayer is a cool guy or a D-bag.
In Moreno's case, the question is how a singer can be so instantly accessible — to the point where you feel like you've seen all this before — and yet be a singer-songwriter who built his name from the ground up, and performs mostly his own songwriting.
To answer it, let's work backward from the unarguable: The man is an entertainer. In his two and a half years at the Stratosphere, Moreno helped Las Vegas fill that abandoned area between production shows and big-ticket superstars wringing nostalgia from their catalog.
Have you been missing a charismatic singer radiating energy with an assertive live band and … well, not much else; no fancy production, no showgirls? Then you've come to the right place, and there aren't many other places on the Strip where you can come.
Moreno has given his show a tighter focus since moving from the lounges to headliner in late 2011. The first set list seemed like a checklist to prove he could be everything from soccer-mom pop balladeer to rocker and neo-crooner.
Now the songs fall within a more cohesive umbrella of vintage rock, swing and Memphis soul from an eight-piece band.
The opening "Angel Town" sets the tone. These are sharp-dressed men and women in black, come to kill it. A three-man attack team of horns punching through the ceiling, three women on strings for the lush undercoat, and no mushy keyboards in between.
The second song, "Baby Don't" has five band guys strutting in line behind Moreno, reflecting the input of "Dancing with the Stars" choreographer Lacey Schwimmer (on certain nights she turns up on stage as well) and going back to the same well of tent-show tradition as Bruno Mars and his Hooligans.
None of this is random, all of it feigns to be. It's showbiz, in the best sense of the word.
Most people don't come to Las Vegas — at least to a standing show, versus a concert venue — expecting an absolutely original voice. But how does an act full of original songs not sound more distinctive?
For starters, there's Moreno's singing. Like his songs, his voice is pleasant and infinitely adaptable, just not instantly recognizable. When he sits at the piano to sing "Bridge Over Troubled Water," we respond to the song, and the moment in the show, not the vocal itself.
It's one of only a handful of cover tunes, but they do pop out: "Eleanor Rigby" with classical sidesteps mashing into Chicago's "25 or 6 to 4," and an all-out, horns-in-the-house assault on the Louis Prima "The Jungle Book" romp "I Wanna Be Like You (The Monkey Song)."
But the originals are familiar too. It helps to know Moreno spent time as a contract writer in Nashville. Just listen to "Biggest Fan," which could be cut by any of today's country hunks.
The new show also includes songs written for Christina Aguilera ("Somebody") and Ray Charles ("Some Kind of Love") that were never recorded by those artists. The former sounds like it was aiming squarely for the low-fi second half of Aguilera's "Back to Basics." The latter is so much "a Ray Charles song" that it's like one of those TV commercials which couldn't get the rights to the Black Keys, so it commissions a knock-off that changes just enough words and chords to not get sued.
Moreno even lets us in on his tricks. Just when you think "Tangerine Honey" reminds you of the Peggy Lee standard "Fever," he quotes a bit of it.
In his lounge days, Moreno wasn't the first guy to sneak in originals by, as he tells the crowd, introducing them as songs by Mayer or Matchbox 20. But he is the guy who could absolutely fool an audience by doing that.
And yet the Stratosphere shows are heavy on disciples and repeat customers who don't care what he plays. The liveness of it — the harmonica jam or the Jerry Lee Lewis-style acrobatics on the grand piano — is something they're not getting elsewhere, and enough to create a community.
Doesn't matter if you think Moreno is an original or someone who reminds you of one. When he brings the house lights up and belts out "Jailhouse Rock" on the stage thrust, you'll wonder why there aren't more of him.
Contact reporter Mike Weatherford at mweatherford@reviewjournal.com or 702-383-0288.
Review
Frankie Moreno
8 p.m. Wednesday-Saturday (dark this week until Wednesday)
Stratosphere, 2000 Las Vegas Blvd. South
$43.99; $32.99 for Nevada residents (702-380-7711)
Grade: A-