New Cirque show 'Viva Elvis' blends symbolism, music in tribute to the King
December 18, 2009 - 10:00 pm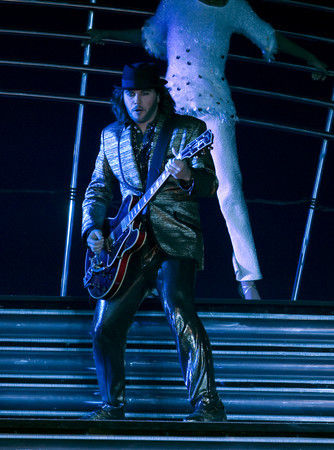 What would Elvis do?
At the risk of adding to longtime confusion between Jesus and pop culture's deity, Gilles Ste-Croix paraphrased the Christian motto as "the driving force" for Cirque du Soleil's new "Viva Elvis."
"I told all the creators, everybody involved in this show: If Elvis lived today, what type of band would he want? What type of dance would he want? What type of set? What type of theater?"
The veteran Cirque executive, credited as "artistic guide" for the new production, says he hopes Presley would even feel comfortable in one of the plush, bisected love seats inside the new 1,800-seat custom theater at Aria. It's a conventional opera-house layout, but the upholstery pattern on the chairs, the drapes imprinted with Elvis 45's — even the wood on the walls — all reference the "Jungle Room" and other interiors at Graceland, the King's Memphis, Tenn., castle.
"We didn't want to be literal, but we wanted to be just," Ste-Croix says. And the way to do that was to "inspire ourselves from him, his tastes and his music."
Ste-Croix also knew this, the most American Cirque du Soleil show to date, couldn't have the company's usual Canadian new-age aesthetic. Enter director Vincent Paterson, a choreographer best known for his concert and video work with Michael Jackson and Madonna.
"I had respect for (Elvis) because his songs had lived so long, but I didn't know that much about him," says Paterson, who was more of the early MTV era, dancing alongside Jackson in some of his most famous videos.
Through this project, Paterson came to realize the original hip-swiveler is "the guy who moved teens from partner-dancing and onto the dance floor by themselves. So his influence was monstrous."
Ste-Croix is candid in saying "the show is not complete and it's not what we wish" as it launches ticketed previews today. Theater construction delays trimmed four weeks of onstage rehearsals. CityCenter chief executive Bobby Baldwin wanted the show in previews for the opening of Aria and the holidays, Ste-Croix says.
After Jan. 3, it goes back into rehearsals, with new scenic elements and choreography among the changes planned in time for the official premiere Feb. 19.
"Viva" already has evolved significantly, toning down a premise that was more like a Broadway musical. Even so, Ste-Croix says the new show takes on "a concert atmosphere at times" and is not "Mystere" set to Elvis hits. "If you want to see a circus show, we have others in town," he says with a laugh.
Paterson, credited as writer and director, first shaped a more biographical revue with four characters — including a young and older Presley and his mother, Gladys — providing different perspectives on the action.
The narration has been consolidated into the character of "Colonel" Tom Parker (Junior Case), the manager who steered Presley from state fairs to megastardom, then into a questionable second chapter of B-movie musicals.
When creators had questions, Ste-Croix says they turned to Presley's ex-wife, Priscilla. Her guidance came as part of the partnership with CKX Inc., which controls the Presley estate. At a Tuesday media preview, Priscilla Presley reminded reporters that Cirque has "a uniquely wonderful abstract way" of seeing the world.
Ever since "Mystere" opened in 1993, Ste-Croix has preached the power of "evocation" over the literal. "We didn't need the mother to say, 'I was born in a little shack on a dirt road,' " he says. Instead, costumed performers framed by sepia-toned photos reference the hardship of Tupelo, Miss., farm life in the 1930s, as gospel singer Toscha Comeaux belts "All Shook Up."
Cirque's Beatles tribute "Love" has an extra layer of resonance for those who know John Lennon and Paul McCartney lost their mothers at a young age. Likewise, those who know Elvis had a twin brother, Jesse, who died at birth will get the symbolism of two identical acrobats on a giant guitar. One falls, the other climbs to the top of the neck.
If you don't pick up on that, don't feel bad, Ste-Croix says. Neither did Priscilla.
A trampoline act has costumed superheroes bouncing around an amusement park set, leaving the audience to remember Elvis loved Captain Marvel, whose hair resembles a certain rocker's and whose chest emblem is similar to the "TCB (Takin' Care of Business)" lightning bolt worn by the King's inner circle.
The music for that scene is "Got A Lot O' Livin' to Do!" Presley's vocal tops a guitar-rock arrangement that sounds more Jimmy Page than Scotty Moore. The guitar acrobatics include a piano floating down from the sky, with singer Sherry St-Germain crooning a slowed-down, Norah Jones-ish "One Night With You."
Ste-Croix explains the ground rule: The only male voice in the show is Elvis' own. But unlike "Love," the songs are performed in whole and not mashed up, and some are rendered by female cast members.
"It'll be interesting to see what the die-hard fans feel, but I feel that we've kind of kept true to the legacy of the rock 'n' roll he began," Paterson says. "Fifty-some years later, the show is a lot rock 'n' roll. He sounds unbelievable. It makes you realize the longevity of a voice like that, how it's not just something lodged in a historical moment in time, but really transcends time."
Contact reporter Mike Weatherford at mweatherford@ reviewjournal.com or 702-383-0288.
Preview
"Viva Elvis"
7 p.m. today-Tuesday
Aria, 3730 Las Vegas Blvd. South
$86.68-$149.38 (531-2031)