Piff's real magic is in the jokes — but the cute chihuahua helps
October 19, 2016 - 6:48 pm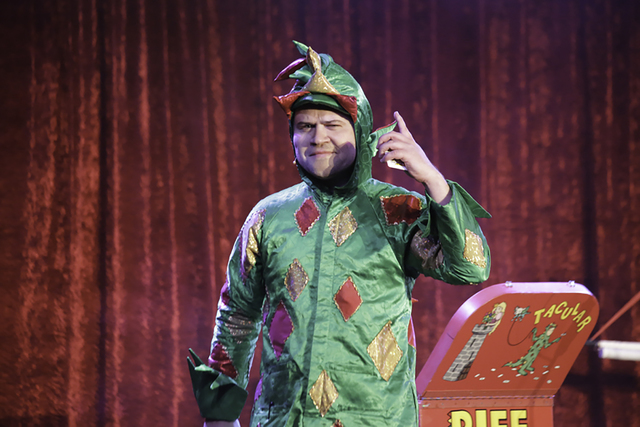 Don't be distracted by the dragon costume or the cute doggy. Pay attention if you want to follow the card tricks, but pay more attention if you want to hear all the jokes.
"Sometimes I think what I need is a gimmick" is one, coming almost under the breath of Piff the Magic Dragon.
True, a satin dragon suit got the British comedy magician much closer to Heidi Klum on "America's Got Talent" than the pre-Piff magician named John Van der Put probably ever would.
But it was really a minor miracle that Piff's bad attitude made it all the way to the NBC talent contest's top 10, since his act unfolds at a more leisurely, slow-burn pace than the TV show usually tolerates.
Being "the loser on 'America's Got Talent,' " as he's announced, really just got him where he should be anyway: a weekly berth in Bugsy's Cabaret at the Flamingo — "one of the more economically accessible properties," he points out.
He's been there a year, working most Mondays through Wednesdays before hitting the road for one-nighters. This schedule doesn't make us expect drastic differences between the suitcase show and the resident one, but Piff has customized the Flamingo version with an expanded cast that gives it a "Pee-wee's Playhouse" vibe.
An extended introduction from one Francis the Squire (Brett Alters) replaces a conventional opening act. Francis jump-starts a recurring theme of low expectations with a bit of a meltdown after comparing the relative merits of his Renaissance festival garb to "herbal sales," or being "my own boss at Uber."
Francis and showgirl Jade Simone still know you can't compete with dogs, especially when it's Mr. Piffles, the stoic chihuahua introduced about 10 minutes in. Don't worry when Piff claims to tape his eyes shut: "He loves the darkness. It reminds him of the womb."
Despite a delayed arrival, fame hasn't gone to Piff's head. He might be a wee bit less dour about making a living in a dragon suit, but try telling that to the "volunteer" who hears, "Just put the card back for the love of God," before Piff recites the serenity prayer.
And Piff almost steps beyond his stage character when he pauses the magic for a head-shaking monologue about all the places his post-"AGT" life has taken him, from the comedy tent at the Bonnaroo Festival to Hong Kong, where some of the verbal humor did not land.
Most of the show does still depend on your ears, and Piff's interactions with audience recruits. It's the same basic comedy-magic format long popularized by Mac King two doors down at Harrah's Las Vegas. But the two end up as an accidental lesson in just how much it's about their comedic personas and not the card tricks, or where that $20 bill ends up.
"It's a lovely card trick, but what does it tell you about life?" Piff notes at one point.
Piff might be his magic's worse enemy when it comes to elongating the tricks with so many jokes and detours that we can lose track of which card was picked or what happened to it. Our senses are distracted by the real smell of burning toast wafting across the room when "Piff's Magic Box" (a toaster) is intentionally neglected.
And you haven't truly joined the pantheon of Vegas magic stars without a Criss Angel joke. Piff gives us a whole segment revolving around the fish bowl housing Criss Angel-fish, complete with blistering rock music. The real Angel is trying so hard to be likable these days, but Piff gets the laughs trying not to be.
Read more from Mike Weatherford at reviewjournal.com. Contact him at mweatherford@reviewjournal.com. Follow him @Mikeweatherford.
Review
What: "The Piff the Magic Dragon Show"
When: 8 p.m. Mondays-Wednesdays (dates vary)
Where: Bugsy's Cabaret at Flamingo, 3555 Las Vegas Blvd. South
Tickets: $41.20-$61.20 (702-777-2782)
Grade: A-