Drummer Bobby Morris made decades of musical history in Las Vegas
Updated July 3, 2017 - 9:49 pm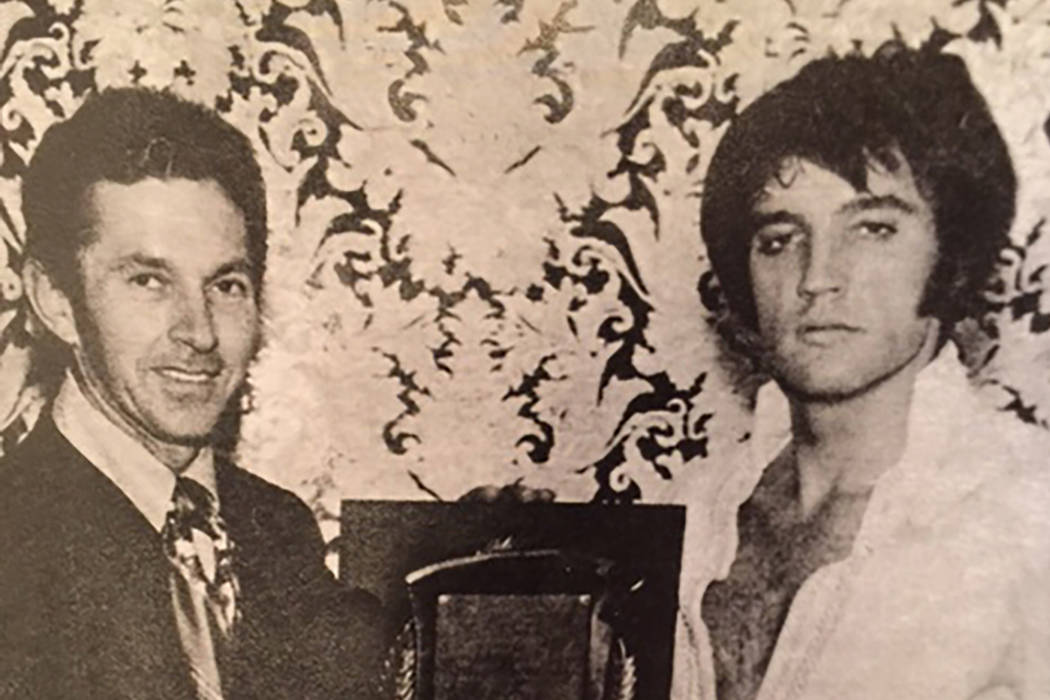 He calls it "The Shuffle," and it made the man on the other end of the phone a Las Vegas legend.
I first saw drummer Bobby Morris perform his signature move a little over a decade ago in a small downtown church that had been converted into a jazz hot spot.
Even at 79 years old, Morris was still a dervish behind the kit, flicking his wrists deftly, "The Shuffle" having lost none of its lighting-quick allure decades after Morris had first moved to Las Vegas in 1950, when there were but five hotels on the Strip, each two-stories tall, and only 30,000 people lived here.
Morris would become one of the city's most distinguished musicians. Frank Sinatra was a fan, as were sitting presidents. He played with just everybody who played Las Vegas, and later launched a successful talent agency here.
On the eve of his 90th birthday, which he celebrated Friday, I caught up with Morris at his summer home in Utah to get him to share but a few of the stories from his storied career:
Upon relocating here from his native New York City, Morris landed a gig in the house band at the Last Frontier. There, he caught the eye of one of Las Vegas' most flamboyant future stars.
"Liberace came in and I guess he like the way I played. He said, 'Bobby, I'm getting a show in Los Angeles. It's a local show, it doesn't pay too much, but who knows what'll happen?' I said, 'What does it pay, Lee?' He said, 'Forty-three dollars.' I said, 'Well, I'm making $87.' So he says, 'It'll get better, Bobby, it'll get better.' I didn't take it. His show went network, all over the country and he became a big star. The Riviera opened up, and he was their first act for, at the time, the monstrous price of $50,000 a week. There was a party (after the show opening) and I was invited. He came over to me. I said, 'Lee, congratulations.' He said, 'You should have come with me, Bobby. I told you it would get better.' That was the beginning of many happenings."
When Morris was working at the Last Frontier in 1954, he became buddies with a dancer with future political ambitions.
"One of the acts that came in, he did a soft-shoe dance with three girls. He was like a B-movie actor. He was making maybe $1,000 a week as the star of the show. I brought him to the 49-cent breakfast at the Silver Slipper. We became good friends. This went on for about a month. He went on to become governor of California, then president of the United States. His name was Ronald Reagan. I know it's hard to envision Ronald Reagan as a soft-shoe dancer."
Benefiting from all the talent that came to Las Vegas to perform on the Strip, Morris would turn a local nightspot into a musical hot bed like few others.
"I started running jazz at the Old Black Magic at the corner of Paradise and Tropicana. It was unbelievable. Every morning from 2 o'clock to 10 o'clock we would play down there after the shows broke. Every star who was appearing in Las Vegas would come down — Lena Horne, Ella Fitzgerald, Sarah Vaughan, Harry Belafonte, they would all sit in. We had some great, great saxophone players like Stan Getz, Al Cohn, Zoot Sims, Herbie Steward. It was a delight for me. It wasn't the money, it was just the idea of being able to play, because I grew up in New York playing jazz on 52nd Street in the bee-bop era. It was a tremendous experience."
In the mid-'50s, saxophonist Sam Butera recruited Morris to join up with celebrated bandleader Louis Prima. Morris would play on some of Prima's earliest and most successful records. The group then hit the road, packing nightclubs across the country. It was while on tour that Morris would rub elbows with another future president.
"Peter Lawford, the movie actor, was a big, big fan of Louis. When we worked the Moulin Rouge (in Hollywood) the first time, he was there with John Kennedy, his brother-in-law, who was a senator. Peter introduced us to him. I said, 'Senator Kennedy, pleased to meet you.' He said, 'Call me Jack.' So we go to Chicago, and there's Peter and Jack. We go to the Copa Cabana (in New York), and there's Peter and Jack. They were kind of like swingers, young guys, they liked to enjoy themselves. They became very big fans.
When Kennedy got inaugurated, the president requested us to be in the show. Frank Sinatra was the entertainment director, and he told him who he wanted. So we're in Washington and we're in a holding tank, waiting to go on, and here's Lawrence Olivier, Cary Grant, Betty Grable, Lana Turner — just about every star in the world. After the show, we're upstairs at one of the hotels there. I wound up playing for Ella Fitzgerald, Frank Sinatra, Dean Martin. I'm playing with everybody. I wasn't a drinker, but Tony Curtis keeps bringing me orange juice with vodka in it. 'It won't hurt ya,' he says. I'm getting a little woozy. Here comes (JFK). He comes with Jacqueline to thank everybody. When he came around to me, I was going to say, 'I'm so proud of you, Jack.' But I couldn't call him 'Jack' now. He was president of the United States."
In the late '60s, Morris was hired as the musical director at the then-new International Hotel. Its first act was Barbra Streisand. Its second was Elvis.
"Colonel Parker, Elvis' manager, got a hold of me and said, 'We'd like you to be conductor for Elvis.' They flew me to Hollywood, and we drove up to his home in the Hollywood Hills. There were about 200 screaming Mimis outside, little girls scratching away at the limousine as we entered, two big Great Danes barking and all that. For the next four-to-six weeks, we're picking out tunes for the show. It was his first show of that nature. I had a 60-piece orchestra on stage, and then he had his own group, too. I'm walking with him toward the stage (on opening night), and he says, 'Who's out there?' I say, 'The world, Elvis.' He says, 'I'm nervous.' I said, 'Just make believe everybody out there has no clothes on.' He laughed. He adds, 'Sitting on the toilet seat,' to make it even more funny. We opened up with 'C.C. Rider' and he gives me a sign that everything is cool. It was the biggest happening in show business. It was the biggest happening ever in the history of Las Vegas."
Contact Jason Bracelin at jbracelin@reviewjournal.com or 702-383-0476. Follow @JasonBracelin on Twitter.