Former bandmate helped launch Iggy Pop, went on to work at RJ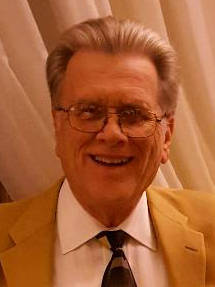 They used to practice in the tail end of a trailer home, the two Jims:
McLaughlin on guitar, Osterberg on drums.
Jim Osterberg's parents, who owned the place, gave him the big bedroom in back so he'd have room for his kit.
One day, Osterberg convinced his buddy to participate in the school talent show in their native Ann Arbor, Michigan.
The year was 1962. They were in ninth grade.
The duo played two songs: Sandy Nelson's "Let There Be Drums" and a guitar riff that Jim McLaughlin turned into a song.
"It was kind of a rock and roll boogie thing," McLaughlin recalls of the latter number. "But in 1962, that brought the house down. I mean, people went nuts. They'd never seen that. We were hooked."
Forty-eight years later, Osterberg would be inducted into the Rock and Roll Hall of Fame — you might know him better as Iggy Pop.
Two years later, a record that McLaughlin sang on was added to the Rock Hall's permanent collection.
Separate ways
The pair took divergent routes to the same destination: Pop has become colloquially known as "The Godfather of Punk," beginning with his time with scene forebears The Stooges, with whom he reached the Rock Hall in 2010.
McLaughlin earned a business degree, working for decades as a trade show manager and moving to Vegas in 2000. For the past 12 years, he's worked at the Review-Journal, recently retiring as a single copy marketing manager.
On a recent Wednesday afternoon at a west valley Coffee Bean & Tea Leaf, the Vegas transplant recalls the part he played in the development of one of rock and roll's most iconic characters.
After that talent show, McLaughlin and Osterberg decided to form a band, recruiting three more players and dubbing themselves The Iguanas. They mostly did covers, a lot of Beatles and Rolling Stones, playing high school dances, teen clubs and frat parties at the University of Michigan, gigging two to three times a weekend.
'He hated it'
The Iguanas also inadvertently contributed to Osterberg's future stage name, much to his chagrin.
"He used to hang out with these cool blues guys that he met who knows where — he had this knack for going into all different places and making an impression on people," recalls McLaughlin, now in his early 70s, silver hair combed back. "They were blues, they were cool, they were not into this pop music junk. They used to make fun of him, called him 'Iggy' because of The Iguanas. And it stuck. He hated it."
The Iguanas became a local sensation in summer 1965, becoming the house band at Club Ponytail in Harbor Springs, Michigan, where they'd back notables such as The Shangri-Las, The Four Tops and The Reflections and play with The Guess Who, The Kingsmen and plenty more.
They recorded a trio of songs a few months earlier, including a pair of originals, "I Don't Know Why" and "Again & Again," the first song Osterberg ever wrote. The third tune, a punchy cover of Bo Diddley's "Mona," became their early calling card and was the cut that made it into the Rock Hall. McLaughlin sang on the latter two numbers.
A brick in the Hall
The lineup didn't last long: Osterberg left the band in '66 to join the cool blues dudes in The Prime Movers. The rest of the Iguanas soldiered on, nearly landing a deal with Columbia Records, before everyone headed back to school.
McLaughlin would keep playing in bands through the '70s, not quite realizing the lore that had built up around The Iguanas until a trip to a Dearborn, Michigan, record store in the mid-'90s. The store's proprietor freaked out upon learning that not only was McLaughlin a founder of the band but he still had the group's early recordings, which had never been officially issued.
He released them on a compilation CD in 1995.
Next month, The Iguanas will be honored with a commemorative brick to be displayed in a wall at the Rock Hall, with all of their names inscribed on it.
McLaughlin is looking forward to the trip and seeing his former bandmates, even if Iggy might not be able to make it.
'An amazing guy'
McLaughlin has fond memories of Osterberg, though he hasn't spoken to him since the '90s when they hung out backstage at one of Pop's Detroit-area gigs.
He recounts how he helped him run for high school class president.
Osterberg didn't win.
But punk rock did.
"He was very intelligent," McLaughlin says. "He won poetry awards, writing awards, he was printed in magazines. He was going to be in politics. He was very articulate and had very strong opinions about politics and the world.
"He was an amazing guy," he adds. "And he still is."
Contact Jason Bracelin at jbracelin@reviewjournal.com or 702-383-0476. Follow @JasonBracelin on Twitter.