Justin Williams' tunes rise above din of Vegas' DIY punk scene
November 1, 2016 - 10:47 am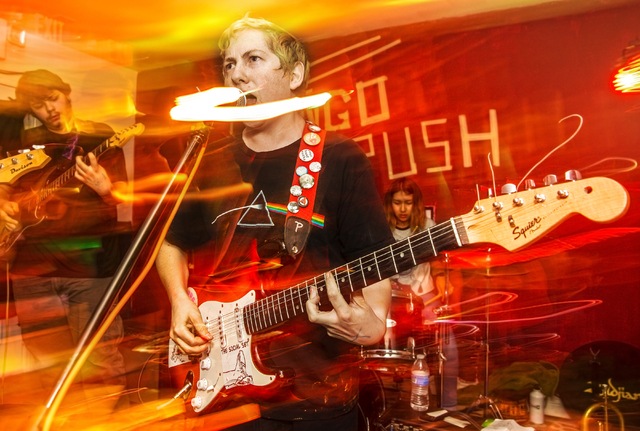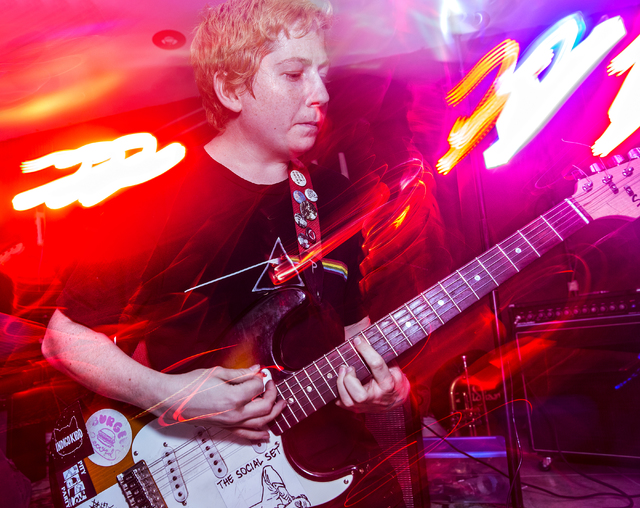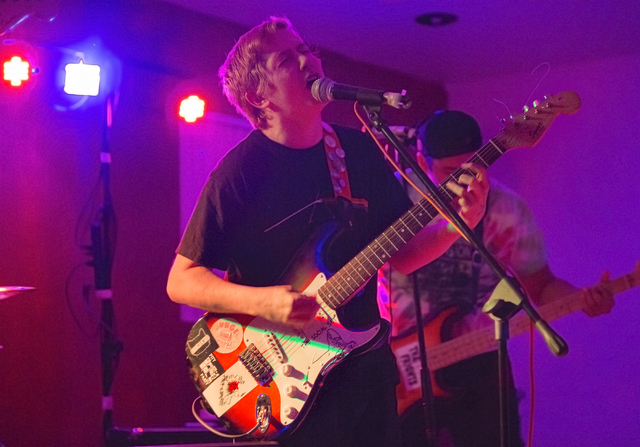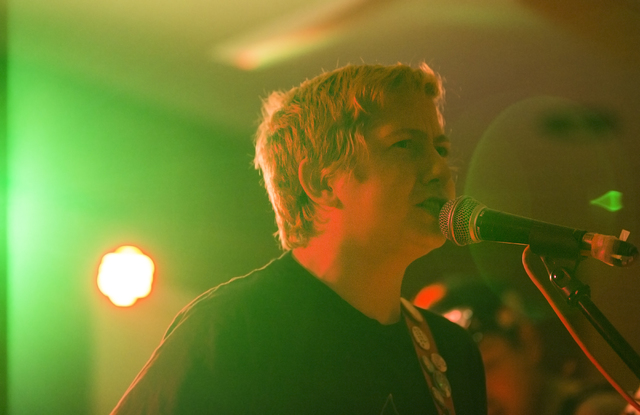 To cross the threshold is to sweat.
Glasses fog instantly upon entering the room, where it feels like trying to breathe with a plastic bag wrapped around your head, cinched tight, as if you were being targeted for a mob hit as opposed to checking out a DIY punk gig.
A grossly overmatched ceiling fan attempts to combat the stuffiness in what used to be a tax office housed in a squat, air-conditioning-less building on the fringes of downtown.
In what would have been the business' waiting room, a band plays, the smudged floor tiling serving as their stage.
"Taste of victory / Don't know it well / In all sincerity / It's hard to tell," Five Beer Plan singer-guitarist Justin Williams howls. "Put on a smile / Like a bad haircut / Say I'm a child / And I'm never growing up."
Williams looks the part of that last lyric: He's in his early 20s, but with his boyish features, blond hair tucked into a baseball cap and youthful bearing, he's all but guaranteed to keep getting carded every time he orders a Budweiser for at least another decade or so.
As he plays on this night, he frequently closes his eyes, strumming his instrument hard enough to break his guitar pick, his band bashing out lyrically earnest, sonically rambunctious garage punk with hooks as big as the smile that frequently brightens Williams' face between songs.
Five Beer Plan is one of two bands Williams fronts, the other being the slightly more surf-y, yet no less innervating The Social Set.
The two groups are part of a vibrant substratum of the Vegas music scene — the very basement of the underground, if you will — consisting of bands that mostly play all-ages house shows and off-the-grid spots like the place we're at tonight. In these circles, Williams is a burgeoning voice, a gifted, prolific writer whose pop savvy brightens his noisy, scruffy tunes, which often revolve around heartache, hard times and harder drinking.
In this scene, there's no money to be made, no career aspirations and no separation between band and audience: Playing music in front of small crowds of friends with no rules, no club owners and no promoters to deal with is its own reward.
And you hear it in the music: There's a vitality to it, a purity.
This is music for the sake of music, and nothing else.
"Have no cash, but that's just fine / Any friend with beer is a friend of mine / All my equipment may be stolen / But we're still keeping this band going," Williams sings on The Social Set's "Poor Punks on Hope," which doubles as a sort of mission statement for this scene. "I have no talent / Can't really play / But I work hard every day."
To hear Williams tell it, he feels almost compelled to write these songs.
"I kind of want it to be a lesson to other people who have anxiety and depression and feel helpless, to know that it's OK to feel like this," he says, chilling one afternoon at the home of The People's Whiskey singer-bassist Cody Leavitt, who's recorded Williams' bands in the past.
Leavitt discovered Williams at — where else? — a house party, where Williams and a friend got up and sang a song on acoustic guitar.
"Musically, it was all right. It was just a couple of little kids. But the lyrics …" Leavitt recalls. "You can develop as a musician, but to this day, I have trouble writing good lyrics. And then there's people like him, where it's just natural for them to put their soul out there for people. The first time I actually heard him vocalize what was on his mind, it was just like, 'That kid's a little cut apart from the other kids who are screaming about just getting drunk and saying stupid (stuff). He's actually got human experience going on in these things.' "
These experiences haven't always been pleasant: Born with a heart condition called transposition of the great vessels, where the arteries carrying blood and oxygen are reversed, Williams underwent surgery when he was but 6 weeks old and continues to live with the condition.
"To be born with a heart problem that has surgery in infancy and then do all these great things, to me, it's a remarkable thing," says Dr. William Evans, pediatric cardiologist at the Children's Heart Center of Nevada and Williams' physician.
Though his affliction is no longer life-threatening, according to Evans, it still informs who he is, how he carries himself.
"It makes me want to do as much as possible, put out as much music as possible, make sure that everything that I ever want to say gets said," he explains. "I have to make something of myself because I was given this chance."
To this end, Williams writes constantly, showing us a couple of dog-eared composition notebooks, filled with doodles, poetry and most likely future song lyrics.
"I have about 20, maybe 25 journals, stuff that I wrote all the way back to freshman year in high school," Williams says. "My family life wasn't amazing, and I didn't have many people to talk to about it, so I pretty much just wrote it all down as a way of getting it out."
Williams' songs, then, are intended as a cathartic release.
But not just for him.
"I just want people to understand that just because you're sad, doesn't mean it's bad," he says. "I don't want people to feel bad about feeling things. I want people to feel good — about feeling bad."
Read more from Jason Bracelin at reviewjournal.com. Contact him at jbracelin@reviewjournal.com and follow @JasonBracelin on Twitter.