Las Vegas band land opening slot on Stone Temple Pilots' tour
January 23, 2018 - 12:22 pm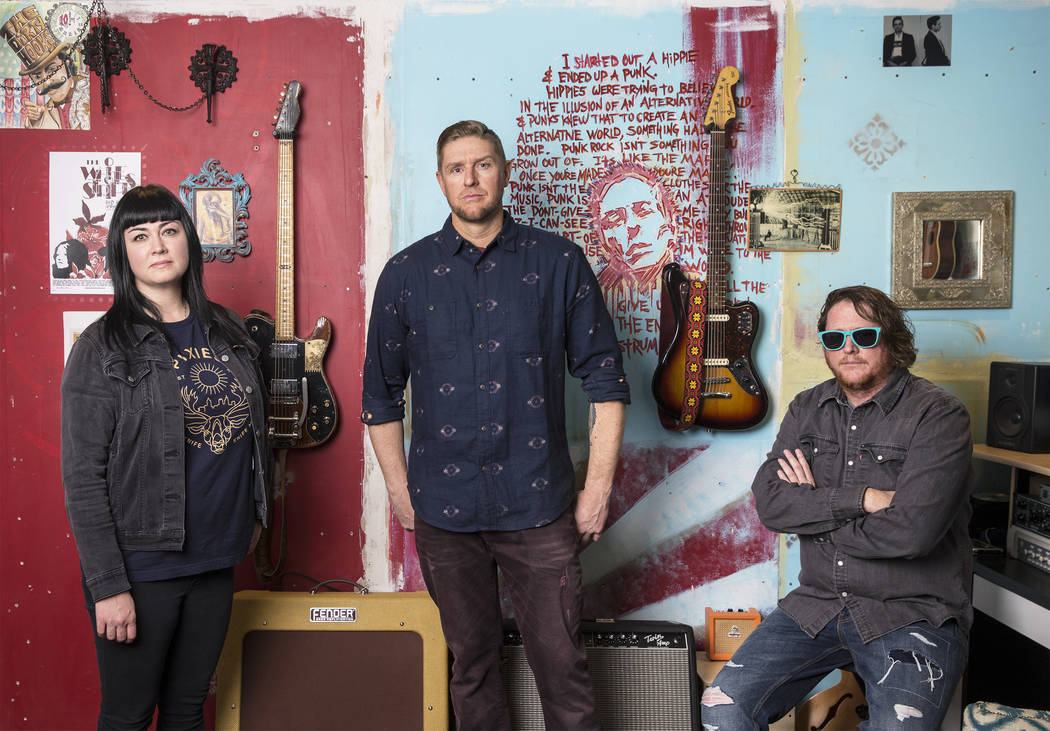 It started with an instant message on Twitter.
It ended with an unsigned Vegas band landing an opening slot on tour with household-name hard rockers who sold 20 million records in the '90s.
Beginning March 2, coed power trio The Dirty Hooks will hit the road for two weeks with Stone Temple Pilots.
It's not just The Dirty Hooks' first tour — it's the band's first trip out of its hometown.
And there are more firsts: It's STP's debut tour with new singer Jeff Gutt, a former "The X Factor" runner-up who officially joined the band in November.
It was Gutt who helped hook up the Hooks.
Last fall, the group posted a video for its Bonnie-and-Clyde rocker "Naked City Colt" on social media.
Gutt liked the clip and followed the band on Twitter.
When the dates for STP's upcoming tour were announced, Dirty Hooks guitarist Anthony Ratto dropped Gutt a line via Twitter, inquiring about possibly getting on the bill for STP's March 9 show at the House of Blues at Mandalay Bay.
"I reached out to him and said, 'Hey, can we open up for you guys when you come through? We're huge fans,' " Ratto recalls. "We got a response like a day later saying, 'I love your band and I'll see what I can do. I'll put your name into the pool.' "
They appreciated Gutt hitting them back but weren't holding their breath about landing the gig.
"When he said there was a pool of bands, we thought, 'He's being nice. They probably have somebody,' " Ratto says.
Then a couple of hours later, they got an email from STP's booking agency.
"They're like, 'Are you available on these days?' " says singer-drummer Jenine Cali. "We're like, 'Yes!' "
And with that, The Dirty Hooks were on board for 10 shows over 15 days, beginning with a sold-out appearance at The Canyon in Santa Clarita, California, and culminating with a stop March 17 in Billings, Montana. They'll mostly be playing midsized venues such as the 2,500-capacity Marquee in the Phoenix area and the 1,400-seat Roseland Theater in Portland, Oregon, with a show at San Francisco's storied The Fillmore also on the itinerary.
"For them to pick us, man, I keep thinking, 'Is this real? Are they really going to let us play and open for them?' " marvels singer-baritone guitarist Bobby McCall. "They could have picked anybody. I think it's pretty punk rock of them to let a local, unsigned band tag along with them."
It's a big break for a group for whom big things have been expected for some time now.
Beginning with the release of their excellent 2012 debut, "Electric Grit," where Cali and McCall's he-she vocals intertwine atop righteously overblown guitars, The Dirty Hooks have been critically lauded locally. They've also caught the ear of a number of industry figures, such as father and son producers Kevin and Kane Churko, who've recorded with big names such as Ozzy Osbourne, Rob Zombie, Five Finger Death Punch and dozens more, and who worked with the band on "Grit" and their forthcoming sophomore effort.
With everyone in The Dirty Hooks having day jobs, though, the band sometimes takes a back seat to life's demands.
But with their second album in the can, just waiting to be mixed and mastered, The Dirty Hooks are ready to air some new tunes — in new cities.
"It's long overdue," Ratto chuckles of the band finally hitting the road after being together for seven years. "We just knew we should we wait for Stone Temple Pilots."
Contact Jason Bracelin at jbracelin@reviewjournal.com or 702-383-0476. Follow @JasonBracelin on Twitter.