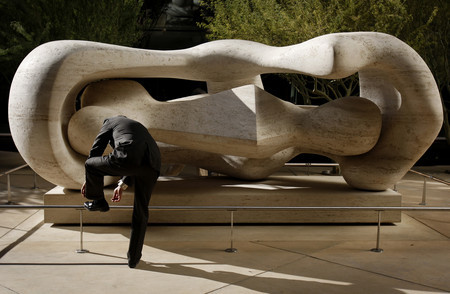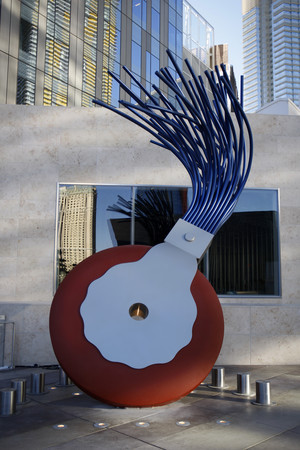 As CityCenter's public unveiling grew closer, Michele Quinn felt a sense of sadness tempered by excitement.
Sad because "your entire life has been focused on this for four years and now it's over," Quinn says of the planning and execution of CityCenter's $40 million fine arts program, of which she is curator.
The excitement?
"It's amazing that people get to see this now. It's been kept under wraps for so long," she says.
The core of the program consists of 15 major installations from acclaimed artists such as Maya Lin, Jenny Holzer, Nancy Rubins, Frank Stella and Henry Moore.
While Las Vegas is by no means a fine art wasteland and has had major works displayed in galleries and museums, the CityCenter fine arts collection is a unique venture. Located throughout the CityCenter campus, in the hotels and even on the buildings, it exists entirely as public art, meant to break down the boundary that keeps fine art inaccessible from ordinary people.
"You don't have to have an art degree to enjoy the pieces that are there," Quinn says. "This collection is designed to not have an intimidation factor."
The project came about through a merging of mutual ideas, Quinn says. She proposed a large-scale installation to CityCenter developers, who were already thinking of public art.
The end result took four years of planning where to put art, what artists to use and whether to buy existing pieces or commission original works. Ultimately, nine pieces were commissioned, such as Lin's "Silver River" and Holzer's "Vegas," and six acquired, including Moore's "Reclining Connected Forms" and "Damascus Gate I" by Stella.
The program has been revealed through stories about individual pieces and artists involved, but the best way to understand it is to experience it firsthand. There is no cost to view the collection and no official way to look at it. Maps showing the locations of each piece are available in CENTERpiece Gallery and at the concierge desk in Aria.
In addition to the art collection, Quinn oversees the CENTERpiece Gallery, dedicated to art and design. The artists and architects of CityCenter will be represented in some exhibits.
"This will be our primary showing point," Quinn says.
While it is a high-end, contemporary gallery, people are welcome to view the pieces on display.
"It's not this austere, intimidating space. It's meant to be fun," Quinn says.
Among the pieces of CityCenter's fine arts collection:
'SILVER RIVER' BY MAYA LIN
The 84-foot-long "Silver River," hanging above Aria's registration area, is a sculpture of the Colorado River. It weighs nearly 4,000 pounds and is made entirely of reclaimed silver. Lin, notable for her design of the Vietnam Veterans Memorial in Washington, D.C., is an artist who is driven by landscape and architecture, Quinn says. The idea that CityCenter was a green project with LEED certification also fit into her style.
'BIG EDGE' BY NANCY RUBINS
Found outside Vdara, this piece, a collection of more than 200 rowboats, canoes, kayaks, surfboards and other water vessels, measures 57 feet wide and 75 feet long. Each boat and cable was carefully engineered by Rubins to create the effect of a blooming flower.
'VEGAS' BY JENNY HOLZER
At the Aria, Harmon Avenue exit, "Vegas" is a 250-foot-tall LED installation with words that appear to be floating into space, Quinn says. Holzer is a conceptual artist whose works consist of words and phrases meant to evoke a mood or create a visual impact. Holzer's first public work, "Truism," was displayed in 1976 in the form of broadsheets pasted onto walls and buildings across Manhattan.
'CIRCLE OF LIFE AND EARTH' BY RICHARD LONG
Using his hands and natural mud from England, Long sculpted his piece directly onto the walls of both the Veer Towers. Each mural-like mud wall measures 80 feet by 50 feet. Quinn describes it as a matrix of imagery drawn onto the wall with fluid, active motion. Long is an English sculptor, painter and photographer well-known as a conceptual artist.
'Typewriter Eraser' by Claes Oldenburg and Coosje van Bruggen
Outside the Mandarin Oriental, this sculpture measures 19 feet tall and weighs five tons. The artists are known for using everyday objects as inspiration to create oversized, often whimsical, pieces of art. It is made of fiberglass and stainless steel, depicting an oversized blue and red typewriter eraser. The artists have collaborated on dozens of projects around the world. One of their pieces, "Flashlight," is outside Artemus Ham Hall at the University of Nevada, Las Vegas.
'RECLINING CONNECTED FORMS' BY HENRY MOORE
In the pocket park between Aria and Crystals, this abstract sculpture depicts a mother embracing her baby. It measures 10 feet tall and 17 feet long. Moore is the most contemporary sculptor included in CityCenter's collection, Quinn says.
Contact reporter Sonya Padgett at spadgett@review journal.com or 702-380-4564.
Galleries find home
If there is a theme to CityCenter, it's art.
In addition to the official CityCenter fine arts collection, Crystals Place inside Crystals will feature several art galleries. Hours of operation are from 10 a.m. to midnight. Here's the lineup.
The GALLERY featuring Dale Chihuly: Famous for his "Fiori di Como" on the ceiling of Bellagio's lobby, Chihuly's gallery will feature a variety of his sculptures, drawings and prints.
The Art of Richard MacDonald: Features his sculptures of Cirque du Soleil and performance artists. More than 50 bronze sculptures will be exhibited.
Rodney Lough Jr. Wilderness Collections Gallery: An award-winning photographer famous for his wilderness and landscape photography. His works will be displayed.
Philipp Plein (opens in 2010): Plein, a famous German fashion designer, plans to introduce his Home Collection furniture to the United States through a gallery in Crystals Place.
RELATED STORIES
• THE CRESCENDO: Newest, most expensive joint on the Strip opens with fireworks, fanfare
• First are foremost
• JANE ANN MORRISON: Wear comfortable shoes, stylish clothes to see all of CityCenter
• Bellagio exhibit a primer on CityCenter art, architecture
• Moving to the Big City