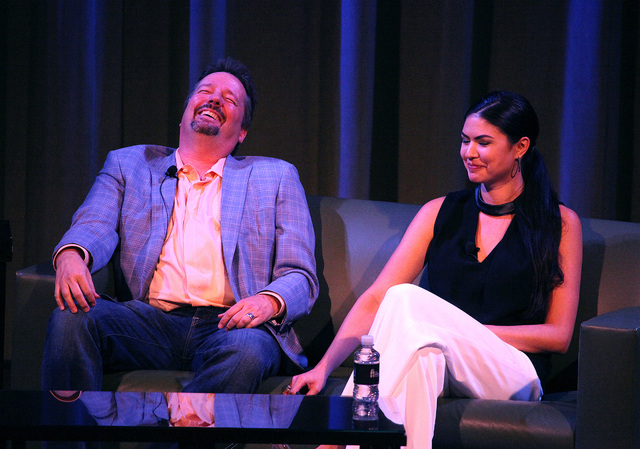 Mirage headliner Terry Fator revealed on Sunday that a Texas commune that his father ran degenerated into a full-fledged cult.
Fator made this revelation during the debut of my "Conversations With Norm" event at Cabaret Jazz at The Smith Center for the Performing Arts.
Fator said his father, Jephtha Fator, grabbed a shotgun and threatened to kill his wife and three kids after learning Terry's older brother had fallen in love at college.
On another occasion, the father pleaded with Fator, his youngest son, to help him commit suicide.
Life with his father was so oppressive and controlled that Fator recalled going to the movie "Bambi" at age 15 and weeping uncontrollably when Bambi fell in love.
Fator said he was crying out of loneliness and hopelessness, thinking he would never find love.
When Fator was 26, his father picked out a young woman who followed Fator's band and gave him permission to get married.
That marriage, said Fator, had soured long before it ended in divorce in 2010 "because we just didn't like each other."
He fell in love with his on-stage assistant, Taylor Makakoa, before starting his long-term contract at The Mirage five years ago.
Makakoa joined Fator during the afternoon event.
There was "no cheating," he said. They had volunteered to discuss their relationship to set the record straight.
BIRTHDAY BONANZA
Las Vegas nightlife consultant Branden Powers experienced one deliriously happy 44th birthday over the weekend.
And it was linked to a party in the mid-'90s.
A longtime fan of Gonzo journalist Hunter S. Thompson, Powers, a pioneer of rave parties, had just finished producing a 1995 rave party in California "when we got this brilliant idea to make it our mission to meet him."
Thompson, who died in 2005, had become a counterculture icon in the 1970s after writing the novel "Fear and Loathing in Las Vegas," a drug-fueled account of his assignment to cover the Mint 400 race for Sports Illustrated.
Powers and a buddy went on their "Fear and Loathing" quest.
After staking out Thompson's home outside Aspen, Colo., they approached him after they saw him go outside with a shotgun.
Bad idea. Thompson didn't like autograph-hunting fans showing up on his property.
When Powers asked Thompson to sign his first edition "Fear and Loathing," Thompson took the book, flipped it in the air and riddled it with buckshot.
Then he invited the duo inside for a drink and gave Powers a sheriff's cap.
Powers figured nothing would top that little adventure.
Then, about a month ago, he spotted a name on Facebook that caught his attention.
He contacted "Gonzo Jenny" and asked her how she got her name.
They chatted back and forth. She's a local writer, photographer and marketing professional, she said.
Her father met Thompson at Woodstock in 1969, and she spent a lot of time at Thompson's home.
She mentioned her home is filled with Thompson artifacts, including one of Thompson's typewriters and one of the original posters when Thompson ran for sheriff in Pitkin County, Colo.
Powers said he has been on a quest to find one of those posters and "bummed out that he couldn't find out."
They met Friday at Powers' birthday party at Brooklyn Bowl and Blvd Cocktail Company at The Linq.
She brought him a couple personal items: a Chivas drinking glass that Thompson sipped his Chivas and Wild Turkey from, she said. And she handed him what appeared to be miniature military dog tags.
On one tag was the word "Rave" and on the other "On."
Powers immediately recognized the significance.
"Rave On' was one of Hunter's favorite songs. Rave became synonymous with rave parties that began in the United States. Powers helped popularize them in the United States.
"Already got 'em on my mantle. One of the best birthday gifts ever, next to the birth of my children," Powers said.
She also shared a priceless memory.
She told Powers that she attended a giant rave in California in 1998 with Thompson and Johnny Depp, whose head was fresh shaven from his role as Thompson in the "Fear and Loathing."
Powers' jaw dropped. "That was Narnia, the show I produced. I had no idea they were there."
Small world.
SIGHTINGS
New Jersey Gov. Chris Christie, with a party of of 10 at Piero's Italian Cuisine on Saturday. … On Thursday at Piero's, Speaker of the House John Boehner, with friends. … Joining Pia Zadora's show on Saturday at Piero's: Rich Little, Steve Rossi and Chris Phillips of Zowie Bowie. … NHRA champion Tony Schumacher, taking in Dwight Yoakam's concert at The Pearl (Palms) on Saturday night.
THE PUNCH LINE
"They're considering a new 10-cent fee on grocery bags here in New York. My mom said, 'Who's laughing at the 8,000 bags under the sink NOW?' " — Jimmy Fallon
Norm Clarke's column appears Sunday, Monday, Wednesday and Friday. He can be reached at 702-383-0244 or email him at norm@reviewjournal.com. Find more online at www.normclarke.com. Follow Norm on Twitter @Norm_Clarke.