Film legend Tony Curtis reveals his painter's soul
March 31, 2010 - 11:00 pm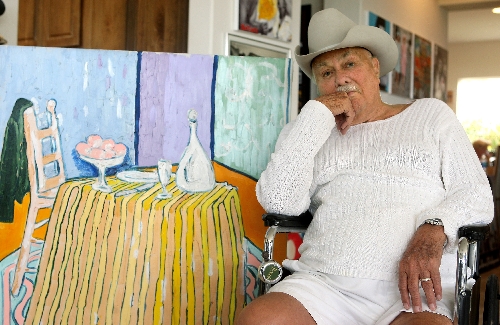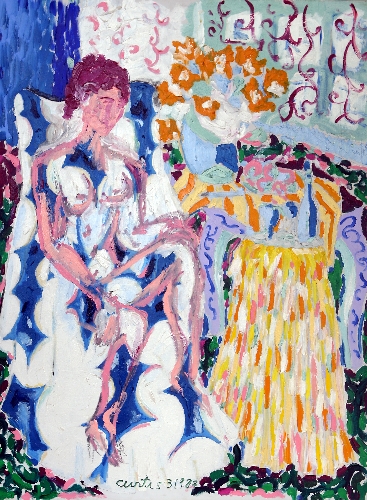 Gazing through aged eyes, his wheelchair slowing to a stop, he seems to be staring at nothing, off into space.
Nonsense. He's seeing everything, as if mentally thumbing through a lifetime of glamorous, glorious memories. Enough for a dozen men. And yet …
"I wonder," he says, in a voice now thick with gravel, "if everything is accomplished yet."
Life's to-do list is never completely crossed off. But Tony Curtis is giving it one hell of a shot.
Rewind by 10 minutes. Stepping up to the front door of his Sun City Anthem home, it's — whoa! — startling: a life-size cutout of the almost unbearably dashing film legend at his career-high handsomeness, propped against a side window, as if the movie star is peering right through you. It is Tony in his prime. Inside, he arrives, an 84-year-old with no hairpiece, no remnant of the once-cresting wave of abundant hair, now slower of speech, rolling forward in a wheelchair from which he can still push himself up and walk short distances.
It is Tony in twilight. Weakened, yet toughened by a survivor's strength after a bout of pneumonia in 2006 sent him into a coma and almost robbed him of his life. His passions? His intellectual curiosity? As healthy as the day the former Bernard Schwartz was born. That Hollywood swagger? Still present, but faded, eclipsed by a touching sweetness.
This is a man still tickled by life, new experiences, new people.
Taking a reporter's hand in greeting, he kisses it gently. "You allow me the privilege to express myself," he tells his interviewer. It is Tony, the continental gentleman. Time cannot dim that.
Nor will it halt the artistic impulses that shifted from screen to canvas, with spectacular success, on spectacular display. Absorbing the sights of his downstairs living room — set against a gorgeously sunny vista of Anthem's hills and manicured golf courses — is a 360-degree head-spinner, crammed with mementos: Yes, that's Cary Grant (his "Operation Petticoat" co-star who once told him, "Don't grow old on film") and Marilyn Monroe (ex-paramour and "Some Like It Hot" leading lady — along with cross-dressing Jack Lemmon).
Mainly, it's stuffed with paintings that now, in his 80s, are his strong, sure creative voice, having been displayed throughout North America, Europe and Asia, one even at Manhattan's Metropolitan Museum of Art, and commanding upward of $25,000 per canvas from buyers: landscapes, objects, collages, conceptual pieces in acrylics, sketches and giclees (fine-art prints made from digital sources, using ink-jet printing).
They will journey from Anthem to the Clark County Library, where an exhibit of his creations will open Tuesday and run through early June. And where Tony himself will show up — he still maintains a regular schedule of public appearances — at 2 p.m. April 18 to discuss his life and career, chronicled in his 2008 memoir, "American Prince."
"Would you like an orange? Let me do an orange," he says, wheeling toward the refrigerator. He slices an orange in half, sucking on the juicy fruit between explanations of his art, maneuvering his chair between stacks of canvases and framed pieces, as several cats and small dogs scamper through. (One, a dachshund, is named Bronx, a reminder of the humble roots of pre-showbiz Bernie.)
"I chose painting because my words are clumsy," he says, unnecessarily apologizing for his conversation that is hesitant now. He pauses to gather his thoughts. Once he does, it is quintessential Tony — expressive, spiced with the occasional profanity, an odd-sounding word or two that escaped the notice of dictionaries, and Yiddish phrases that echo his New York-Jewish upbringing by Hungarian immigrants. But discussing his painting — a passion he still nourishes full bore — he grows animated.
"It's a powerful ingredient in my life," he says, genuinely surprising when he suggests that his creative "contributions" to the culture stem from his canvases, rather than anything he put on film — though he still obviously relishes the notion of Tony Curtis, Movie Star.
"All I had contributed was full dark hair and blue eyes that blew people away. My sense of who I was, was generated by my looks, my walk, my attitude. There was nothing unique about me. If I hadn't done these (expletive) paintings, I would be nothing, there would be no contribution of me."
That's highly debatable, but clearly, the purity of painting — a distillation of Tony Curtis directly from person to canvas, without the collaborative compromises on a film set where directors and other actors help shape what you produce — deeply satisfies him.  
"This is part of my development," says the man who'll turn 85 on June 3. "The moment of creating is very powerful and this is given to us as a joy beyond compare. That's what I want, buddy, that these paintings express me. To come out of the background of Bernie Schwartz, who had no giving of any kind."
Declaring the reporter "part of the family" and offering a waist-high hug from his chair, he eagerly rolls outside and greets his wife, Jill, who opens a cargo van to unload a life-size pony sculpture, painted in playful patterns of bold, bright, Tony Curtis colors. He lights up, the artist gazing upon his artistry.
Bernie from the Bronx, fulfilled.
Contact reporter Steve Bornfeld at sbornfeld@review journal.com or 702-383-0256.
Preview
What: "The Artwork of Tony Curtis"
When: 9 a.m.-9 p.m. Mondays-Thursdays, 10 a.m.-6 p.m. Fridays-Sundays, from Tuesday-June 12
Where: Clark County Library Art Gallery, 1401 E. Flamingo Road
Cost: Free (507-3400; www.lvccld.org)