September 18, 2008 - 9:00 pm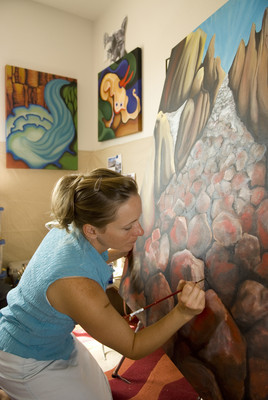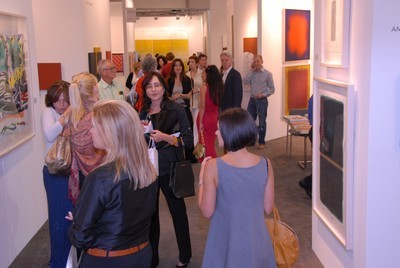 In a teeny booth at the back of the Mandalay Bay Convention Center, Las Vegas resident Bonnie Kelso will pursue a lifelong dream sidetracked long ago by necessity.
Kelso is among 300 exhibitors — established galleries and independent artists alike — expected to show and sell (so they hope) their work at Artexpo Las Vegas. The second annual western offshoot of a long-running New York City trade show, it runs Friday through Sunday.
"I drew a lot when I was a kid," says Kelso, 37, as she finishes a painting in a bedroom of the Las Vegas home she shares with her husband.
Kelso, who paints abstract natural landscapes a la Georgia O'Keefe, remembers discovering her passion while living in the mountains of North Carolina.
"I spent a lot of time outside as a little girl, studying animals and nature," she says.
But after graduating the Rhode Island School of Design with a fine arts degree in 1992, Kelso stopped painting.
"It takes money to start yourself, to get yourself into shows," she says. "And I had a bunch of bills to pay already. So I got a job. And I ended up putting a lot of time into it."
Not only did Kelso give up her dream, she rubbed her nose in it. As an exhibit designer in Washington, D.C., she worked closely with other artists.
"I was working for organizations where I was seeing all these people answering their true calling," she says, "and I realized that I was spending a lot of my life on the computer."
That lasted a dozen years, until 9/11. Like many Americans, Kelso used the deep emotional resonance of that day as a springboard for change in her own life.
"It gave me the motivation to take my savings and travel around the world," she says. "And when I came back, I realized that what I wanted to do is paint."
Kelso has been at it full time for two years — six to eight hours a day, four days a week. Most of her 50 acrylics and 50 watercolors are influenced by her travels.
"This is called Moraine," she says as she uses some cadmium red to shadow rocks at the bottom of the 48-by-36-inch canvas. "It's based on the Great Basin."
Kelso moved to the valley in 2004, dipping her brush into the local art scene by joining the nonprofit Vegas Artists Guild and renting a First Friday space at the former Commerce Street Studio.
"First Friday was great on the day of the show," she says. "There were a lot of people around and you felt like you could trust anyone coming in.
"But it was difficult for me being down there in that neighborhood all week long," she adds. "There were times when I was in that studio alone that I felt vulnerable to strangers who obviously weren't art buyers."
Last year, Kelso checked out the first Artexpo, and it felt like a better fit.
A few months ago, she plunked down $3,000 for the smallest available booth: 4-by-10-feet. She plans to show 14 of the 48 acrylics she hasn't sold yet.
"It's good to have gallery owners, and people coming from L.A. and New York and the world," Kelso says, adding that an artist friend of hers was picked up by a Canadian gallery after last year's show.
Artexpo organizers say they expect to attract 3,000 attendees from the art world, and 6,000 to 8,000 consumers.
"It's a great opportunity for exposure, and that's what I'm looking for," Kelso says, "because in a town like Las Vegas, you can feel isolated."
Contact reporter Corey Levitan at clevitan@reviewjournal.com or 702-383-0456.
PREVIEW
What: Artexpo Las Vegas
When: noon-6 p.m. Friday, 11 a.m.-6 p.m. Saturday, 11 a.m.-5 p.m. Sunday
Where: Mandalay Bay Convention Center, 3950 Las Vegas Blvd. South
Tickets: $10; available at the event site