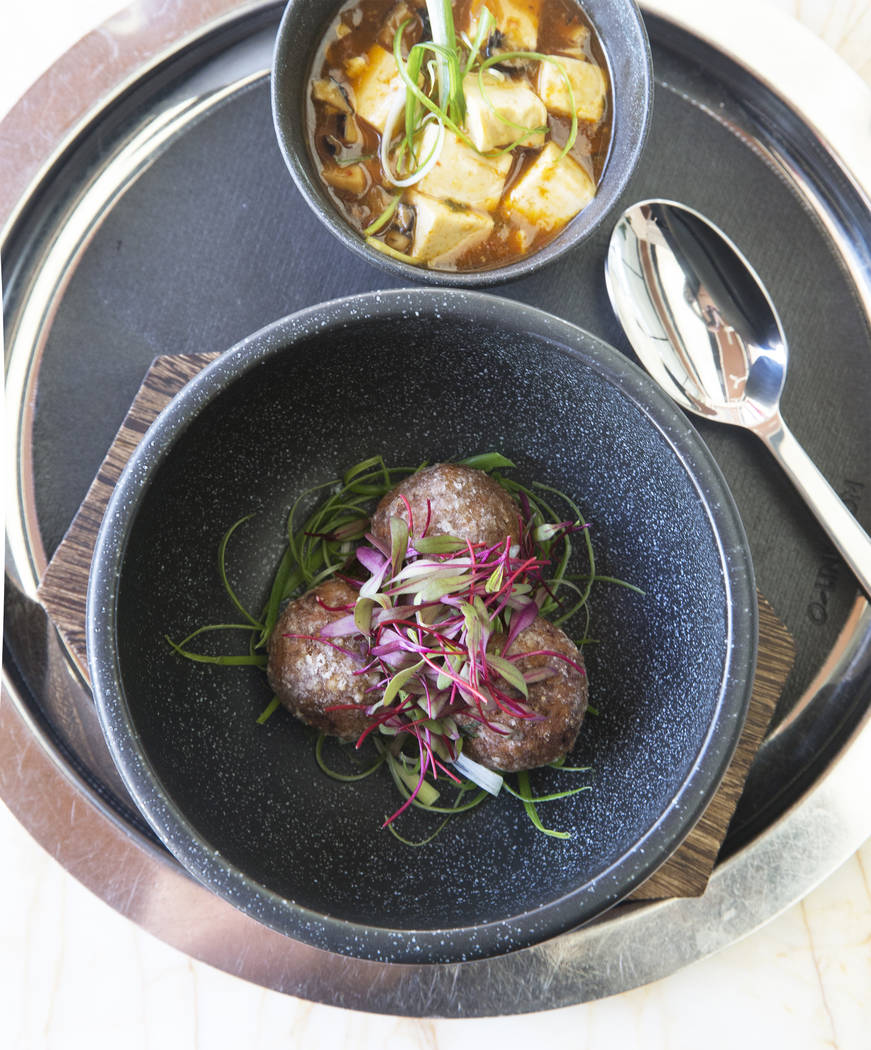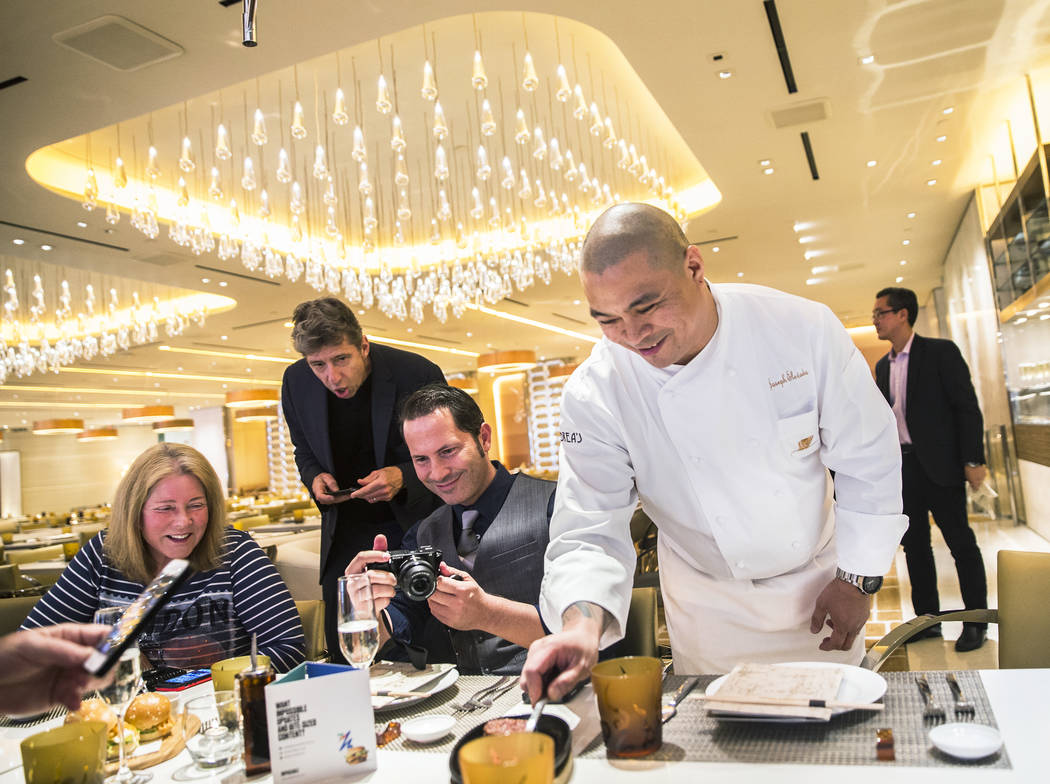 As Chef Joe Elevado's new Korean-influenced sliders cook on a hot griddle at a table at Andrea's in Encore, those seated around the table pull out their phones and start snapping away as the small patties sizzle and gradually change from a bright red to a more familiar shade of browned beef.
Though the dish may have looked like a humble burger, it's actually heralded as a game-changer for vegan dining — a meatless ground beef substitute called Impossible Burger that's credited with looking, cooking, tasting and even bleeding — like the real thing.
Las Vegas is just the sixth city to offer it, and it's only available at Andrea's but coming soon to Wynn's Country Club.
"Pat Brown started the company with a really ambitious mission," Impossible Foods COO David Lee says of the scientist who founded the company in Silicon Valley in 2011. "He wanted the impact of what we do to be seen from outer space."
The longterm effects of commercial ranching are the elephant in the kitchen, an inconvenient reality that most chefs and diners would prefer to ignore. The operations required to satisfy the human race's voracious appetite for animal protein have been widely shown to be major contributors to greenhouse gas levels, pollution and deforestation.
Research has shown meat-laden diets are less healthy and less sustainable than plant-based ones.
Untrue blood
"Our mission is to be transformative," Lee explains. And he says that's only possible "if you can convince the meat eaters … that a craveable, delicious burger can help change the world."
After more than five years of research, Impossible Foods is convinced it's come up with a product that's close enough to hamburger to begin swaying reluctant converts.
The company is hanging its hopes on an ingredient called heme, which sets the burger's otherwise straightforward blend of wheat and potato protein, fat from coconut oil, amino acids and vitamins apart from the rest.
Heme is what provides the iron in blood. It makes beef red, causes meat to change colors when it is cooked and gives a burger its flavor. It's also found in low concentrations in soy roots. Scientists at Impossible Foods produce it with yeast that's been genetically modified with a soy gene.
In its raw form, heme looks and tastes a lot like blood. And the hope is that, like the artificial "True Blood" consumed by ethical vampires in the HBO series of the same name, it can quench our appetite for blood.
The verdict
Impossible Burger fares better the less it's cooked. In fact, a good chef could probably make an almost passable, and thoroughly enjoyable, steak tartare from it. Expose it to heat, however, and things get a little trickier. As it cooks, its exterior char is closer to what you'll find on well-done falafel than meat.
Elevado uses the product to make kalbi sliders, meatballs for the Sizchuan dish ma po tufu and in the place of spicy sausage in Thai crispy rice cups. In the latter, cooked to a crispy finish, it's an extremely tasty vegan protein. But it's much more impressive as a beef substitute on a medium-rare slider with all the toppings. Either way, however, it's unlikely anyone will confuse it with Wagyu, or even USDA Prime, in a blind taste test.
That may change as the science improves. Or it might not matter. After all, nobody confuses a Tesla with a traditional gas-guzzling muscle car. But serious gearheads still sign waiting lists to buy them. Fortunately, while most other cities are on a similar waiting list to try this technological marvel, Las Vegas has taken delivery of a very healthy supply.
Contact Al Mancini at amancini @reviewjournal.com. Follow @AlManciniVegas on Twitter.
Impossible Burger
Impossible Burger has arrived in Las Vegas. But why even bother with a plant-based burger when cows are so delicious? Perhaps surprisingly, the folks at Impossible Foods aren't touting any broad moral qualms about eating animals. Many of them aren't even vegans, and representatives at the demo joked about chefs who put real bacon on their burgers. Their reasons for removing the cow from the burger equation involve the environment and health. Here are a few ways they say their burger stacks up against a conventional meat counterpart.
An Impossible Burger:
■ Uses 75 percent less water
■ Generates 87 percent fewer greenhouse gasses
■ Requires 95 percent less land
■ Requires no hormones
■ Requires no antibiotics
■ Contains no cholesterol