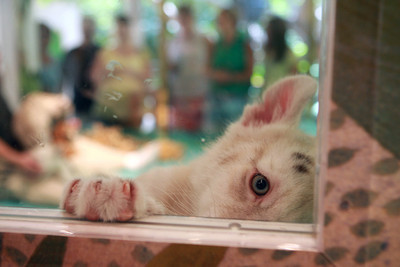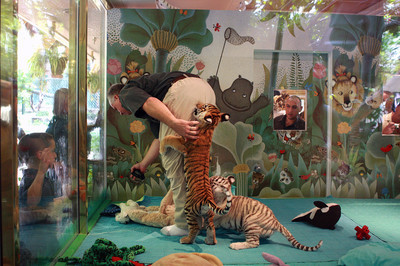 It has been four years since the pitter-patter of tiny paws were heard at Siegfried & Roy's Secret Garden but the sound is back, multiplied by five.
In June, a litter of tiger cubs — Svengali, the only boy, and his four sisters, Cosmo, Chakra, Star and Celestial — were brought in when they were 5 weeks old from a Florida breeding program to help strengthen the garden's tiger bloodlines, says Melody Hitzhusen, an animal trainer and the manager of Siefgried & Roy's animal compound.
She's also the woman who lives with the tigers and lions and leopards, too. For the past 11 years, Hitzhusen has lived at the compound, directly behind the Secret Garden at The Mirage. During that time, Hitzhusen has helped hand-raise about a dozen litters of tiger cubs that were born at the garden's compound. Visitors are not allowed in this space, because it would be infringing upon the animals' home, Hitzhusen says.
If a cub is ill, she keeps an eye on it by bringing it into her home. Her apartment is literally surrounded by tiger cages.
"I don't have to worry about home invasion," she jokes.
Hand-raising is necessary for performing tigers, Hitzhusen says. And these soon-to-be big cats will be conditioned to perform, even if they never see a stage. It's important for them to have a "job," something they enjoy doing, she adds.
"We start when they're young, usually 3 weeks old, getting them bonded to us so that when they want something, they come to us for it," she says. "We're a soft lap to sleep in, someone to scratch behind their ears. We're all the good things."
The babies, as they're called, arrived in Las Vegas weighing about 12 pounds; now, at 15 weeks old, they range from 32 to 37 pounds. They can gain as much as 7 ounces a day.
Each day, the cats drink four bottles of milk fortified with ground meat, baby chicken food and vitamins. The girls get 9 ounces while Svengali, the boy, drinks 10 ounces in each bottle. They're also eating about a pound of ground, raw meat a day.
Even though Siegfried & Roy haven't performed since Roy Horn was seriously injured after being bitten by a tiger onstage during a performance in 2003, they have continued with their breeding program and The Mirage attraction. The new tiger blood is needed to diversify the gene pool because, Hitzhusen says, the last cubs born were the Secret Garden's fourth generation of tigers.
Tiger cubs are popular attractions; since arriving, the cubs — two white, two snow white (without stripes) and one orange — drew large crowds to their nursery, in a section of the Secret Garden gift shop. People gathered around the enclosure, straining their necks and braving 110 degree temperatures to watch the cubs frolic with stuffed animals and trainers. They have since grown out of the nursery and are now in the garden habitat.
The breeding program is an important educational tool, Hitzhusen says, because wild tigers are on the brink of extinction. About 5,000 remain in the wild, while tens of thousands of tigers live in captivity in the United States alone.
"If people are going to see tigers, it will be in captivity," Hitzhusen says.
Contact reporter Sonya Padgett at spadgett@reviewjournal.com or 702-380-4564.
STARS IN STRIPES • The life expectancy for a tiger in captivity is about 20 years. • A tiger's saliva is an antiseptic: good thing for animal trainer Melody Hitzhusen, whose ear was bitten when one of the cubs, Cosmo, decided to use it as a swing. • No two tigers have the same stripe pattern. • Tigers don't purr but they do make a "happy" sound called a "chuff." That's a guttural noise they make by exhaling through their noses. • None of the tigers born at the Secret Garden have ever left. During 25 years, 18 litters of tiger cubs have been born at an average size of three cubs per birth. • Forty-three big cats live at the Secret Garden, including white lions, white tigers and leopards. By SONYA PADGETT STROLLING IN THE GARDEN Siegfried & Roy's Secret Garden and Dolphin Habitat at The Mirage, 3400 Las Vegas Blvd. South, offers visitors the chance to see exotic big cats and dolphins in a zoolike setting. In the garden area, white tigers, white lions, leopards, snow leopards, golden tigers and black panthers are on display. Since the tiger cubs have gotten too big for their nursery, they have been moved to the garden area, where visitors can still see them, says trainer and compound manager Melody Hitzhusen. At least two cubs will be in their public enclosures during garden hours, from 10 a.m. to 7 p.m. daily. The other three will be undergoing training that is not open to the public. The cubs will be rotated, Hitzhusen says. Admission to the attraction costs $15 for adults; children 4 to 12 are $10; there is no charge for children 3 and younger when accompanied by an adult.