Get ready for sky-high skating at The Cosmopolitan
November 17, 2015 - 8:46 am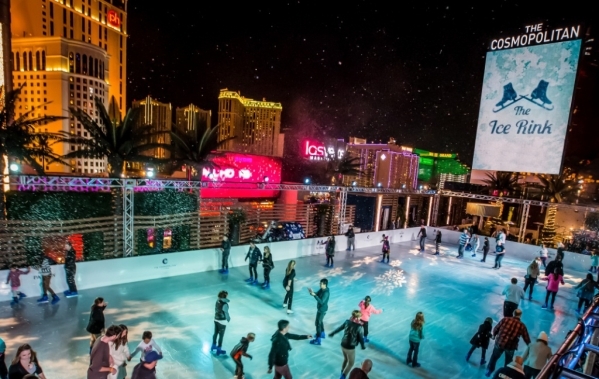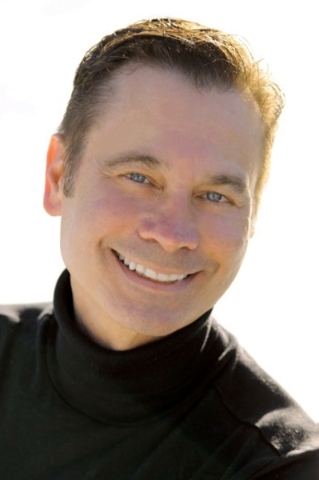 One of the visually spectacular things to do in Las Vegas has come upon us once more — ice skating on the roof of The Cosmopolitan hotel, with s'mores over a fire pit, and "snow" on the half-hour.
Last winter, 80,000 people checked out the Ice Rink, and roughly 30,000 skated, mostly locals. Last November, I saw East Coasters cry on the rink as a flurry of fake but convincing snow stirred childhood nostalgias.
This manufactured miracle is a social media bonanza.
"People stand there with their phones and film the snow," said Fedor Banuchi, vice president of entertainment at The Cosmopolitan.
From 6 to 10 p.m. Wednesdays through Sundays, a giant snow machine scatters the air.
"It really looks like a blizzard every half-hour," Banuchi said, "four stories in the air above the Las Vegas Strip."
The 4,200-square-foot Ice Rink opens to the public Saturday (3 p.m. to midnight on Mondays-Fridays; noon-midnight Saturdays and Sundays).
It's not a full ice rink like rinks off the Strip (Ice Center on West Flamingo Road near the 215 Beltway; SoBe Ice Arena in Fiesta Rancho; Crystal Palace Skating Centers on Boulder Highway and Rancho Drive; and the Rock Rink at Downtown Summerlin).
But the Cosmopolitan Ice Rink is about the same size as the one at New York City's Rockefeller Center.
It's a ski lodge experience, with the fire pit, and sales of such cocktails as a s'mores alcoholic beverage ($15), and food on the level of a toasted house-made cashew butter and roasted strawberry jam sandwich ($8).
Admission to the rink area is nada. Renting skates is $5, or you can bring your own. To skate costs $10 for an all-day pass for locals, $15 for out-of-towners.
But if you can't wait for Saturday, you can skate Friday night at the grand opening called "Ice Out Cancer Over Vegas" ($30 for tickets; $75 for VIP).
Skating legends Scott Hamilton, Kimmie Meissner, Tai Babilonia and Randy Gardner will perform as well as skate with everyone else, and autograph lanyards, from 7 to 11 p.m., during a fundraiser/silent auction by the Scott Hamilton CARES Foundation, to benefit the Las Vegas chapter of the Pancreatic Cancer Action Network.
Hamilton, who has beaten several cancer threats like a boss, made this event happen by approaching The Cosmopolitan and calling his close friends.
"When he asked us, it was: 'Don't even finish the sentence, we're there," Gardner said.
"When Scott invites you, you can't say yes quick enough," Babilonia said.
Hamilton, Gardner, Babilonia and Dorothy Hamill have been tight friends since the 1976 and 1980 Olympics.
"We all met in the Seventies," when skating was amateur and "more wholesome," Gardner said. "There's just a bond that happened. Maybe it's the combination of personalities. But I do think it's a generational thing, and an era."
These are skaters who remember true amateur competition.
"Seventy-five dollars turned us pro," Gardner said. "Our innocence and our state of mind was different."
Back in the Eighties, Gardner and Babilonia skated as a pro duo, along with Hamill and others, at Caesars Palace, the Desert Inn and the Aladdin hotels.
"We're a skating family," Babilonia said. "Just decades of being together."
That era's skaters were not so cutthroat they would, say, attack each other's kneecaps, as the later Tonya Harding years pleaded out.
"We don't have that mindset," Babilonia said. "Yes, the ultimate goal is to win and skate well, but the blonde (Harding) took it to a whole other level I can't comprehend."
In its fourth year, the ice rink is a new icon. There will be times when tourists standing on Las Vegas Boulevard can see the Bellagio Fountains and the Ice Rink snow at the same time.
"We have people staying at competing properties who said they saw the ice rink from their window and came over," Banuchi said.
Demographics: Daytimes are pretty family oriented. About 8 p.m., the rink looks more like date night. When school lets out around Dec. 19, weekday hours will expand to noon, bringing more kids.
How does this outdoor rink in the desert even work? For starters, there's a four-ton compressor. Banuchi explains:
"It's basically a giant version of a freezer. There's this chemical called glycol, which circulates through this chiller. There's three big heavy tubes. Then underneath the ice surface, it's like a giant radiator of aluminum tubes, and this glycol flows through it, and the glycol freezes, and as the chillers freeze the glycol, the aluminum tubes get cold, and the ice freezes."
These theatrical flakes are the creation of a company called MagicSnow, a client of Disney World, movies, and a Santa house near Town Square mall.
It's soap bubbles.
"We actually tried to do real snow. You can't do that as well. The problem with real snow is," Banuchi said, "the crystals wouldn't be as pretty. And you can't have 100 percent certainty the snow will form, or that the water will turn to ice through the machine, because there's a lot of physics involved with the pressure."
Ordering a Zamboni was no Amazon experience.
"It's not like they have them on the lot. They make them on order. It's a very cottage industry," Banuchi said.
"When we told them we want to do this ice rink on top of the building, they were, like, 'What?'"
"During the whole process, you're like, 'This shouldn't happen,' but what it really came down to is, we really wanted to make something for the locals and the tourists to celebrate the holidays, and bring a winter wonderland experience."
See you there Friday.
Doug Elfman can be reached at delfman@reviewjournal.com. He blogs at reviewjournal.com/elfman. On Twitter: @VegasAnonymous.