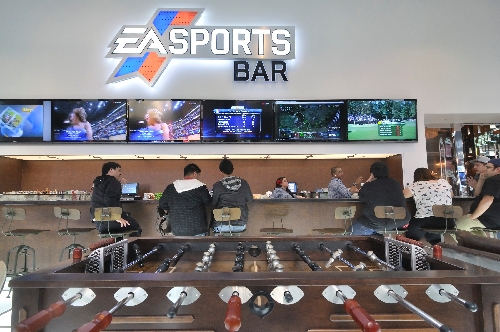 People sit in casinos and play video games for money.
Why shouldn't they sit in a sports bar and play video games for fun?
That's the thinking behind The Cosmopolitan of Las Vegas' latest pop-up idea, the EA Sports Bar. It opened March 31 in the space formerly occupied by the Pop-Up Wedding Chapel.
The new sports bar, on the Strip side of the hotel, is in a highly visible spot, says the hotel's chief marketing officer, Lisa Marchese.
The concept behind putting pop-ups there is to bring new experiences to Vegas visitors. And video games have a wide following among adults; there's a fair amount of alignment between the video game player and gaming, she says.
The Cosmopolitan of Las Vegas partnered with EA Sports to make their new pop-up sports bar an interactive affair.
Featuring nine areas that look like living rooms, the 2,500-square-foot venue is designed to make video gamers and sports fans feel at home. "FIFA Soccer 12," "Madden NFL 12," "NCAA Football 12," "Tiger Woods PGA 13" and "Grand Slam Tennis 2" are among the titles available to play on PlayStation 3 game consoles.
And you don't have to be a gamer to enjoy the venue, Marchese says. At the heart of the experience is a sports bar. Several high-definition televisions broadcast that day's sporting events. It's kind of a mash-up between your best friend's living room and a sports bar.
The pop-up concept is based on a retail trend that started in the early 2000s. New experiences would "pop up" unannounced, draw customers quickly and then disappear or morph into something else, Marchese says. In keeping with that theme, the EA Sports Bar won't be around forever. The Cosmopolitan is committed to it through the summer. After that? Only Marchese and her team know.
The bar is open from 11 a.m. to midnight Sunday through Thursday and from 11 a.m. to 1 a.m. Fridays and Saturdays. You must be 21 to enter.
One hour of game play costs $10. Tables are first come, first served.
Call 698-7640 for more information.
Contact reporter Sonya Padgett at
spadgett@reviewjournal.com or 702-380-4564.
Follow @StripSonya on Twitter.