'Grease' almost wasn't the word for Olivia Newton-John
January 22, 2016 - 12:47 pm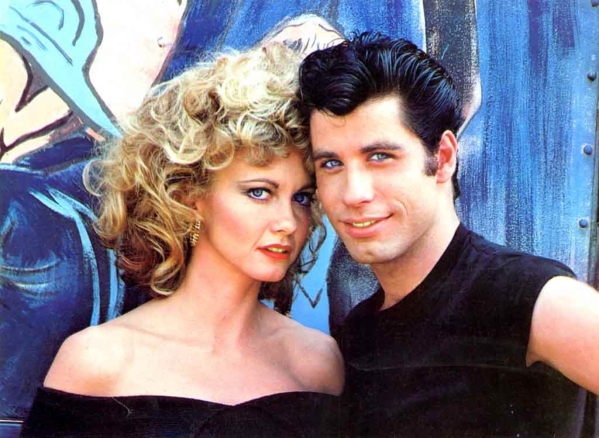 Olivia Newton-John nearly rejected the role that turned out to be a rocket ship to stardom.
"I was the reluctant Sandy," said Newton-John, in a telephone interview this week.
The courtship began at a 1977 dinner party hosted by fellow Aussie singer Helen Reddy.
"I didn't realize it was a setup," she said, until "Grease" producer Allan Carr began suggesting Newton-John would be the perfect Sandy.
Newton-John, then 29, had been burned seven years earlier when a British fantasy/sci-fi musical film about aliens jeopardized her career.
"I was kind of anxious. I had made a movie that was a flop," she said.
Fortunately, her singing career took off after the film, but Newton-John didn't want to take a chance with another bomb.
The role called for her to be an American, "but I couldn't do the accent. And I was 29," a reference to her age difference between her and co-star John Travolta, who was 22.
"They kept making allowances," she said, even OK'ing her Australian accent.
Eventually she signed on, and "Grease" became a monster hit, one of the most successful musicals ever made.
Newton-John, a four-time Grammy winner and headliner at the Flamingo since 2014, will be honored Saturday as Nevada Ballet Theatre's Woman of the Year at the Black & White Ball at Wynn Las Vegas.
Marie Osmond will introduce Newton-John at the gala.
And therein lies another dollop of "Grease" irony.
The producers not only had Osmond as their front-runner for the Sandy role, but had Donny Osmond on their list for the Teen Angel role.
But the producers moved on from Marie Osmond after she "objected to Sandy's transformation from good girl to bad girl and dropped out in protest," according to the February issue of Vanity Fair.
The Osmonds and Newton-John, who are friends, share the same stage at the Flamingo.
That gives a whole different meaning to Newton-John's 1971 cover of Bob Dylan's "If Not for You."
On this day
Jan. 22, 2008: Yellowcard, a popular punk pop band that features the unusual addition of a violin, releases "Live From Las Vegas" at the Palms, an 10-song album recorded the previous fall during a concert stop, coincidentally, in Las Vegas at the Palms. It quickly shoots to No. 2 on iTunes.
The scene and heard
Holly Madison, in a red carpet interview Wednesday before Jennifer Lopez's opening night at Planet Hollywood, told me that she has a new book coming out this year titled "Vegas Diaries" and her tell-all "Down the Rabbit Hole," about life in the Playboy Mansion, has been optioned, which turns over rights to the book to be a film or miniseries. Asked who she would like to see in the lead role, Madison said Emma Watson or Lily James. Of the two British actresses, James, who played Lady Rose MacClare in "Downton Abbey" and the title role in "Cinderella," bears the strongest resemblance. … Nine members of UNLV's national champion dance team in the hip-hop division were inadvertently omitted from Wednesday's item. Here are the rest: Sabrina Waldheim, Gabby Simmons, Michelle Lasso, Kaitlyn Thompson, Michelle Harnik, Kasey Phillips, Jackie Hansen, Hailey Dropkin and Haley Tekely.
Sightings
Among the celebrities at Lopez's show: Justin Bieber, Kelly Osbourne, Cheryl Burke, Hoda Kotb and Rebel Wilson. Spotted at her after-party at Mr. Chow in Caesars Palace: Ray Liotta, who co-stars with Lopez in NBC's cop series "Shades of Blue," hugging singer Ne-Yo, Derek Hough of "Dancing With the Stars" fame, chatting with Ryan Seacrest and Nigel Lythgoe; former O.J. Simpson attorney Robert Shapiro and Planet Hollywood founder Robert Earl, dining with Gina Rodriguez, the star of "Jane the Virgin," and actor Jason Statham's fiancee, Rosie Huntington-Whiteley. … Richard Sherman of the Seattle Seahawks and teammates Cliff Avril, Bruce Irvin, Michael Bennett, Brandon Browner and Cassius Marsh, in the private dining room Wednesday at STK in The Cosmopolitan. At another table: Twins Haley and Emily Ferguson from ABC's "The Bachelor."… Murray SawChuck and Melody Sweets together Wednesday watching the Lon Bronson Band at Smith Center. … Celine Dion, saying goodbyes before departing for her native Quebec on Wednesday from a private airport here. The funeral of her late husband and manager, Rene Angelil, will be held today in Montreal's Notre Dame Basilica. … Former Congresswoman Shelley Berkley, celebrating her birthday at the Pasta Shop Ristorante on Thursday. … Nicolas Cage, Carrot Top and friends, having lunch Thursday at Wolfgang Puck Bar & Grill at Downtown Summerlin.
The punch line
"Today, the Dow ended down 249 points. I'm sorry, did I say the Dow? I meant the Lakers." — Conan O'Brien
— Norm Clarke's column appears Sunday, Monday, Wednesday and Friday. He can be reached at 702-383-0244 or norm@reviewjournal.com. Find more online at www.normclarke.com. On Twitter: @Norm_Clarke