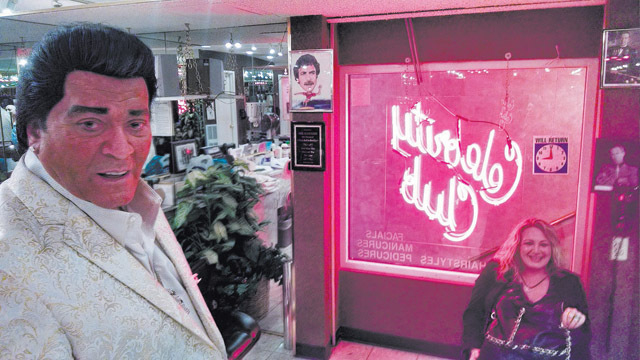 This gentleman is Neil Scartozzi. He trimmed Tom Selleck's mustache recently. He likes his regular customer "Hammertime" (MC Hammer). He's what we journalists call "a character," the main man at the Riviera's Celebrity Club men's salon since 1975.
"I've done Milton Berle, Red Buttons. I shaved Telly Savalas' head for 'Kojak.' Liberace. Dean Martin. John Travolta. Robert Redford. I've done all these people," Scartozzi said.
Who is this guy? He's an old-school Vegas guy who doesn't own blue jeans. His closet looks like Ray Liotta's wardrobe in "Goodfellas," he said.
"Growing up in Detroit, I was weened in a suit. At 16 years old, I had a tailor come to my house and tailor my suits. I believe first impressions are everything."
I stopped by his shop and asked him to name-drop.
Selleck: "I just did his hair a while ago for the gun show. … Tom Selleck is a very quiet man."
"Hammertime": "He comes all the time."
Liberace: "Very nice man. Immaculate. Very soft-spoken. Always clean. Always smelled good. His fingernails were always done. He'd come in and I'd fix his hair for him."
Travolta: "He used to come in here with blue jeans and sweatshirts on. A real skinny kid back then."
Broderick Crawford: "He used to get so drunk."
Savalas: "I always used to keep a box of lollipops, because on the show, he always had a lollipop. So when he'd come in, I'd say, 'Pick your color.' Then I'd shave his head. He used to live here (in the Riviera). They gave him a suite upstairs. Sinatra had a suite. You don't understand, the Riviera in the '70s was the place. This was the Tiffany of the Strip."
Berle: "Milton Berle would call and say, 'What's the temperature of the shop? Is it 68 or 70 degrees?' I would say, 'Mr. Berle, what does that have to do with anything?' 'Well I want it comfortable in there when I come in. He used to have a can of slate spray. He used to color his hair with it. I swear to God, it was like cement. It would take me 20 minutes to shampoo that stuff out of his hair. … Then I'd cut his hair. He'd have to blow his own hair out. So I just stood there and watched him. And he'd give me $100 every time. In the '70s, that was pretty good."
Buttons: "Wonderful man. He says, 'I've been all over the world, man. I've been everywhere. … But you are the classiest barber I've ever seen.' "
Joe Pesci: "He's a practical joker. … You remember 'Goodfellas' when he said, 'I'm a clown? I make you laugh? I'm here to amuse you?' Remember that? That's the kind of guy he is. He'll just up and embarrass you in a good way. And then he'll come back and say, 'I didn't mean anything by it.' "
He can give you a straight razor shave, and it's not $60 like it is at some places.
"That's all garbage," he said of $60 shaves. "I've seen barbershops with girls with see-through blouses. If you have to be that cheap to get people in your barbershop, then you suck at what you do.
"I've been here 39 years. Nobody's been anywhere 39 years on the Strip in a hotel-casino in the same spot."
If you see him around the Strip, he'll pose for photos for you.
"They don't know who I am. They think I'm Wayne Newton. They think I'm Elvis," he said.
See a video at reviewjournal.com/scartozzi.
Doug Elfman's column appears Tuesdays, Thursdays and Saturdays. Email him at delfman@reviewjournal.com. He blogs at reviewjournal.com/elfman.