October 5, 2007 - 9:00 pm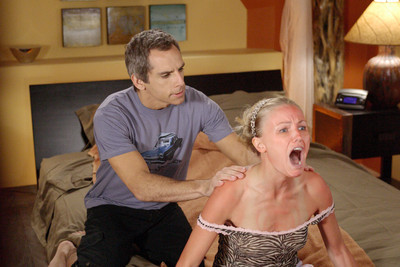 Everybody loves to humiliate Ben Stiller. From "There's Something About Mary" to "Meet the Parents" (and its almost-equal sequel, "Meet the Fockers"), watching Stiller squirm generally means major yuks.
In "The Heartbreak Kid," however, the yuks turn to yuck. And the humiliation comes from Stiller's struggle to break free of a strained, lame-brain comedy that pulls him down like super-sucker quicksand.
Technically, "The Heartbreak Kid" is a remake of the scathing 1972 satire scripted by comedy machine Neil Simon (from a story by Bruce Jay Friedman) and directed, with even more ferocious wit, by Elaine May.
That "Heartbreak Kid" made wicked observations about human nature — especially the awful truth that we often want things (or people) we can't have, only to discover we don't want them once we get them.
This "Heartbreak Kid," by contrast, would rather concentrate on gross-out slapstick.
That's to be expected, of course, with Farrelly brothers Peter and Bobby calling the shots.
Once the kings of R-rated comedy, thanks to such outrageous hits as "Dumb and Dumber" and Stiller's "There's Something About Mary," the Farrellys have ceded their comedy crown in recent years to the reigning monarch of cinematic raunch, "Knocked Up's" Judd Apatow.
And while Apatow sneaks in appealing sweetness to balance his rude 'n' lewd comedy, the Farrellys seem happy keeping things down and dirty.
That makes it tough for them to recover when "Heartbreak Kid" wants to give its characters a happy ending. Not that the characters deserve it, but the Farrellys seem to think the audience does — whether it makes sense or not.
When the original "Heartbreak Kid" debuted a quarter-century ago, a movie that made sense was enough to make audiences happy. But never mind. The folks behind this update certainly don't.
Both versions of "Heartbreak Kid" employ the same premise: a not-so-happily newlywed falls for another woman. On his honeymoon.
In the original, the nebbishy title character (played by Charles Grodin) dumps his achingly awkward bride (Jeanne Berlin, May's daughter), a nice Jewish girl, for a blond goddess (Cybill Shepherd) from the Midwest.
This time around, Eddie (Stiller) marries the blond goddess, Lila (Malin Akerman), following a whirlwind courtship — in part to stop his mouthy father (Jerry Stiller, Ben's real-life father) from browbeating him about how little "action" he's getting at 40.
So what if Eddie and Lila, an environmental researcher, don't know everything there is to know about each other? They'll find out soon enough.
That's the problem, as Eddie discovers during the long, long, looooong drive from their hometown of San Francisco to their honeymoon destination: beautiful, beachy Cabo San Lucas, Mexico.
Once there, Eddie's problems mount. Especially when Lila suffers a five-alarm sunburn that confines her to the honeymoon suite — and frees Eddie to wander around the hotel, where he meets Miranda (Michelle Monaghan), a winsome Mississippi miss vacationing with her family. Never mind that Eddie's already got a wife, stashed upstairs in the bridal suite, who's plagued by more peeling than a boatload of bananas.
After all, "the heart wants what it wants," Eddie says, quoting Woody Allen. (If you're going to quote Allen, why not choose a line that's actually funny?)
With five credited screenwriters — Scot Armstrong (Stiller's "Starsky & Hutch"), Leslie Dixon ("Hairspray"), Kevin Barnett (TV's "Unhitched") and the directors — "The Heartbreak Kid" labors to transform a satirical premise into one suitable for an in-your-face raunchfest.
For such an approach to work, however, the characters need to be total cartoons. (A few of them are, especially comedian Carlos Mencia as a hotel clerk who makes the Frito Bandito look like a model of multicultural enlightenment.)
When it comes to the central characters, however, "The Heartbreak Kid" wants us to like these people, without giving us any reason to do so.
Akerman's clearly meant to be this movie's version of Cameron Diaz's character in "There's Something About Mary," combining bombshell sex appeal with wacky humor, but Akerman's much better at conveying Lila's desperation than her sparkle. Even so, she's more compelling than the likable but lightweight Monaghan.
As for Stiller, we're meant to share his every humiliation in his never-ending quest for true love. But it's tough to empathize with a guy who's so selfish and willful — in a movie that keeps insisting he's the good guy. As a result, we cringe at him far more often than we cringe with him.
And if that's not a formula for cinematic heartbreak, I don't know what is.
CAROL CLINGMORE COLUMNS
REVIEW
movie: "The Heartbreak Kid"
running time: 116 minutes
rating: R; strong sexual situations, nudity, crude humor, profanity
verdict: C-
now playing: Boulder, Cannery, Cinedome, Green Valley, Neonopolis, Orleans, Palms, Rainbow, Red Rock, Santa Fe, Showcase, South Point, Suncoast, Sunset, Texas, Drive-in
DEJA VIEW
From satire to slapstick, honeymoon havoc sparks laughter and love in these comedies:
"Once Upon a Honeymoon" (1942) — A radio reporter (Cary Grant) tracks down a former burlesque queen (Ginger Rogers) who's unwittingly married a Nazi bigwig. (VHS only)
"The Long, Long Trailer" (1954) — Lucille Ball and Desi Arnaz play honeymooners on the road in the title contraption.
"The Heartbreak Kid" (1972) — Honeymooning in Miami, the title character (Charles Grodin) undergoes a change of heart when he meets a WASP stunner (Cybill Shepherd) on the beach.
"10" (1979) — A honeymooning hottie (Bo Derek) jogs past songwriter Dudley Moore in Mexico, jeopardizing his relationship with his longtime love (Julie Andrews).
"Honeymoon in Vegas" (1990) — A commitment-phobic detective (Nicolas Cage) loses his long-suffering fiancée (Sarah Jessica Parker) in a crooked poker game.
— By CAROL CLING