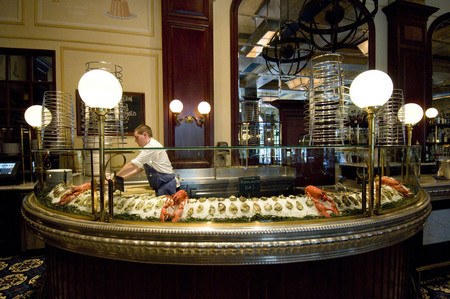 Heidi's Picks is a weekly selection of restaurant suggestions from Review-Journal critic Heidi Knapp Rinella. Price symbols are based on the cost of an average entree: $ = entrees less than $10; $$ = entrees between $10 and $20; $$$ = entrees between $20 and $30; and $$$$ = entrees more than $30.
BOUCHON
Venezia Tower at The Venetian, 3355 Las Vegas Blvd. South; 414-6200
It still seems as incongruous among the Italianate trappings of the Venetian as on the day it opened, but Bouchon has worn very nicely, delivering French-bistro fare that's as authentic as it gets. Notable were a charcuterie board, the Poulet Roti (roast chicken), Triute aux Amandes (trout almondine) and the silken-sin richness of the Mousse au Chocolate Noir, which requires no translation. (7/31/09)
Overall: A $$$
BRIO TUSCAN GRILLE
Town Square, 6653 Las Vegas Blvd. South; 914-9145
Brio looks a lot more like a Tuscan manse than an outlet of a restaurant chain based in Columbus, Ohio, but that's just part of its appeal. It manages to deliver the familiar with a slightly innovative edge, as in the garganelli carbonara, with not only the customary bacon and Parmesan and also grilled chicken and fresh spinach leaves, bruschetta Caprese that blends the best of both dishes, a somewhat-too-subtle artichoke-and-herb-crusted pork chop, a trio of creme brulee and a lovely soup of the day, creme of morel. (9/5/08)
Overall: A- $$
MIX ZONE CAFE
2202 W. Charleston Blvd.; 388-0708
Mix Zone Cafe is a Thai restaurant but the dish that blew us away was a starter of puffy fried eggplant that didn't strike us as traditionally Thai, but who knew? The mix works for us. We also liked the mint-chicken pot stickers, minced pork Ga Pow, tofu Panang curry and the mellow music and bright colors that give the little place a serene yet energetic vibe. (2/20/09)
Overall: A- $
MONTANA MEAT CO.
6371 Centennial Center Blvd. (also at 9135 S. Durango Drive); 396-7615
We were impressed with the 16-ounce rib-eye in Montana Meat's signature pepper marinade not because it was a great steak — it was more of a good steak — but because it was priced at $18.95, when other places around town are charging twice that for similar quality. A starter of flavorful tiny lamb chops, moist bacon-wrapped scallops with a sprightly orange-mango chutney, macadamia-crusted Alaskan halibut and some really good sourdough bread were all likewise worthy of note. (8/22/08)
Overall: B+ $$