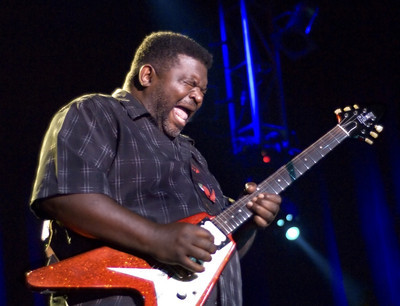 Rock it or wail it. Either will nail it.
"Even though it's called the Rockin' Blues Festival, it's always been an eclectic mix for music lovers," says Bud Pico, manager of Henderson's Cultural Arts & Tourism Department programs. "Classic rock and blues, one has grown from the other."
The third edition of the annual all-day festival, hitting the downbeat Saturday afternoon at the Henderson Pavilion, musically spans several eras. Among the headliners: Gutbucket blues belter Michael Burks, country singer-songwriter Jessica Andrews, and tribute bands Yellow Brick Road — saluting classic rock groups Led Zeppelin, Pink Floyd, Aerosmith and the Rolling Stones — and Rock & Roll Dance Party, an homage to early rock icons Buddy Holly, Ritchie Valens and the Big Bopper, aka Jiles Perry Richardson Jr., portrayed by his son, Jay.
"It's almost a timeline of music," Pico says. "And it's a family-friendly event. Ten dollars for 10 acts, you can come for the music you like and stay all day." If you need a timeout between tunes, a classic car show with 300 vehicles should keep you revved up, plus food and vendor booths.
Injecting the blues element, Burks brings three decades of intensity and authenticity to the festival, as when he sings: "Thought I found the right woman; To ease my worried mind; You said you would be there for me, baaaby; Till the end of time."
Pain is palpable in his powerful pipes, but so is a touching resignation to the hardships of life and love, right up until he backs away from the microphone, his wrenching guitar solo taking up the cry of betrayal.
"I was 2 years old when I first heard the blues, and I was playing in nightclubs when I was 6 in my hometown in Arkansas, and I still make my living that way," Burks says. "I notice that younger people now are starting to get into the blues. Used to be younger people weren't allowed to listen to the blues. Blues was the devil music, ya know?"
By that measure, the devil had a son. He named it rock 'n' roll.
"It's fun to get up onstage and do this timeless music from before rock 'n' roll got complicated with political messages and all that stuff," says John Mueller, who's made a hip-swiveling career out of portraying the title legend in the London and Broadway editions of the musical "Buddy … The Buddy Holly Story," and in the Rock & Roll Dance Party. "It tends to just make people feel good."
Mueller's Holly and Richardson's Big Bopper are joined in the Dance Party by Ray Anthony, star of "Legends in Concert" at the Imperial Palace, groovin' as Ritchie Valens. The trio tuns out such '50s pop pearls as "That'll Be the Day," "Peggy Sue," "La Bamba" and "Chantilly Lace."
Re-creating Holly's nerdy genius required Mueller to master one of his famed vocal tics. "One of the most difficult things was this hiccuping style he had — a-heh, a-heh, a-heh — and I had to get that believable," Mueller says. "And I didn't want to make it a cheesy thing or a caricature impersonation. I researched the heck out of him, and I was fortunate to know some of his close band members and they gave me little pointers."
While an admirer of Gary Busey's performance in "The Buddy Holly Story," Mueller kept its Hollywood-ized touches out of his characterization. "The more I researched Buddy Holly, the more I realized the historical inaccuracies of that movie, which are pretty prevalent," he says. "They show him punching a guy out at the Decca recording studio, and that was not true. I asked (the late) Niki Sullivan, his original rhythm guitar player, and he said he never would've done that. He called strangers 'yes, sir' and 'yes, ma'am,' very much a Texas gentleman, so I wanted to get that in my performance."
Music through the decades? Yes, sir. Good bet for a family-fun fest? Yes, ma'am.
Your hosts?
Angels of devil music.
Contact reporter Steve Bornfeld at sbornfeld@reviewjournal.com or 702-383-0256.
PREVIEW
what: Rockin' Blues Music Festival
when: 1-10 p.m. Saturday
where: Henderson Pavilion, 200 S. Green Valley Parkway
tickets: $12 (267-4849)