Here are the 9 most patriotic places in Southern Nevada
Updated July 1, 2017 - 7:04 pm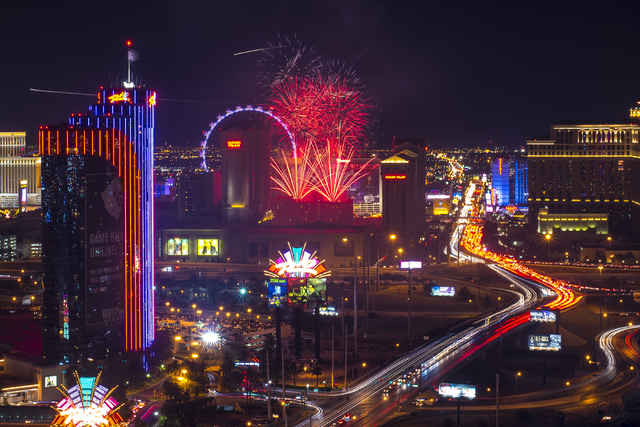 Americans strive to show their patriotism year-round, but no day rivals the love for country expressed in the coast-to-coast Fourth of July festivities.
Beneath explosions of red, white and blue raining from the skies above Las Vegas, lit from resorts and households across the valley, locals revel in celebrations of Independence Day — but that's just one day a year.
Here are some spots where you can show your American pride, learn about the sacrifices made for freedom and honor those who have served for this holiday and beyond:
The Linq Promenade
After a Fourth of July parade through the promenade at 12 p.m. daily, the restaurant and shop-filled pathway that stretches from Las Vegas Boulevard to the High Roller will transform into a BLOQ party with live music, baton twirlers, stilt walkers, b-boy dancers and patriotic cheerleaders and food and drink specials. On Sunday the Caesars Palace fireworks display will kick off across the Strip around 9 p.m.
Where: 3545 Las Vegas Blvd. South
When: Saturday through Tuesday
Dougie J's Cafe
Named for the co-owner's son, Spc. Douglas J. Green, who was killed in action in Afghanistan, this restaurant is a tribute to members of the military. There's a large wooden flag with Green's name on it, military uniforms in shadowboxes, small American flags on each table.
Where: 603 Las Vegas Blvd. South
When: Open 9 a.m. to 3 p.m. daily
America at New York-New York
Large neon letters spelling "America" hang above the entrance to this patriotic-themed restaurant. A 90-by-20-foot map of the United States that highlights the country's most iconic landmarks and postcardlike depictions of famous American cities will also give you something to gaze at while you sample coast-to-coast favorites like potato skins, sirloin steaks, macaroni and cheese, barbecue and burgers.
Where: 3790 Las Vegas Blvd. South
When: Open all day, every day
Nevada Veterans Memorial
Since opening in May, this memorial of black granite walls engraved with historic quotes stands guarded by 18 metal-alloy and bronze statues representing troops fighting from the Revolutionary War to the war on terror.
Where: Outside the Grant Sawyer Building, near the intersection of Las Vegas Boulevard and Washington Avenue
When: Open all day, every day
Freedom Park at Nellis
Freedom Park at Nellis Air Force Base has the most prolific display of war relics in Southern Nevada. Eight jets line the lawn there, spanning five decades of combat training. Included in the collection is an F-86 Sabre from the Korean War era; an F-111A Ardvark, F-105G Thunderchief, and an F-4C Phantom from the Vietnam War; an F-100D Super Sabre from 1954 that was first to fly level, supersonic speeds; an F-5 Freedom Fighter flown by Nellis Aggressors from 1972 to 1989.
Where: Nellis Air Force Base
When: Open all day, every day to anyone with an active-duty military or retired military ID
Silent Heroes of the Cold War National Memorial
This mountaintop site is the first national memorial in the state. It stands to honor those who served, especially in secret, and those who made the ultimate sacrifice during the Cold War.
Where: 2525 Kyle Canyon Road, Mount Charleston
When: Open 9 a.m. to 5 p.m. daily
National Atomic Testing Museum
Nevada's only national museum, the National Atomic Testing Museum, is a Smithsonian affiliate dedicated to the Nevada Test Site's role in nuclear deterrence. Touring it is a fascinating, occasionally nostalgic, experience for anybody who lived through the Cold War.
Where: 755 E. Flamingo Road
When: Open 10 a.m. to 5 p.m. Mondays through Saturdays and noon to 5 p.m. Sundays
Veterans Memorial Wall
To honor Henderson's war-born heritage, city officials in 1994 dedicated this memorial to all who have fought for America. More than 250 names have been added to the wall, the only one of its kind in Southern Nevada, since its creation, bringing the total number of Henderson veterans listed to more than 1,500.
Where: 240 Water St., Henderson
When: Open all day, every day
Red Rock Canyon's Memorial Stone
In a salute to those who died in the post-9/11 war on terror, the names of fallen soldiers, Marines, airmen and a sailor are etched in stones in the foreground of a panoramic view of Red Rock Canyon's picturesque sandstone cliffs.
Where: 1000 Scenic Loop Drive
When: Open 8 a.m. to 4:30 p.m. daily
See more Independence Day events in Southern Nevada here.
Contact Kimberly De La Cruz at kdelacruz@reviewjournal.com or 702-387-5244. Find her on Twitter: @KimberlyinLV.