Holly Madison's chickens live better than you — VIDEO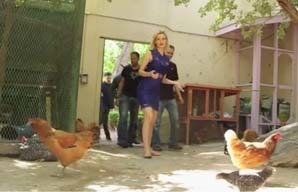 Even by Las Vegas standards, this is over the top: To house the 50 or so chickens in their Rancho Circle backyard, Holly Madison and her husband, Electric Daisy Carnival founder Pasquale Rotella, turned to the cast of Animal Planet's "Redwood Kings" to build them a "luxury chicken coop mansion."
For the show's second season premiere, the employees of Daniels Wood Land in Paso Robles, Calif., learned from the couple's onsite chicken expert that many of the birds were French. So they designed and built an enormous French Gothic coop complete with "sloped, gabled doors, steep-pitched rooflines, some ornate metal fretwork at the top, some finials of course" — of course! — and arched windows.
Lest you worry that wasn't enough for a bunch of farm animals, they also added artistic custom hinges and three French tole chandeliers.
Then there's the brooder box for the babies, with its fluted columns, crown moulding, drapes and a marquee designed to make it resemble a French puppet theater.
The only thing missing is a miniature Louis XIV table from which the chickens can consume their wine and cheese.
See it for yourself when the episode premieres at 9 p.m. Friday on Animal Planet.