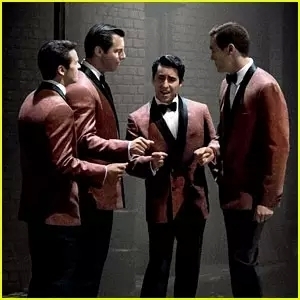 I have seen "Jersey Boys" on the Strip here so many times, I have to say it's weird watching this trailer for director Clint Eastwood's movie treatment.
Why? Because I'm used to seeing a different cast, sure, but also because look at all of the cars and backdrops and stuff.
Normally, you'd be like, "Well, of course there are settings in a movie." But when you see a staged "Jersey Boys" frequently, it gets ingrained in your brain to pay attention to the actors and not the relatively scant scenery. I guess I was stupidly expecting to see the stage play's minimalistic props, not a fancy movie. My bad.
From the various Vegas cast members in the movie, we all know Erich Bergen is portraying Bob Gaudio (the tall songwriter). But if you're intimate with the Vegas "Jersey Boys," do us a favor, love, and write in the comment section who else from Vegas is in the film or behind the scenes.
IMDB says Renee Marino is in it, reprising her Vegas role as Mary Delgado.
But I believe there are more, yes?