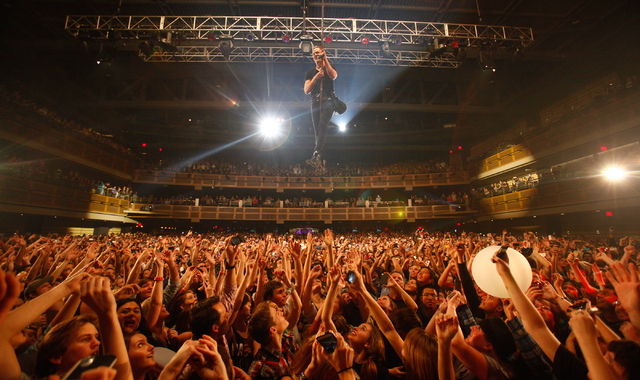 It wasn't that long ago that Dan Reynolds was regularly playing the Beauty Bar and the now-shuttered Bunkhouse, downtown's live music linchpins, as idiosyncratic and come-as-you-are as the area itself.
Then, his band, Imagine Dragons, outgrew said rooms, swapping cozy rock clubs where regulars knock back cans of Pabst on the cheap for sold-out amphitheaters where crowds of thousands guzzle $10 Budweisers out of plastic cups.
Now, downtown Las Vegas is trying to catch back up with the band it incubated.
Imagine Dragons is one of the top-billed acts at the new Life is Beautiful music and arts festival, which debuts Oct. 26 and 27, taking over multiple blocks in the Fremont East district.
"All this change is happening in Vegas," Reynolds says. "I feel like this festival is a highlight of what's going on with all the remodeling of downtown. The arts scene and the people who are involved with it are starting to be seen and are going to have more opportunities for some really exciting stuff. I feel like the Life is Beautiful festival symbolizes the beginning of the new Vegas."
As such, landing a successful homegrown band such as Imagine Dragons was deemed a crucial component in getting the festival off the ground.
"They were a very important act for us," says Allen Scott, executive vice president of Another Planet Entertainment, the Berkeley, Calif.-based company that's booking Life is Beautiful and also curates the Outside Lands and Treasure Island festivals in the Bay Area.
In addition to Imagine Dragons, Scott says that he had another celebrated Vegas band at the top of his wish list when he started building the event's lineup at the beginning of the year.
"We started this festival around The Killers," he says. "We knew we wanted them to headline. It's everything that the festival and the Downtown Project is about. They're a local band made good."
Besides two of Vegas' biggest native bands, Life is Beautiful features a diverse lineup that, like most festivals, aims to lure a variety of demographics beneath one big tent of music.
Outside of The Killers, the festival's closing act on Sunday, the other headliner is Kings of Leon, who are touring for the first time in support of their new record, "Mechanical Bull," and will anchor the rock side of Life is Beautiful along with acts such as Alabama Shakes, Dawes, Portugal.The Man and Living Color.
Elsewhere, there are several electronic music artists (Pretty Lights, Zedd, STS9, Big Gigantic, Empire of the Sun), some hip-hop (Danny Brown, Childish Gambino, Earl Sweatshirt, Jurassic 5) and plenty of alternative-minded square pegs (Vampire Weekend, Beck, Janelle Monae).
The lineup is also heavy with what Scott calls "discovery acts," artists such as Capital Cities, Charli XCX, and 21 Pilots who are starting to break nationally, but who are still relatively new to this market.
"They might not be worth a lot of hard tickets in Las Vegas," Scott says, "but we know they're great acts and when you put them in front of people, people will respond."
There are a variety of ways to build a festival such as Life is Beautiful into a national attraction.
One route is to cater to a specific crowd and then expand the base from one year to the next after a core audience is solidified. This is how Bonnaroo and Coachella established themselves, by first endearing themselves to the jam band and alternative crowds, respectively, and then bringing in artists irrespective of genre as long as they fit in with the general vibe of the event.
Other fests, like the newer Budweiser Made in America Festival or Vegas' iHeartRadio Music Festival, seem to focus more on attracting the biggest names possible regardless of any unifying aesthetic.
Life is Beautiful seems to be plotting a course between the two approaches, bringing in a number of well-known acts under the loose umbrella of alt-rock but also focusing on a specific audience: locals.
"The locals are the foundation of the festival," Scott says. "What do people want to see in Las Vegas? We started there and built around it."
In this way, Life is Beautiful is hoping to distinguish itself from Las Vegas' last big multiday outdoors music fest, Vegoose, which took place at Sam Boyd Stadium and the adjacent Star Nursery Fields from 2005-07.
Life is Beautiful organizers assert that Vegoose sold only about 10 percent of its tickets to local fans, a percentage that they're looking to increase considerably.
To this end, the festival has booked two dozen acts from the area to perform on their own stage, chosen after a series of monthly showcase concerts.
"It's a pretty unique opportunity we have there," says Jenine Cali, singer-drummer for Vegas' The Dirty Hooks, who will be playing the event. "I think having Vegas bands on the bill is definitely a draw for locals to the festival. You get to see your friends open up for national acts, basically."
The bands, in turn, are hoping to benefit from the platform.
"Life is Beautiful gives us an opportunity to reach a large number of people we normally wouldn't have been exposed to," says Tsvetelina Stefanova, keyboardist-singer for Boulder City's Same Sex Mary, who will also perform at the festival.
Besides trying to cultivate a larger presence from locals, the fest hopes to benefit from the time of year it's taking place — though it should be noted that Vegoose also ran over Halloween weekend — where it's removed from the crowded summer festival circuit.
New Orleans' Voodoo Festival, scheduled for Nov. 1-3, is the only other major festival around that time.
Also, different artists become available to tour later in the year as they promote new albums, as Brown, Monae, Childish Gambino and Kings of Leon will be doing, among others.
As Life is Beautiful organizers aimed for fresh acts for the festival, they did the same with the setting.
"Downtown Las Vegas is very unique," Scott says. "You're not in a rectangular field with a bunch of stages. You're walking through the streets. There's nowhere in the United States, I don't think, that does such an ambitious festival in an urban environment like this."
Contact reporter Jason Bracelin at jbracelin@reviewjournal.com or 702-383-0476. Follow on Twitter @JasonBracelin.
A CALL FOR VOLUNTEERS
The Life is Beautiful Festival is seeking 300 volunteers for duties such as greeters, information teams, hospitality and ticket scanners.
Volunteers will be asked to work 10 to 12 hours and will receive free access to the music, food, art and learning event in return. They also will receive a festival T-shirt.
Volunteers must be 18 or older and they can state a job preference, although that will not be guaranteed. They also must make a refundable deposit of $185, which will be returned after volunteers have donated their hours. There is also a nonrefundable $15 processing fee.
The volunteer program is being operated by the Work Exchange Team, which runs volunteer programs at such festivals as Coachella and Bonnaroo. People interested in volunteering for the Life is Beautiful Festival can sign up at the Work Exchange Team website, www.workexchangeteam.com/lib.