Inside the Snow Is Falling
December 25, 2008 - 10:00 pm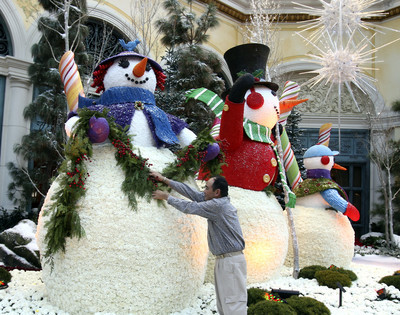 Bellagio doesn't need to dream of a white Christmas. A 24-hour flurry is forecast for its Conservatory & Botanical Gardens until Jan. 3 — thanks to a 50-gallon snow machine. The storm is isolated to the right of the Snow Family (Mr. Man, his wife and the snowkid).
"It's either Mount Charleston or here," says Bellagio assistant director of horticulture Andres Garcia, who admits that the flakes vanish "as soon as they hit the plants." (Most of the 400 pounds of white blanketing the atrium consists of recycled plastic Albertsons and Smith's grocery bags.)
"We just want people to come in and enjoy the holidays," says Garcia, who supervises all Bellagio landscapes, indoors and out, including the five conservatory seasons (our four, plus Chinese New Year).
This is the 10th year for the Strip's most popular holiday display (the third for the snow machine). It took 72 employees seven nonstop days to complete it earlier this month. Most props come from an off-site storage area.
"It's an easy show," Garcia says, "compared to the summer show with the trains."
New this year is the Snow Family, made from 15,000 white carnations. So are the 17-foot gift piles and 12-foot toy soldiers, which arrived from a Dallas factory packed like sarcophagi. Returning kids will recognize the six flying reindeer, each made of 110 pounds of whole pecans.
"We always have something we've used in the past," Garcia says, "and we always bring something new that people haven't seen."
Special security measures had to be taken with the motorized penguins, Garcia reveals in an R-J exclusive. They're now farther off the brick-lined path.
"Last year, this guy came in with his girlfriend," Garcia recalls. "He ran onto the planter, grabbed a penguin and said, 'Honey, for you.' "
Garcia immediately radioed security.
"I believe (the man) had a few drinks," he says.
The centerpiece of the display is a 45-foot Shasta fir ablaze in 12,000 twinkling lights.
Although Bellagio officials won't reveal what it all cost, they apparently consider the good will worth it — not to mention the foot traffic generated by the free display. (On a good day, according to Garcia, as many as 30,000 come to gawk.)
"With the economy and all, this is a good place to come in and forget about that," Garcia says. "Look at the snow, look at the trees, look at the colors and have a good time."
Contact reporter Corey Levitan at clevitan@reviewjournal.com or 702-383-0456.
Video