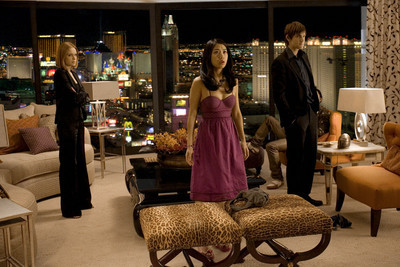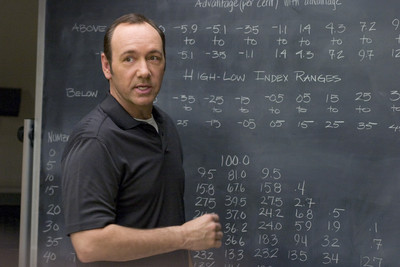 Kevin Spacey always thought "21" would make a great movie.
After all, what could be more intriguing than a tale of math-nerd Davids taking Goliath-like Las Vegas casinos for millions of dollars?
It just took a bit longer for "21" to pay off than Spacey expected.
The movie opens in theaters today, with the double Oscar-winner playing a math professor at the Massachusetts Institute of Technology who recruits star students for an under-the-radar card-counting team (led by Jim Sturgess and Kate Bosworth) whose prowess enables them to win big at blackjack.
Spacey's Trigger Street Productions initially made a deal to bring Ben Mezrich's nonfiction best-seller "Bringing Down the House" to the screen five or six years ago, planning to make a movie that would "make Vegas interesting again," Spacey recalls, sitting down with reporters recently at the Red Rock Resort, one of "21's" multiple Las Vegas locations.
But that deal was with MGM, a once-legendary studio that "went into a tailspin," forcing the movie into "a holding pattern while they got bought," he notes.
By the time Spacey's project resurfaced at Columbia Pictures (and filmed last year as "Untitled Blackjack Picture"), "all the poker shows and the Vegas series" already had made Las Vegas a familiar destination on both the big and small screens, Spacey points out.
Which in turn raised an essential question, he suggests: "How do you make Vegas interesting again?"
In part, by focusing on what makes Vegas interesting to everyone whose age matches "21's" title.
"Every 21-year-old dreams of coming to Las Vegas," author Mezrich says during a Red Rock news conference. "Vegas has catered to it enormously." And while "the old-school Vegas still exists," the Vegas "21" depicts is "the Vegas every kid dreams about," he notes.
Just ask Jeff Ma, a card-carrying — make that card-counting — member of the original MIT blackjack team that inspired Mezrich's book. (He has a "21" cameo as — what else? — a blackjack dealer.)
"Back when we were playing," in the 1990s, "there was not one club" in the casinos where they gambled, Ma recalls. "Now, every single casino has a club."
But when Ma and his classmates were winning millions playing blackjack — the team took in $3 million to $5 million, he says — "it was a totally different world." "There wasn't poker on TV. Vegas was more seedy — and the idea of trying to explain" where, and how, he spent his weekends was difficult.
How to depict the students' high-roller alternate existence represented a definite, and welcome, challenge for director Robert Luketic, who was anxious to prove he could do more than direct such comedies as "Legally Blonde" and "Monster-in-Law."
Before "21" began production, "we considered some of the Indian reservation casinos" as locations, the director says in an interview. "But they wouldn't have the energy" Las Vegas casinos do, Luketic adds.
"There's only one Las Vegas," he reasons. "Also, there's a history here. Hollywood has always had a love affair with Las Vegas."
Ah, but Las Vegas didn't necessarily return the affection. At least not at first.
"We had a very mixed reception when we came to town," Luketic says, citing some casino officials who told "21" representatives, " 'We don't want anything to do with you.' "
That led "21" to approach "casinos that cater to a younger crowd" — including the Hard Rock, Planet Hollywood and Red Rock casinos. "In retrospect, it fits the movie better," Luketic acknowledges.
It also helps to have friends in high places. Spacey served as the production's "800-pound gorilla," the director says, when it came to securing permission to film at, among other places, Wynn Las Vegas' pricey shopping area.
When approval was slow in coming, Spacey told him, " 'I'll get Steve Wynn on the phone,' " Luketic says. "The man's connected. As a producer, he was incredibly effective in helping us navigate the Strip."
Spacey, meanwhile, downplayed some casinos' collective doubts about "21's" view of Las Vegas — despite the presence of a menacing enforcer (played by Laurence Fishburne), who "represented the bad old days, in a way," Fishburne admits.
Overall, casino officials "welcomed this movie that says, 'You can come to Vegas and break the bank,' " Spacey maintains. "Why wouldn't casinos adore the idea of thousands of people coming here and thinking they can beat the house?"
Or, at any rate, bask in the neon-lit glow of life as a high roller.
"I understand what it's like to be an insane person after shooting in Las Vegas," Luketic admits. "It was stressful — but thrilling."
To convey Las Vegas' irresistible allure, Luketic wanted to capture a range of only-in-Vegas moments, from the astonishment Sturgess' character expresses at his first aerial view of Las Vegas' pulsating lights to the shock of walking outside, after a night of playing blackjack, to realize that the sun has risen and another day has begun.
In the movie, the Strip's sparkling lights magically materialize in the top half of an airplane window.
"It's the one thing first-time visitors are struck by when they come here," Luketic points out, citing "the scale, the lights, the sheer audacity of the architecture. I wanted to get a slice of that onscreen."
Contact reporter Carol Cling at ccling@reviewjournal.com or (702) 383-0272.
RELATED STORIES Melodramatic '21' fails to quit while it's ahead Las Vegan part of team featured in new movie