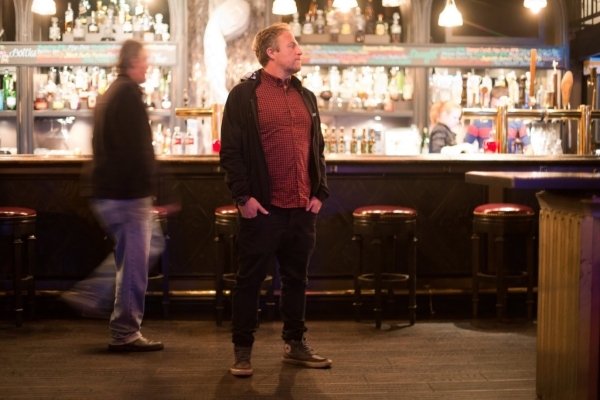 UPDATE: 12:36 p.m. Film producer Sean Carey on Tuesday said Jimmy Kimmel's involvement in a film about Jerry Tarkanian is not as strong as was indicated in an interview with Chris Ramirez of Lola Pictures, and Kimmel is not necessarily on track to becoming a producer, although Kimmel has been involved in very early talks.
Jimmy Kimmel is helping put together a movie about UNLV legend Jerry Tarkanian for Lola Pictures, the Las Vegas-based company that sold "Frank & Lola" to Universal Pictures on Friday.
"We haven't made an official announcement, but we have (family) rights to Jerry Tarkanian," Lola Pictures founder Chris Ramirez told me.
"We're developing it the real way. We're hiring a real, big writer in Hollywood that's active and relevant right now, so we can hopefully do this with a studio, and not do it on the cheap," he said.
Son Danny Tarkanian is an executive producer, and it looks like Kimmel may be an executive producer. Kimmel is a former Las Vegan who loves the city, UNLV and Tark.
In this early phase, the ABC-TV late-night host is casually, loosely talking to producers and helping with research and connections.
"We have one shot at telling a story that I think all of Las Vegas cares about," Ramirez said.
Ramirez's Lola Pictures on Friday sold worldwide rights to the upcoming psychosexual noir "Frank & Lola" to Universal for a reported minimum guarantee of $2 million, which is in the neighborhood of the budget.
"Frank & Lola" was the only Las Vegas-grown film at the Sundance Film Festival last week, garnering buzz for a pretty style, aura and tale told by first-feature director Matthew M. Ross, starring Imogen Poots, Michael Shannon, Justin Long, Michael Nyqvist, Emmanuelle Devos and Rosanna Arquette.
Lola Pictures has another film on the way, the 2014-shot "The Viena and the Fantomes," starring Zoe Kravitz, Dakota Fannning, Jon Bernthal and Evan Rachel Wood.
"Viena" was produced by, apparently, the only Las Vegas millionaire investing in Vegas-based movies: Zappos' Tony Hsieh and his Downtown Project.
In the past, the Greenspun and Fertitta families have invested in movies. But as of now, Nevada has no film tax incentives and a lack of wealthy backers.
"There's exactly one angel investor, and his name is Tony Hsieh," Ramirez says.
It's not like Vegas doesn't get big budget movies. The classic "Bourne" series has been filming on the Strip. Last year, the putridly horrible and abysmal "Paul Blart: Mall Cop 2" ruined all of Earth for a few hours.
But there's little hope for another interior masterpiece on the level of 1995's "Leaving Las Vegas."
"Frank & Lola" is taking its shot. It's not another bachelor/bucket-list romp drunk on showgirls, strippers, hookers, gamblers and mobsters. (No offense to the funny "Get Him to the Greek.")
The "Frank & Lola" script began as a Brooklyn love story between two damaged characters. Lola Pictures convinced the director to shoot in Vegas.
The movie is a relationship drama that happens to take place in Las Vegas, rather than exploring Vegas' usual tropes. Locales range from Frankie's Tiki Room to Commonwealth lounge, Velveteen Rabbit bar, Downtown Tattoo, the El Cortez hotel and the Juhl lofts.
"Frank & Lola" also has a sumptuous-looking, quiet bar scene in Lakeside restaurant in the Wynn (so Steve Wynn read the script).
"Frank & Lola" raises an interesting question: For a Vegas movie to be less stereotypical, does it have to be written for a different city but rewritten for Vegas?
Ramirez isn't against the idea, obviously, but he says UNLV film students are accomplishing great things (Jeremy Cloe won a Student Academy Award in 2015) and writing good scripts about real Las Vegans.
It's just that Vegas suffers from a lack of movie money.
"Frank & Lola" picked up outside funding from Robert Halmi Jr., founder of the Hallmark Channel.
"He (Halmi) goes around and finds good projects that are already packaged," Ramirez said. "Ours was packaged and ready to go, we were in pre-production, he swoops in, and he did it at a cheap price, and now he's able to flip it to a studio for distribution, because we did a good job."
If Las Vegans want to see locally told films, people with spare change in tall denominations will have to step up. Ramirez's pitch:
"Wouldn't it be great to have homegrown filmmaking, and real movie stars, and a real spotlight and a real education for local kids at UNLV?"
LAP DANCES ON THE RISE
Speaking of stereotypes, the strip club market is thriving even in slow January.
Crazy Horse III is spending an untold amount of money developing and marketing an app for customers to eyeball dancer profiles and book services. The app launches Feb. 24 with HBO sexpert Katie Morgan posing on the Crazy Horse III red carpet.
Over at the all-nude Palomino Club, business is stronger than ever after owners spent an untold amount of money renovating lap dance rooms and the website, while targeting mobile ads, and spending a quarter-million on a fleet of Mercedes limos.
Like other strip clubs, Palomino and Crazy Horse III offer free door-to-door limo rides. Why is that notable?
Across Vegas, strip clubs legally pay cabbies and outside limo drivers for each customer they drop off (sometimes more than $100 per head), then drivers split that money with hotel doormen.
So at the Palomino, for instance, locals and tourists who take the free Palomino limo get in free. But customers who arrive by cab, outside limo or Uber pay up: $20 for locals/military; $30 for out-of-towners.
Free limos. Nobody knows how to craft a money-keeping work-around like a Las Vegas strip club owner.
Doug Elfman can be reached at delfman@reviewjournal.com. He blogs at reviewjournal.com/elfman. On Twitter: @VegasAnonymous