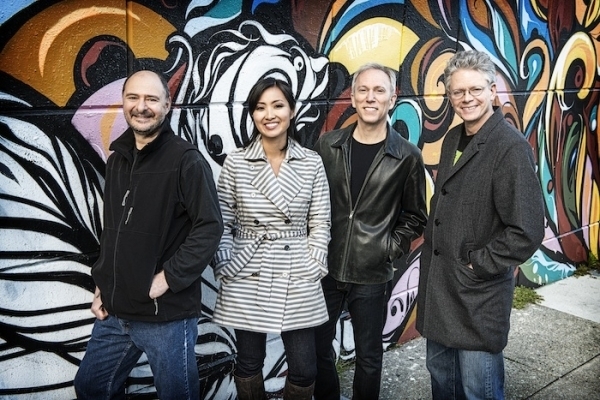 Once upon a time, and for a long time, the words "string quartet" signified one thing: formally dressed musicians performing familiar classical works.
Four decades ago, however, the Kronos Quartet started shaking things up — and they haven't stopped since.
Monday night at The Smith Center, for example, the San Francisco-based quartet will be playing a program that includes the U.S. premiere of Philip Glass' String Quartet No. 6 — written especially for Kronos — as part of a 40th-anniversary "Kronos at 40" tour. (The work's world premiere was scheduled Saturday in Vancouver, British Columbia.)
The Smith Center program also features Jimi Hendrix's "Purple Haze" and "What's Become of the Baby?" — written by the late Grateful Dead guitarist Jerry Garcia, another fixture on the San Francisco music scene.
There's even a more traditional classical selection: Richard Wagner's Prelude from "Tristan und Isolde," although it's not quite the Wagner you would hear at the opera.
"What we wanted to do was basically bring the incredible beauty" of Wagner's music "in an intimate way to our audience," capturing not only its "intimacy but a sense of scope as well," says Kronos founder David Harrington, who plays violin alongside longtime members John Sherba (violin) and Hank Dutt and new cellist Sunny Yang.
The Wagner prelude "was arranged for us by one of our closest friends, Aleksandra Vrebalov, who "is red-hot these days, Harrington says. "At a certain point, it seemed like it would be wonderful to make a new version of Wagner" with her.
But such collaborations are standard operating policy for Kronos.
Glass, after all, wrote his fifth string quartet for them 20 years ago; other collaborations between composer and quartet range from soundtracks (including one for the restored 1931 "Dracula") to an arrangement of Bob Dylan's "Don't Think Twice (It's All Right)," Harrington says during a telephone interview.
Other frequent Kronos collaborators include "Father of Minimalism" Terry Riley (who wrote 2002's NASA-commissioned "Sun Rings"), Steve Reich (who wrote the Grammy-winning "Different Trains and the Sept. 11-themed "WTC 9/11") and Polish composer Henryk Mikolaj Gorecki.
"We're proud of the fact that composers want to write for us," he says. "My feeling with composers is, if someone is good enough to work with once, that composer is worth extending a relationship with and creating a body of work."
Not that Harrington had any of that in mind when, in August 1973, he heard George Crumb's "Black Angels" on the radio.
The unorthodox, Vietnam War-influenced "Black Angels" — complete with electronic effects, spoken word passages, even bowed water glasses — struck such a compelling chord in Harrington that the young violinist decided to organize a quartet himself, just so he could play the piece.
"The war in Vietnam influenced so many aspects of life," Harrington says. "As a young person, as a young musician, I was looking for some sense of reality, something that I felt was completely gripping."
Because Harrington's "instrument has been the string quartet" since his youth ("I played the violin in order to play quartet music, he says), organizing Kronos seemed an inevitable step.
But to play "Black Angels" and other music beyond the traditional string-quartet repertoire, Kronos forged new ground, expanding the notion of a string quartet concert to include video projections, recorded sounds, atmospheric clouds of dry-ice fog and other effects.
Since 1988, "we've used a sound system on every concert," Harrington says. "And we found that, not only did we need a sound system, we needed a stage designer and a lighting person to make every hall … take on a shape, a reality."
Some musical purists sniffed, then and now, that the Kronos approach is "not the way it's done," he acknowledges.
But the way Kronos has been doing things for the past four decades seems to be working out all the same.
Kronos has released more than 50 recordings and performed thousands of concerts, commissioning more than 800 works and arrangements and collaborating with everyone from David Bowie and Nine Inch Nails to the Romanian Gypsy band Taraf de Haidouks.
Kronos' newest member, Yang, was chosen to join the quartet after she and five other "amazing cellists" came to San Francisco "and played 32 pieces of ours" to audition, Harrington says. "That was quite an experience."
Her arrival has reminded her colleagues that "every aspect of the playing — the approach to notes, the approach to cuing — all of these things are influenced by personalities," he says. "You begin to realize the force and the power of each member of the group."
Some of those members have come and gone through the years, but "that attitude and that curiosity has been part of the work of Kronos" from the beginning, Harrington says — and remains fully in place 40 years on.
Although, he adds, "there's no way I could have imagined" what's happened over the past 40 years.
"I never could have guessed I would be able to play the range of music and work with such amazingly inspiring" collaborators, he says. "The world of music, and the world itself — what's available to us as musicians, and as members of society — it's never been as cool."
Just before speaking with the Review-Journal from Kronos' San Francisco base, Harrington and his fellow ensemble members had been rehearsing a new work: an arrangement of singer-guitarist Geeshie Wiley's 1930 "Last Kind Word Blues."
Harrington "wasn't familiar with it" until recently, he acknowledges, but once he heard it, "I couldn't stop listening to it."
Everything Kronos will play Monday in Las Vegas "has that very same quality — at one point or another, there's no way I could stop listening to it," he says, "whether it's (performance artist) Laurie Anderson, or Jimi Hendrix, or Wagner. To me, music works like a magnet — and it's those magnetic moments I'm interested in."
Contact reporter Carol Cling at ccling@reviewjournal.com or 702-383-0272.
Preview
Kronos Quartet: "Kronos at 40"
7:30 p.m. Monday
Reynolds Hall, The Smith Center for the Performing Arts, 361 Symphony Park Ave.
$26-$125 (702-749-2000, www.thesmithcenter.com)