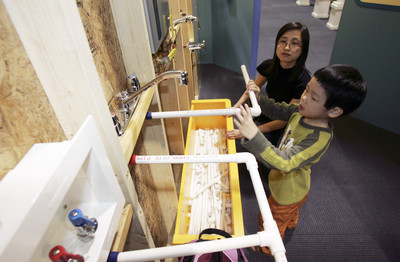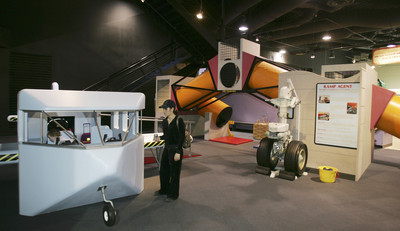 The biggest trick to running a children's museum is to change just enough to keep them coming back.
That's the principle by which Linda Quinn has operated Lied Discovery Children's Museum since she began her tenure there three years ago. And it seems to work.
Museum visitation rose 21 percent in January, compared to January 2008, largely because of the addition of a traveling exhibit featuring Clifford, The Big Red Dog, based on a popular series of children's books and TV shows.
Museum representatives expect attendance to only increase, because new exhibits have been added recently.
But knowing when to change and what to choose can present challenges.
The museum, which opened 19 years ago, has gone through a metamorphosis in the past three years; almost two-thirds of the exhibits are new and more are scheduled to open soon.
Often, change is needed more for parents than children, Quinn says.
"The child can go through a grocery store exhibit at age 4 and get a different experience at age 8," Quinn says. "You have to have a strategy where you're educating and reaching children, but marketing to the parents."
So they combine popular subjects, such as Clifford, with relevant subject matter that may not be as widely known. One example is Lied's exhibit, "Torn From Home: My Life as a Refugee." A one-of-a-kind exhibit, it told the story of the life of a refugee child in a nonpolitical and nonviolent way, Quinn says.
Since Lied is a blend of a children's museum and a science museum, exhibits focus on explaining much of the science behind life in a way that appeals to children. For instance, the Hurricane exhibit allows people to stand in a chamber and experience winds as high as 80 mph, or the equivalent of a Category 1 hurricane.
The Green Village, which opened last month and is made of sustainable materials, teaches kids the way things work, such as shopping in a grocery store, cashing a check at a bank or taking a car in for service.
The museum asks visitors and community representatives for input on exhibits and relies on the feedback to steer programming, Quinn notes.
The majority of funding for the $1.5 million annual budget comes from corporate sponsors and individual philanthropy. An individual exhibit that takes up about 50 square feet can cost as much as $50,000.
They cost that much because the exhibits must have a life span of five to seven years, as 500,000 to 700,000 children may play on them before being retired, Quinn explains.
A new exhibit, "It's Your Choice," is scheduled to open March 28. Funded by a $250,000 gift from the Epicurean Charitable Foundation, the exhibit will teach children to think through their eating choices, emphasizing healthful foods. The long-range plan is to add an exercise exhibit, Quinn says.
Nearly 90,000 visitors go through the museum each year, with 60 percent of them being the target demographic, children younger than 12 years old.
Quinn would like to turn Lied into one of the best children's museums in the country, but to do that a bigger building is needed. Currently, the museum has a goal to move within four years, but that isn't a firm time frame, Quinn says.
Contact reporter Sonya Padgett at spadgett@reviewjournal.com or 702-380-4564.