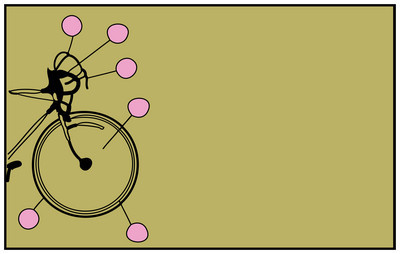 The Contemporary Arts Collective is taking mass transit to the art museum — quite literally. Its "Stop and Glow" exhibition, running today through May 23, showcases artwork destined for downtown bus stops this fall.
"What I really like is they're all so different," says gallery director Beate Kirmse. "A lot of them use different imagery, but they all combine it with architectural forms that are all about Vegas."
Eight valley artists were chosen — from 36 applicants who submitted portfolios — to create iconographic images for installation in the eight lighted ACE shelters comprising the Las Vegas Resort Corridor Downtown Connector Project. Sean Russell, Catherine Borg, Evan Dent, Stephen Hendee, Danielle Kelly, Eric Pawloski, Brian Porray and Todd VonBastiaans each received $10,000 commissions.
"It's a pretty big honor to be one of only eight artists who gets to do this," says Russell, 30, who created a salute to the Fifth Street Liquor Store destined for a shelter at South Casino Center Boulevard and Garces Avenue.
The Las Vegas Arts Commission suggested the idea of bus stop art to the Regional Transportation Commission of Southern Nevada in 2005.
"We thought, wouldn't it be nice to provide something for people to look at that's inviting and memorable, that's not an advertisement and is just simply fun?" says Michael Ogilvie, public art project coordinator for the arts commission.
The artists were asked to pick from a list of images.
"I jumped on the liquor store because a lot of my own work deals with beer and liquor logos," says Russell, who teaches art history at the College of Southern Nevada and worked for three years at a bar in Wisconsin.
"I started doing beer and liquor ads because I looked at them every night," he says.
Russell created his salute by digitally manipulating old photos of the Fifth Street Liquor Store's neon sign.
The gallery show aims to do more than display art one can see while waiting for a bus. Russell's installation, for instance, will include sketches he made of the photos. VonBastiaans, who painted various shapes of backyard pools, will incorporate a tiny pool.
"I wanted them to play with the ideas they had for the shelters but also to create new work," Kirmse says.
Contact reporter Corey Levitan at clevitan@ reviewjournal.com or 702-383-0456.
Preview
What: "Stop and Glow" art exhibit
When: Noon-5 p.m. Tuesdays-Saturdays, today-May 23
Where: Contemporary Arts Collective, 101 E. Charleston Blvd.
Information: 382-3886