Locals only: consider this your fair warning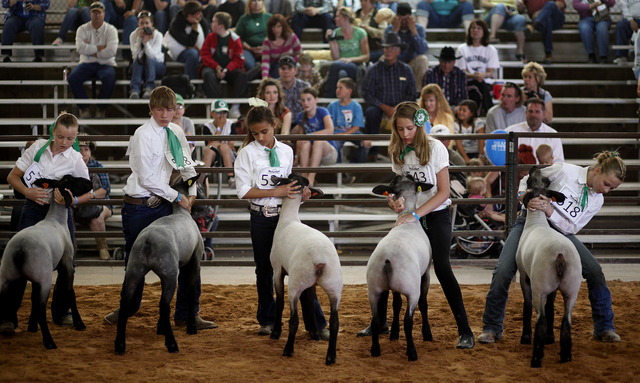 There will be goat milking, pig racing, butter carving and a Little Buckaroo Rodeo. And that's just in the first two hours.
The Clark County Fair &Rodeo kicks off at 10 a.m. Thursday and runs through 9 p.m. Sunday at the fairgrounds at 1301 W. Whipple Ave. in Logandale.
Highlights will include a carnival midway, a rodeo featuring more than 500 competitors and more than $250,000 in prize money, and exhibits covering fine arts, home arts, industrial arts, creative arts, photography, home science, horticulture and livestock.
Lonestar will perform at 9:30 p.m. Friday. Tickets are $21 in addition to fair admission.
Tickets for the fair are $9, $7 for those ages 5-12 or 60 and older. Tickets for the fair and rodeo are $19 on Thursday and $21 Friday through Sunday. Tickets for the fair and an all-day ride pass are $32.
For more information, see www.ccfair.com or call 888-876-3247.
Together they sound
Four guitarists, eight hands, one unified sound: that's the VIDA Guitar Quartet, whose members (Mark Ashford, Mark Eden, Helen Sanderson and Christopher Stell) have earned praise not only for their broad range of timbres and dynamics but for their "unerring musical instinct," which evokes "listening to an entire orchestra and not merely to four guitars." (At least according to Britain's Gramophone magazine.) They'll perform as part of UNLV's Allegro Guitar Series at 8 p.m. Thursday in the Doc Rando Recital Hall at the University of Nevada, Las Vegas, 4505 S. Maryland Parkway. For tickets ($40, with discounts available), call 702-895-2787 or visit pac.unlv.edu.
A toast to Thursdays
Aureole at Mandalay Bay is starting the weekend early each Thursday with its new #ChasingThursdays, which starts this week. Every Thursday, Las Vegas locals are invited to meet on the restaurant's Swan Court patio for $39 bottles of Unusual Suspects wines (with a different one featured each week) and 20 percent off menu items. Nevada ID required.
Back from back in the day
How do you carbon-date a UNLV grad? Ask how many nights were spent at a place called the Sports Pub. Then ask how many of those included the band Triple Ripple. The band fronted by Paul Summers reunites at 9 p.m. Saturday at the Hard Rock Cafe (the one in front of the Hard Rock Hotel), 4475 Paradise Road. Answer to above questions: Expect people there to look about a quarter-century older than you remember.
Everybody dance
They won't be performing in the nude and they're hardly household names, but don't hold that against New Zealand alt-rockers The Naked and Famous, who make up for their blatant false advertising with arms-in-the-air dance rock. See them at 7:30 p.m. Monday at Brooklyn Bowl at The Linq, 3545 Las Vegas Blvd. South. Tickets are $25 in advance, $40 day of show; call 702-862-2695.